There was a gaping hole in the lineup when I covered the all-new, remodeled 2025 Forester compact SUV earlier this week. Where is the Wilderness trim level? Subaru says it will initially offer the 2025 Forester in five trims: Base, Premium, Sport, Limited, and Touring. 
Is Subaru of America dropping the Forester Wilderness? 
The rugged outdoor-themed Subaru Forester Wilderness trim, which the automaker launched in 2021 as a sub-brand for active customers, will continue to be offered on the Forester but will not be available at the model's dealer launch next spring, William Stokes, planning manager for the Forester at Subaru of America told Automotive News.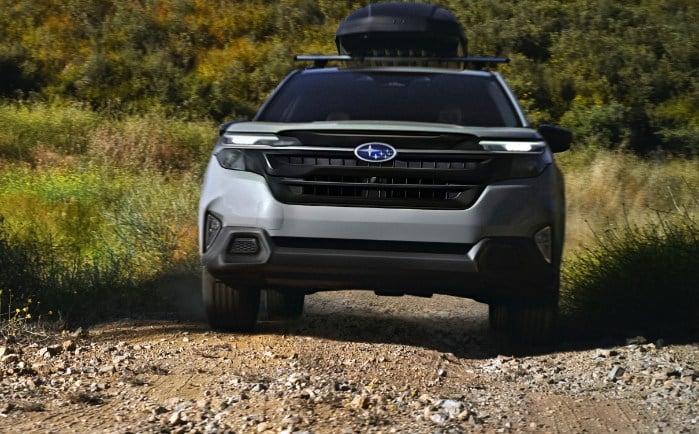 Stokes did not reiterate why the 2025 Forester does not have a Wilderness trim level, but I am speculating it's because Subaru Corporation put so much of its resources into the sixth-generation Forester. They need more time to plan the Wilderness trim. 
The next-generation Forester Wilderness requires the Japanese automaker to develop a new suspension, possibly a different engine, and add outdoor upgrades that set it apart from the standard model and the Sport trim pictured below.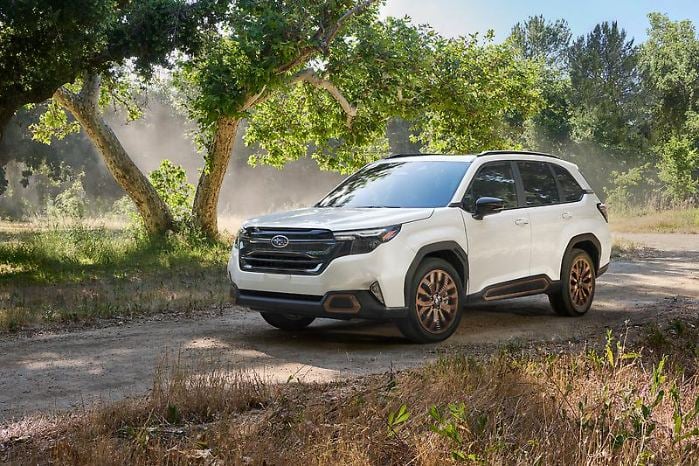 The good news for active customers is that Subaru is waiting and bringing the 2025 or 2026 Forester Wilderness, emphasizing that it needs to be a competitive model in the lineup.
The Forester Wilderness competes with the top-selling Outback Wilderness and the all-new Crosstrek Wilderness models. Subaru needs to emphasize the 2025-2026 Forester Wilderness, so it's a worthy pick for outdoor enthusiasts who want to get further off the grid.
Subaru has not confirmed this, but I speculate that the sixth-generation Forester Wilderness could get a new powertrain and possibly a 2.4-liter turbocharged engine upgrade over the standard trim levels. 
The 6th-Generation 2025 Subaru Forester It's All Here - Images, Details, Video via @SubaruReport @torquenewsauto#subaru #forester #subaruforesterhttps://t.co/XeF0MhSfYP
— Denis Flierl (@DenisFlierl) November 16, 2023
Subaru will launch the 2025 Forester compact SUV with a 2.5-liter Boxer engine with 180 horsepower and 178 pound-feet of torque. That's two less horsepower and two more lb-ft of torque than the fifth-generation 2024 Forester. 
The all-new 2025-2026 Forester Wilderness needs more power than the Base, Premium, Sport, Limited, and Touring trim levels to set it apart and allow it to carry extra gear up a steep mountain pass or trail. 
The new-generation Forester Wilderness also needs more towing capacity to keep up with the Outback and Crosstrek Wilderness trims. The Outback and Crosstrek Wilderness will tow up to 3,500 lbs. vs. the Forester Wilderness, which currently has a 3,000 lb. towing capacity. 
Forester Wilderness also needs a heated steering wheel like the Outback Wilderness for cold weather adventures into the high country. 
I look for Subaru Corporation and Subaru of America to give the sixth-generation Forester Wilderness new upgrades over the current model. Look for the sixth-generation Subaru Forester Wilderness to launch a year from now or late next year. Stay tuned. 
Your turn.
What do you think of the all-new 2025 Subaru Forester? Will you wait for the 2025-2026 Forester Wilderness? Or buy a 2024 Forester Wilderness? 
Thanks for reading, everyone. I hope you enjoyed this Subaru Forester Wilderness story. See you tomorrow for my latest Subaru Report.
For additional articles related to new Subaru models, here are two of my top stories you may enjoy. 
My Must-Read Top Picks
Check out the 2025 Subaru Forester YouTube launch video
I am Denis Flierl, a 12-year Torque News senior writer with 20+ years of Subaru and automotive journalism experience. I enjoy bringing you, the Subaru fans and customers, the most up-to-date Subaru news, reviews, and new model information. You'll find the latest Subaru stories on the Subaru page. Follow me on my The Dirty Subaru website, Dirty Subaru blog, SubaruReport, All Subaru, WRXSTI, @DenisFlierl, Facebook, and Instagram.
I've got you covered! - I cover all Subaru all the time - It's called the "Subaru Report." Check back daily for my expert Subaru analysis!
Please leave your comments below, share the article with friends, and post X to your followers! 
photo credit: Subaru USA