Subaru owners won't be sitting on the couch on weekends, many will be out blazing a trail into our National Parks on camping trips. Subaru appeals to those with active lifestyles and their lineup of 2019 Forester, Outback and Crosstrek are arguably the best all-wheel-drive SUVs to get you far away from civilization. Here's a guide for adventure enthusiasts who want to accessorize their Subaru to get the most out of weekend camping trips this summer.
If you don't have the money right now to spend money on a tent, the 2019 Subaru Forester and Outback are big enough to throw a sleeping bag down and two people can sleep comfortably in the back. If you get a bike roof rack carrier, you can mount the mountain bikes on top and you are ready for the trail.
Watch 8 Outdoor Accessories For Subaru SUV Campers and Subscribe to Torque News Youtube Channel for Daily Subaru and Automotive News.
Increase cargo-carrying ability
If you need extra room for cargo, you can get a roof rack or basket for your all-wheel-drive SUV. This will allow extra room inside for passengers, your camping gear and the family dog. There are quite a few options on the market for your Subaru, and depending on your need, there are platform racks which have accessories such as shovel and ax holders, light brackets, tire tie downs and more. Baskets are much more useful for gear since they have raised sides and help keep your outdoor gear in place. 
In-car Fridge
In-car refrigerators are the perfect solution to using a cooler and having to pack ice which melts and eventually your food and drinks are warm again. With a portable fridge, you simply dial the exact temperature you'd like it to maintain internally, then forget about it. Everything inside will stay cool or frozen, as long as you need, whenever you need it.
With new technology, there's a number of options and units available for adventure enthusiasts. All you need is your Subaru Crosstrek, Forester or Outback's 12-volt outlet or cigarette lighter. You just plug the unit in, and it does the rest. You can throw one in your rear cargo area, load the rest of your gear around it, and you're ready to go.
Rooftop Tents
When you add a roof-top tent to your Subaru Outback, Forester or Crosstrek SUV, it turns it into an ideal outdoor adventure vehicle and it gets even better for outdoor enthusiasts. You can stay for a week and have all the comforts of home. Because these tents can be set up quickly, you can spend more time hiking, fishing, biking or mountain climbing.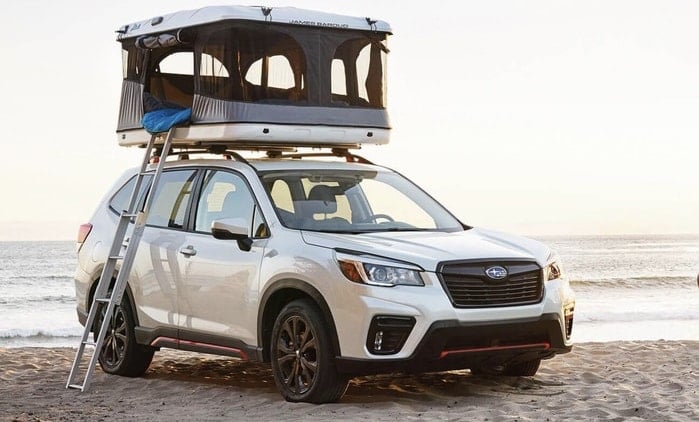 Water and trail adventures
For those who are into water adventures, Subaru offers the Thule Kayak Carrier or Paddle Board Carriers. If you need to pull a small trailer, the Outback, Forester, and Crosstrek can be mounted with a trailer hitch. Trailer-towing capacity in the new 2020 Outback increases from the previous 2,700 pounds to 3,500 pounds thanks to the new structure and upgraded powertrain. You can tow a small motorcycle trailer, boat or cargo trailer behind to handle your extra gear. Forester and Crosstrek have a max tow rating of 1500 lbs.
Outdoor extras
If you are camping in the high-country, make sure you get the All-Weather Floor Mat and a Cargo Tray for your vehicle. These will keep mud, water, and dirt off your carpet. You can also get accessories from Subaru like Body Side Molding, Door Edge Guards, Splash Guards, Side Window Deflector (roll down windows and keep the weather out), Rear Seat Back Protector, Cargo Cover (pull-out to keep items out of site), and a Rear Bumper Cover (protects bumper when loading cargo).
Helpful tips
Outside has some great tips for taking your Outback, Forester, or Crosstrek on summer camping trips. Get over-door hooks you can buy at any big box store. By hanging them on the rails of your roof-rack you can dry out wet towels or bathing suits, after a hot-springs dip or a day on the river. You can also use the hooks in the back for hanging small needed items, like keys and headlamps, so you are not searching in the dark when you have to pee at 3 A.M. And the little cutouts in the back near the hatchback door are great for stashing things you want to have access to during the night, like a water bottle, book, or hat. 
Your new 2019 Subaru Forester, Outback or Crosstrek SUV is the perfect vehicle for not being normal. With Subaru's standard Symmetrical all-wheel-drive, a few accessories and the right gear, you can get far away from civilization this summer.
You Might Also Like: Is Subaru The New Extreme AWD Off-Road Brand?
Leave your comments below, share the article with friends and tweet it out to your followers!
Follow more Subaru Outback, Forester, Crosstrek news on Facebook, Twitter, Instagram, Subaru Report