Subaru moves into new territory with Subaru Tecnica International (STI). The Japanese automaker needs to produce more hybrid vehicles, and they also need to keep their performance fans happy. They can accomplish both in the new first-ever Forester STI e-Boxer Hybrid Concept.
Subaru is getting ready to uncover the first-ever Forester e-Boxer hybrid that has been enhanced by their performance partner, STI. It's coming to the Tokyo Auto Salon 2019 running January 11-13. This show is where Subaru Corp typically unveils their concept performance models to show the world. Last year, they brought the VIZIV Performance STI Concept, a forerunner of the fifth-generation 2020-2021 Subaru WRX STI to the show for performance fans.
This year the Japanese automaker brings two STI-enhanced performance models; a 2019 Subaru Forester STI e-Boxer hybrid and an Impreza STI concept model to the Tokyo Auto Salon. We don't have many details on the new performance Forester STI other than Subaru Tecnica International, Subaru's performance partner, has given the hybrid powertrain some upgrades.
First Forester STI e-Boxer Hybrid
Subaru says, the exterior gets an exclusive "Fighter Gray" color, unique 19-inch aluminum wheel inches, and Brembo front monoblock opposed 6 pot caliper brakes for improved stopping performance. Subaru didn't reveal what STI did to the newly-developed 2.0-liter direct injection horizontally opposed engine plus electric technology producing the "e-Boxer."
The standard 2.0-liter boxer engine produces 145 PS (143hp) and 188 Nm (139 lb-ft) of torque. The AC synchronous motor produces 13.6 PS (13.4 hp) and 65 Nm (48 lb-ft) of torque. This gives the e-Boxer a total output of 187 lb-ft of torque.
The new fifth-generation 2019 Forester 2.5-liter gas engine produces 182 hp and 176 lb-ft of torque, so the Forester e-Boxer hybrid already has more torque and power output. With STI getting their hands on the new Forester, it could offer additional power upgrades for improved performance.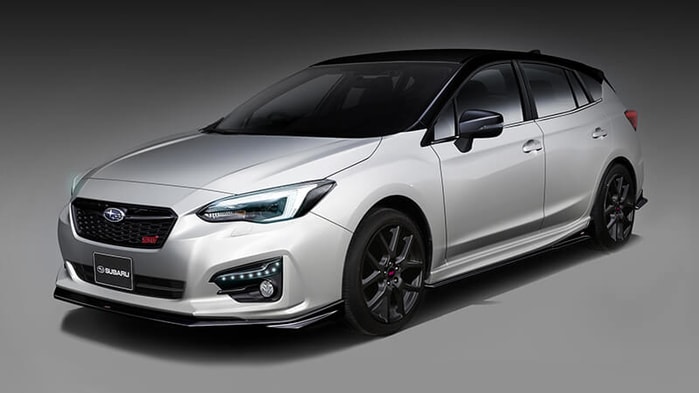 Subaru Corp also brings a new Impreza STI Concept hot hatch to the Tokyo show. It's based on the 2.0iS EyeSight model and gets exclusive interior and exterior parts. The interior comes with a Bordeaux interior. Subaru did not reveal any STI engine upgrades to the FB20 2.0-liter Boxer engine that powers the Impreza compact.
Performance fans want more STI-enhanced models and Subaru answers with the first-ever 2019 Forester STI e-Boxer hybrid Concept. We'll have more info when it gets officially unveiled on January 11, 2019. Stay tuned.
Leave your comments below, share the article with friends and tweet it out to your followers!
Follow more Subaru news on Facebook, Twitter and Instagram
Photo credit: Subaru Corporation