In an interview with The Inquirer Daily News in Philly, Tom Doll, President and COO of Subaru of America, told them in an interview, the new 2018 Subaru Ascent 3-Row Crossover will be the largest vehicle (17-feet in length) the brand has ever produced. That is not a surprise as we've reported that for about a year when Subaru announced the 7-passenger 3-Row vehicle would be made in the plant in Lafayette, Indiana.
What is a surprise, is that the new Ascent all-wheel-drive family hauler will come with 19 cup holders for it passengers. Why is that important to know? Subaru's biggest model they've ever built will cater to families, and its will be the most comfortable vehicle they've ever brought to market.
Initial reaction to the all-new Ascent has been so positive since Subaru announced the new 7-passenger family vehicle, it could become the best-selling model in their stable. Ascent comes just at the right time as Subaru buyers are asking the brand for a larger all-wheel-drive SUV to fill in the void at the top of its lineup.
Subaru learned their lesson with the Tribeca "B9" 3-Row SUV because it was too small for North American families. The new Ascent 3-Row was designed for Subaru of America as a result of the Cherry Hill, NJ automaker asking their dealers and customers what they wanted. They listened and acted by designing a new all-wheel-drive crossover. Families wanted a larger "go-anywhere" SUV and Subaru is delivering.
Ascent is ready to take on the competition
Subaru's other Japanese automakers, Toyota, Nissan, Honda and Mazda each have large successful SUVs in the U.S., so why not Subaru? The 3-Row SUV will compete with the Toyota Highlander, Nissan Pathfinder, Honda Pilot, Mazda CX-9, and American entries like the Ford Explorer, Chevy Traverse, Dodge Durango and Jeep Grand Cherokee.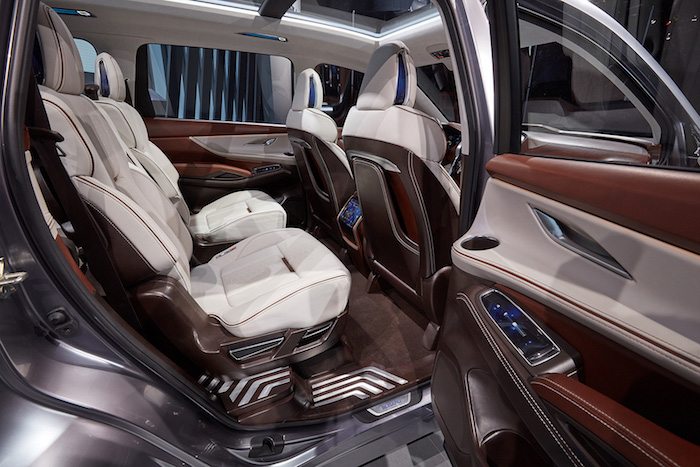 When Tom Doll introduced the all-new Ascent at the New York International Auto Show, the COO said it's "bright, airy, high quality and big". Subaru showed the cabin of the Ascent with second-row captains chairs, but said the production model would have seating for eight, indicating a second row bench will also be offered. Other new features never offered before will be a large panoramic sun roof stretching the length of the new cabin. He went on to say it will be, "Serious fun for the active lifestyle Subaru customer."
The 7-seat SUV at the New York show was a concept, so all of its features may not make it to production. In the show model, all seats were covered in soft cream-colored leather with a dark-brown dashboard with leather trim on the doors. Touch-sensitive window and mirror switches, a large center touchscreen, and a chic electronic shift knob all made the Ascent seem ready for American families.
Doll says the new 2018 Subaru Ascent 3-Row crossover will arrive in May or June of next year, and we are speculating, the new SUV will likely make its global debut at the North American International Auto Show in Detroit next January. It's coming soon for North American families, and it will be the most luxurious all-wheel-drive vehicle in their lineup and it will have plenty of cupholders. Stay tuned.
Photo credit: Subaru Global