The all-new 2019 Subaru Forester is uncovered at the New York International Auto Show and it's getting big changes, but some fans will be disappointed. Here are the details, specs and full gallery above to see what upgrades are coming this fall when it makes its dealer launch. There are a lot of good, some bad and some ugly changes coming.
The Forester gets exterior changes, but as expected, none are extreme. It gets Subaru's design language with a family resemblance with standard front, side, and rear under guards with color finish according to trim line. New LED headlights are standard on all Forester trims and complement the brand's signature hexagonal grille. It features high-gloss black or silver trim highlights and gets new colors such as Jasper Green Metallic, Horizon Blue Pearl, and Crimson Red Pearl. All Foresters will come with lower cladding to protect the SUV from rocks and mud for off-road use.
The Good: Forester grows in size
The big changes come underneath as Forester grows with its wheelbase increased to 105.1 in. from 103.9 inches. This will translate to gains in rear, legroom, headroom, hip and shoulder room. Subaru says the doors have wider openings making ingress/egress and installing a child seat easier.
The Forester re-design also increases cargo space to 76.1 cubic ft. with the 60:40 split rear seatbacks lowered, a gain of 1.4 cubic ft. Forester's rear gate opening width is now 51.2-in. wide, a 5.3-in. increase over the previous model and up to 8-in. wider than on some competitive SUVs. The load floor sits flatter, and the cargo area's squared-off shape has been further optimized for ease of carrying large objects.
Better: A new 2.5-liter boxer engine
The fifth-generation Forester gets a newly-upgraded 2.5-liter boxer engine. The new power plant now comes with direct injection, higher compression, along with active valve control system (AVCS) on the exhaust side. The new engine produces 182 hp and 176 lb-ft of torque, versus 170 hp and 174 lb-ft in the previous-generation Forester.
The Bad: 2.0-liter Forester XT is gone
We reported here on Torque News Subaru would discontinue the 2.0-liter turbo XT model. It's gone forever and Forester gets a new Sport trim, but its powered by the standard 2.5-liter engine. The new Forester Sport is an appearance package and gets "specially enhanced" standard equipment. Sport trim features a grille with black gloss finish frame, black-finish 18-in. wheels and rear roof spoiler. It also comes with orange accents on the black underguards and roof rail mounts. Inside the Sport Forester comes with a unique dark gray material with orange stitching and accents throughout.
The Ugly: Subaru drops the 6-speed manual
Subaru discontinues the manual gearbox in all Forester trims. Forester Sport won't be offered with a 6-speed manual rower. The 2.5-liter boxer will come mated to a Lineartronic CVT featuring a seven-speed manual mode with steering wheel paddle-shift shifters. The Forester Sport model does come with a version of the Subaru WRX STI Intelligent Drive (SI-DRIVE) with Intelligent and Sport Sharp modes.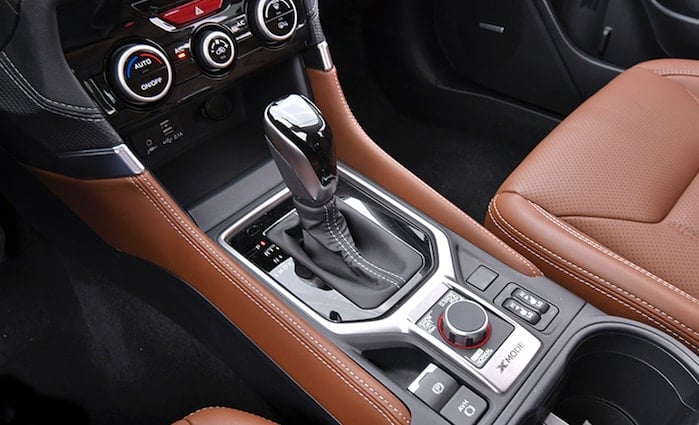 Subaru axes the 6-speed manual gearbox in the interest of safety. All 2019 Forester models will come standard with EyeSight driver assist technology for the first time. Subaru engineers haven't been able to couple a manual transmission with EyeSight, so the 6-speed is expendable.
Added safety technology
The top Touring trim debuts with a new DriverFocus safety technology offering another layer of safety and convenience for the driver. The system can alert the driver of fatigue or distraction while on the road as well as automatically adjust many driver settings at start-up.
DriverFocus uses facial recognition software to identify signs of driver fatigue or driver distraction. The new driver monitoring system works with EyeSight to reduce the chance of an accident. DriverFocus can also recognize up to five drivers and remember their presets for seat position, climate, multifunction display and more.
The new 2019 Subaru Forester also gets a new electronic brake, new front seats, standard automatic climate control, LED headlights, auto start/stop, SI-DRIVE engine performance management, Active Torque Vectoring, trailer stability assist and welcome lighting, and a panoramic power moonroof is standard on Premium, Sport, Limited and Touring trims.
There's a lot of new features on the all-new 2019 Subaru Forester making it much improved over the outgoing model. It also features the Subaru Global Platform offering a quieter cabin, improved driving dynamics, and additional safety. There is some bad and ugly with Subaru XT 2.0-liter turbo gone along with the 6-speed manual gearbox.
Leave your comments below, and share the article with friends and tweet it out to your followers!
Follow us on Facebook, Twitter and Instagram
Photo credit: Subaru NYIAS