Fall is here, and it's an excellent time to prep your all-wheel-drive Subaru Outback, Crosstrek, Forester, or another model and prepare for the colder temperatures and driving in the snow. Here are some service tips to help get your vehicle ready for Fall and Winter. 
Seasonal temperature and weather changes can affect road conditions and the performance of your Subaru vehicle. Here are the easiest ways to help ensure your all-wheel-drive vehicle is ready for fall and winter adventures.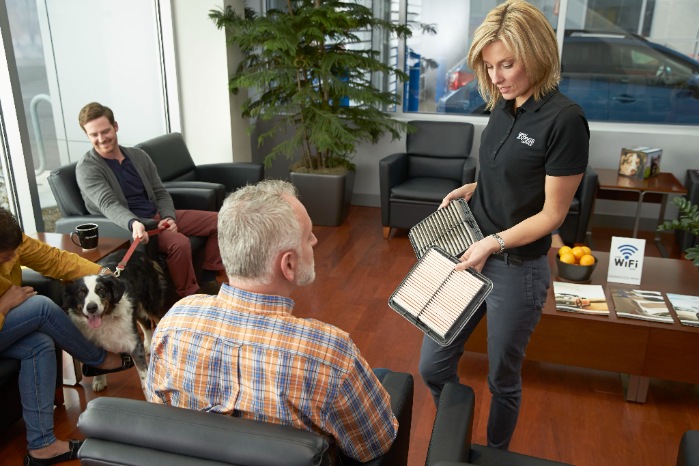 If you are like me, you won't be sitting at home watching the snow from inside a warm house. You will be taking your all-wheel-drive Subaru up the mountain pass to a ski resort to go snowboarding, skiing, snowshoeing, snowmobiling, and tubing. It's why you own a Subaru. 
8 cheap and easy prep tips to get your Subaru ready for winter 
1. Check your battery's cold-cranking capabilities. Cold temperatures can affect your battery's performance. If your battery is weak, the cold will kill the battery, and you could be left stranded. 
2. Check your heating, cooling, and defroster systems to ensure they work at peak efficiency to clear those foggy windows. Cleaning dead leaves from outside vents can help ensure the defroster will clean the frost from your windshield. 
3. Check the vehicle's tire air pressure. Cold temperatures can cause tire pressures to drop and will affect fuel mileage. Pay attention to your Subaru's tire pressure warning light on the dash. It means there is a problem with the tire pressure. 
4. Check the condition of your tires. If you are running all-season tires, ensure they have adequate tread depth for driving on ice and snow. Consider buying a winter-rated tire if you drive consistently in deep snow.
Check my winter tire guide here for more information on which winter tires are the best for your Subaru.
5. Check the condition of your brakes. A Subaru dealer can give you a free check and let you know how much life you have left on your brake pads and rotors. If you wait too long, replacing your brake pads and rotors will cost you considerably more. 
6. Check your wipers. You will use them more often in the fall and winter as the rain, sleet, snow, and ice hit your windshield. Take off those summer blades and replace them with a good quality winter wiper blade. 
7. Fill your windshield washer fluid reservoir. Use wiper fluid with a lower freeze point rating; never add plain water. Make sure you clean your sprayer nozzles from summer dirt and road grime. 
8. Test your vehicle's lights, inside and out. It gets darker earlier, and you want other cars to see you. You need the best visibility when you are in a blinding snowstorm. 
Get your Subaru ready for fall and winter driving before the snow flies. The eight easy prep tips will help prepare your Subaru, saving you time and money in the long run.  
For additional articles related to Subaru maintenance, here are a few for your consideration:
Here is the Subaru Parts and Service: Prepping for Fall YouTube video
Denis Flierl brings over thirty years of combined auto industry and automotive journalism experience to Torque News readers. He is an accredited Rocky Mountain Automotive Press (RMAP) member. The last twelve years have been spent with Torque News, covering Subaru vehicles and the latest news. Check back daily for his expert Subaru analysis. You'll find the latest stories on the Torque News Subaru page. Follow Denis on Facebook, Social Media Platform X, and Instagram. 
Subaru Report - We've got you covered! Check back tomorrow for more unique, informative SUBARU news, reviews, and previews you can trust.
Please leave your comments below, share the article with friends, and post X to your followers!
Photo credit: Subaru