I cover the most popular Subaru models monthly and use the Edmunds research tool to reveal the hottest new models. They do not necessarily correspond with the top-selling models for Subaru of America. Still, they show the trends and which ones are the most desirable among online shoppers doing research. 
The top 30 most researched new vehicles during September 2023 include four Subaru SUVs again. Last month, the Solterra EV was in the top ten most researched new vehicles and was number six in August. It's the hottest model again.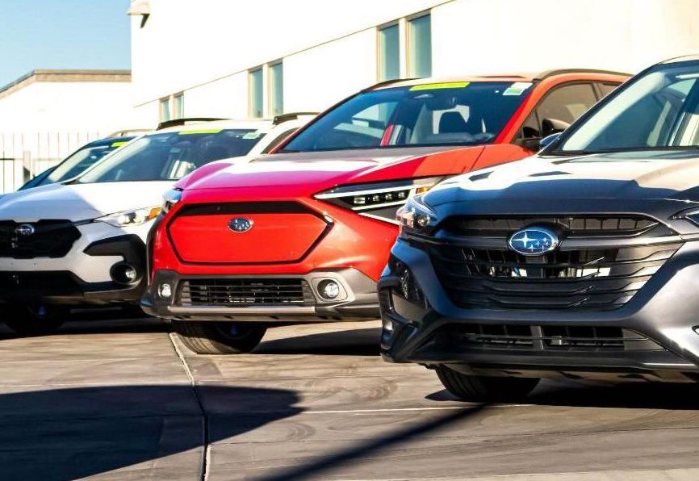 photo credit: Tucson Subaru
In August, the 2023 Subaru Outback midsize SUV was number 17, the 2023 Subaru Forester compact SUV was number 21, and the all-new 2024 Subaru Crosstrek was 29th on Edmunds' most researched new cars list.
Here are the September rankings in order of their popularity with online shoppers doing research. 
1. Subaru Solterra is the sixth most researched new car again and the hottest model for Subaru of America.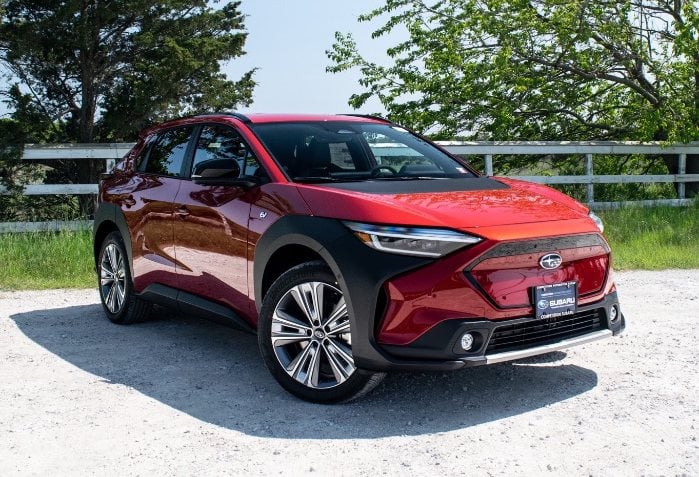 photo credit: Competition Subaru
Interest in electric vehicles continues to increase, and the all-new Subaru Solterra is a top-researched new model according to Edmunds research data by new car shoppers. The Solterra is Subaru's first electric model, gaining popularity with new car shoppers. 
The peaked interest among new SUV shoppers is primarily because of Subaru's special incentives and financing of the Solterra right now. We checked Subaru of America's special offers page, and Solterra has special offers not offered on any other Subaru model. Subaru of America offers 0.0% APR financing for 72 months or a $399/month lease, with $0 down on new 2023 Solterra EV Premium trim levels through November 30, 2023.
The Subaru Solterra Is Starting To Sound Like A Broken Record via @SubaruReport @torquenewsauto photo @TucsonSubaru#subaru #solterra #subarusolterra #subaruev #evhttps://t.co/K78ONe6KZk
— Denis Flierl (@DenisFlierl) November 10, 2023
Solterra is the best Black Friday pick.
Consumer Reports recently reported that you can get 9% off the new Solterra MSRP on Black Friday. This could be a great time for customers to buy the electric Solterra. 
CR says a 2023 Subaru Solterra Premium trim level has an MSRP of $44,995, but you can get a discount of $3,977. The bottom line price is $41,018. CR says incentives expire on January 4, 2024.
2. Subaru Outback is the thirteenth most researched new car
The 2023 Subaru Outback is Subaru of America's top-selling model and is a hot pick for new midsize SUV shoppers. The Forester outsold the Outback last month, but the midsize SUV is still the top-selling model in the all-wheel-drive lineup.
3. The Subaru Forester is the twenty-sixth most researched new car, but look for this to change now. 
The Forester compact SUV is picking up steam and is selling well ahead of its complete remodel coming next spring. The next-generation Forester was revealed yesterday, and I covered the new model with complete model upgrades, photos, and a new video of the remodeled compact SUV.
The 6th-Generation 2025 Subaru Forester It's All Here - Images, Details, Video via @SubaruReport @torquenewsauto#subaru #forester #subaruforesterhttps://t.co/XeF0MhSfYP
— Denis Flierl (@DenisFlierl) November 16, 2023
4. The Subaru Crosstrek is the twenty-ninth most researched new car.
The 2024 Subaru Crosstrek is all-new and is shaping up to be the most significant launch for Subaru of America this year. It received substantial upgrades, and the new Crosstrek Wilderness will be a hit with active outdoor enthusiasts. 
The Subaru Outback, Forester, and Crosstrek are hot topics for Subaru of America. The new Solterra electric SUV is the most desirable now because of the attractive incentives. 
Your turn.
What Subaru model are you most interested in? Is it the new 2025 Subaru Forester compact SUV or the Solterra EV? 
Thanks for reading, everyone. I hope you enjoyed this Subaru story. See you tomorrow for my latest Subaru Report.
For additional articles related to new Subaru models, here are a few of my top stories you may enjoy. 
My Must-Read Top Picks
I am Denis Flierl, a 12-year Torque News senior writer with 20+ years of Subaru and automotive journalism experience. I enjoy bringing you, the Subaru fans and customers, the most up-to-date Subaru news, reviews, and new model information. You'll find the latest Subaru stories on the Subaru page. Follow me on my The Dirty Subaru website, Dirty Subaru blog, SubaruReport, All Subaru, WRXSTI, @DenisFlierl, Facebook, and Instagram.
I've got you covered! - I cover all Subaru all the time - It's called the "Subaru Report." Check back daily for my expert Subaru analysis!
Please leave your comments below, share the article with friends, and post X to your followers! 
photo credit: top image Tucson Subaru