Kelley Blue Book rolls out its 10 Best 2024 model year cars, including one Subaru model on the list—the all-new 2024 Subaru Crosstrek Wilderness. The Crosstrek Wilderness is Subaru of America's most important new model launch this year. And it's getting attention from the automotive press. Kelley Blue Book says the Crosstrek Wilderness is one the ten best new 2024 model year cars worth waiting for. 
If the Subaru subcompact SUV is so hot, fans may ask why the Crosstrek Wilderness is ranked behind SUVs like the Hyundai Santa Fe, Chevrolet Traverse, GMC Acadia, and Volkswagen Tiguan. Here are KBB's top picks ranked from best to last.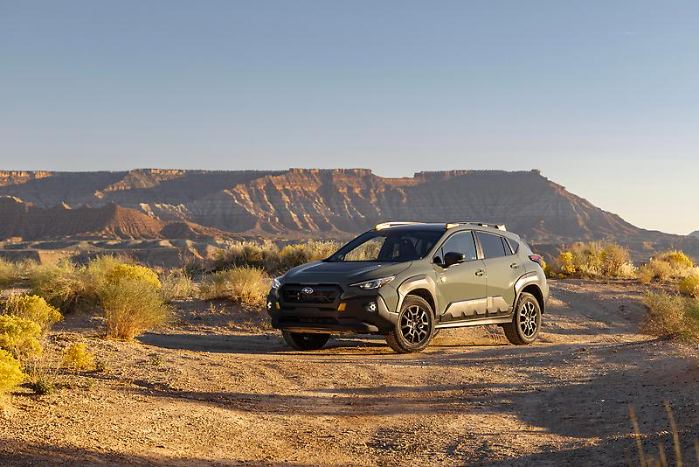 2024 Toyota Tacoma
2024 Honda Prologue
2025 Volkswagen ID. Buzz
2024 Hyundai Santa Fe
2024 Toyota Land Cruiser
2024 Chevrolet Traverse
2024 GMC Acadia
2024 Volkswagen Tiguan
2024 Mercedes-Benz E-Class All-Terrain 
What does Kelley Blue Book say about the 2024 Subaru Crosstrek Wilderness? 
"Completely redesigned for the new model year, the 2024 Subaru Crosstrek is a much-upgraded version with a quieter cabin, a more comfortable ride, and, new for 2024, a rugged Wilderness version to match the other models in Subaru's lineup. With wild off-road-themed additions to the Crosstrek's exterior design, the Crosstrek Wilderness might seem like it's only about the look."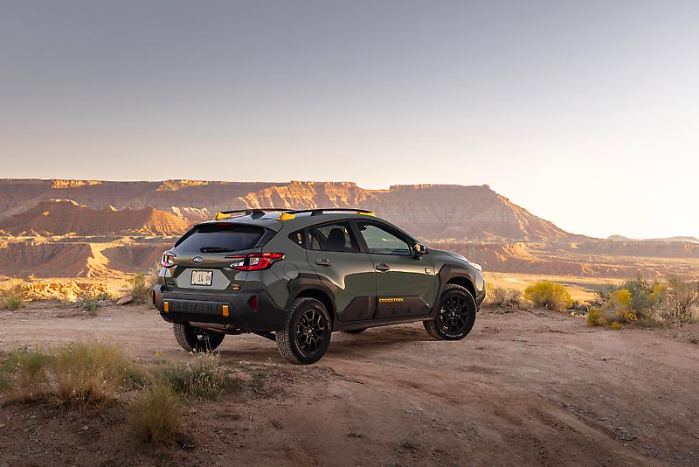 "Still, it gets genuine upgrades, including an additional 0.6 inch of ground clearance (for a total of 9.1), better approach and departure angles, an off-road-tuned suspension, all-terrain tires, and an upgraded dual-function X-Mode AWD system, as well as more durable and water-resistant interior materials."
Here's why the all-new Crosstrek Wilderness is ranked lower. 
The Crosstrek Wilderness trim level is a niche model designed to appeal to active customers using the rugged subcompact SUV to get further off the grid. It's not for everyone, and it's not a mass-market vehicle. 
The 2024 Crosstrek Wilderness joins the Outback and Forester Wilderness family of outdoor-themed models for active customers. The Crosstrek was the most likely model to join the group because nearly 33 percent of Crosstrek owners use their vehicle for off-road pursuits. 
The Crosstrek Wilderness will also get new customers in the showroom who have never purchased a Subaru vehicle. But when they see the sticker price of $33,290, many will likely take a look at the Premium or Sport trim levels. A fully loaded 2024 Crosstrek Wilderness is $35,560.
The 2024 Crosstrek Sport has a starting price of $30,290, and the Premium is the best value with an MSRP of $27,440. 
The 2024 Subaru Crosstrek pricing of all trim levels.
For 2024, the Crosstrek will be available in Base, Premium, Sport, Limited, and Wilderness trim levels and has a starting price of $26,290 (the same MSRP as the 2023 Base model equipped with the Lineartronic CVT automatic transmission).
The 2024 Crosstrek Premium has a starting price of $27,440, Sport ($30,290), and Limited ($32,190). Pricing includes destination and delivery fees ($1,225). 
What is the price of the Crosstrek Wilderness?
The 2024 Subaru Crosstrek Wilderness will be the most expensive Crosstrek trim level. The all-new Crosstrek Wilderness costs $33,290, including dealer destination and delivery fees ($1,295).
There's also a difference in fuel mileage.
The 2024 Crosstrek Sport and Limited get an EPA-estimated 26/33 city/highway mpg and 29 combined mpg. The more rugged 2024 Crosstrek Wilderness trim level uses the same re-tuned 2.5-liter four-cylinder Boxer engine as Sport and Limited. The 2024 Wilderness trim gets an EPA-estimated 25/29 city/highway mpg and 27 combined mpg.
Subaru knows the new Crosstrek Wilderness is only for specific customers. Sales will be good, but the Wilderness trim is for individuals who will pay the extra $3,000-$6,000 to get further off the grid. 
This automotive journalist thinks the Wilderness is a good value because you can't build an off-road capable Crosstrek with aftermarket equipment for the cost of the outdoor-themed model. I have talked to Subaru retailers, and they are even more excited than the customers to get their hands on the new Crosstrek Wilderness. 
Regardless of the Crosstrek Wilderness niche market, it's still one of KBB's best new vehicles for 2024 that are worth waiting for. Subaru of America launched its new model this fall, and it now arrives for the most active and adventurous customers. 
For additional articles related to the new Subaru Crosstrek Wilderness, here are a few for your consideration:
Check out the 2024 Subaru Crosstrek Wilderness Review and Off-Road Tests YouTube video from Driving Sports TV 
Denis Flierl brings over thirty years of combined auto industry and automotive journalism experience to Torque News readers. He is an accredited Rocky Mountain Automotive Press (RMAP) member. The last twelve years have been spent with Torque News, covering Subaru vehicles and the latest news. Check back daily for his expert Subaru analysis. You'll find the latest stories on the Torque News Subaru page. Follow Denis on Facebook, Social Media Platform X, and Instagram. 
Subaru Report - We've got you covered! Check back tomorrow for more unique, informative SUBARU news, reviews, and previews you can trust.
Please leave your comments below, share the article with friends, and post X to your followers!
Photo credit: Subaru