Have you ever owned a vehicle you love but wish its interior was quieter on the road? If you are a DIY fan, there is a way to fulfill that wish. We found a Mazda CX-50 owner named JB who has installed insulation material in his vehicle at the Facebook CX-50 club. JB claims the results are noticeable and impressive. Here is his overview of the process.
JB is a retired first responder who has had a lifelong passion for automobiles. He's worked on cars for decades, including rebuilding four classic muscle cars "from the ground up." In addition to his own DIY projects, JB has worked the parts counter at a local auto parts store, in a warehouse for auto parts, and for a custom stereo shop. He has gleaned a lot of practical knowledge from his work.
TN - can you tell us what this project is all about? What are the goals of adding this insulation material?
JB -this project is about quieting the interior of the vehicle. You do this so that you hear less road noise. It minimally helps with heat and cooling inside the car due to the foil backing. Finally, it helps the harmonics of the vehicle and of the stereo. You hear less of the vehicle and better sound from your stereo. If you have ever ridden in a Cadillac, Lincoln or other higher-end vehicles and noticed how quiet it is, this is a similar concept.
TN - Do you have a list of things like this that you do to vehicles that you own?
JB - One of the first things I do to my cars is this type of "insulation" installation (say that five times really, really fast). I also do a hard-wired flashlight, fire extinguisher, and first aid kit. Most of the time, I also upgrade speakers, add speakers, and sometimes a sub-woofer. I also typically change bulbs out to LED, though I found that all the bulbs in this Mazda are already all LED (pleasant surprise).
TN - Where do you source the insulation material?
JB- you can purchase this or many other different names brands from your local stereo shop, Amazon, eBay, or other websites. I used Amazon because most convenient and has the best price, and you can choose different mils, which is the thickness of the material. It comes in different thicknesses, as well as you can get a layer of foam in it as well. They make lighter panels of this type that have just foam, foil, and some adhesives for things like under the headliner and like on a powered rear hatch, so you don't add too much weight.
TN - Roughly how much does enough for one car cost?
JB -I purchased two boxes of 36 sqft in each box material. That will do the trunk/cargo area, rear wheel wells, under seats, and under the floors (of the cx-50). There's also a bit left to put a sheet right in the middle of the doors. Think of the doors as a drum or can. You can eliminate a lot of road noise from here. So adding a piece muffles it and eliminates the echo from the doors, which reduces the sound inside the car.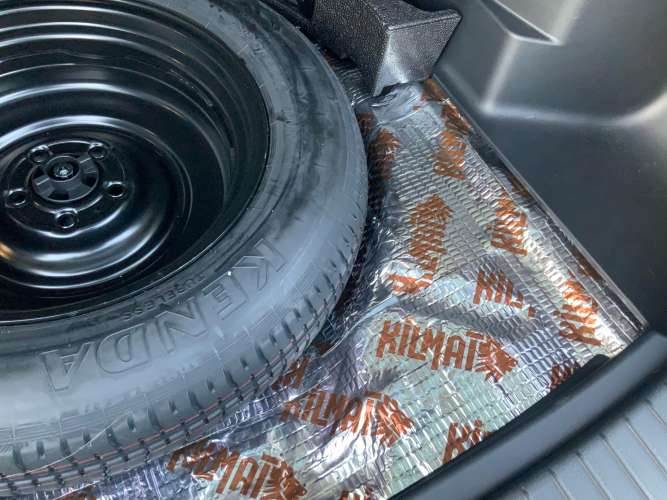 TN - How does it go on, and where in the car do you apply it?
JB -to apply, you cut it with a razor knife. Then peel the paper backing off and carefully position it (once it touches something, it's kind of difficult to pull it up). Once in position, you can use the roller that typically comes with the box. Any smaller-sized roller (similar to the small paint roller) from a box store would work as well. You apply pressure and roll in into place. You can use a heat gun or hairdryer for areas that are more dimensional or have several different angles (the heat helps better shape the mat). If you happen to rip a piece, cut another piece to cover what is no longer covered by the ripped piece. GLOVES ARE A MUST—any type of gardening, construction, or even soft cloth gloves. The foil can have some sharp edges until it's rolled down.
TN - Can you tell us a few cars you have done this to?
JB -I have done this to a 1968 Camaro convertible, 1979 Camaro, 1972 Chevelle, Nissan Pathfinder, Toyota Tacoma, three ford explorers (1998, 3013, and my most recent 2019 Explorer Sport), a few other cars for friends, and now my 2023 CX-50.
TN - When completed, how are the results?
JB -I did some Initial testing using an app on my iPhone (far from scientific, I know).
With just doing the inside of the spare tire well to just the edge of the wheel wells. I also installed it just under the rear seat (not the rear seat floor or wheel wells). I did some testing. I then finished the center sections of the spare tire and into the inner portions of the rear quarter panels (still not doing the wheel wells).
Went from 76.7db(A), max of 78.2db(A), an average of 76.3 db(A) to 72.0 db(A), max of 78.7 db(A), and average of 70.7 db(A).
A measurement of sound pressure is decibels (db (A). A 6db(A) sound level change is perceived as double or half the volume. So you can see the difference this makes.
If I had a bit more time, I could update this once the car is complete, particularly the high sound areas (wheel wells, car floor, and inside doors). Not uncommon to go for a high of close to 80db(A) to high 40s with this type of insulation. Your radio will sound better as well!
TN - What other things do you do to cars you buy?
JB - I have already added a curt hitch and wiring to this vehicle. Just completed adding an auto-dimming mirror with HomeLink. I'm currently assembling a car everyday carry kit (EDC kit).
Our thanks to JB for sharing this very interesting information. We appreciate his participation.
Vehicle insulation images courtesy of JB.
John Goreham is an experienced New England Motor Press Association member and expert vehicle tester. John completed an engineering program with a focus on electric vehicles, followed by two decades of work in high-tech, biopharma, and the automotive supply chain before becoming a news contributor. In addition to his ten years of work at Torque News, John has published thousands of articles and reviews at American news outlets. He is known for offering unfiltered opinions on vehicle topics. You can follow John on Twitter, and TikTok @ToknCars, and view his credentials at Linkedin