A new study by J.D. Power and Associates called the 2022 U.S. Tech Experience Index (TXI) Study puts Tesla in first place by a country mile. Genesis and Hyundai each lead in the premium and mainstream segments.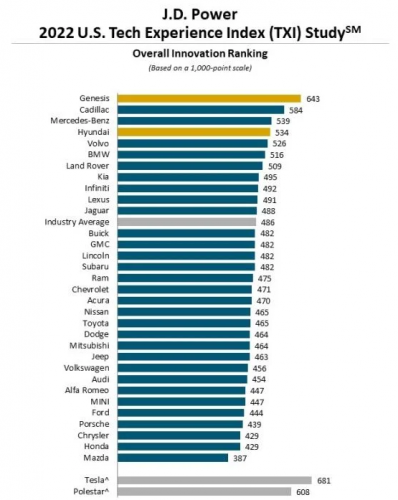 The reason that Tesla's score comes with this weird qualification is that Tesla is a weird company. It refuses to allow companies that perform customer satisfaction studies permission to contact its customers where it is allowed to block that by law. So, J.D. Power cannot accurately gauge the Tesla brand. The group still tries its best but prefers to highlight the brands that allow owner surveys, which is every brand but Tesla.
Genesis scored a whopping 643 in this study, where a higher score is better. Cadillac was a distant second at 584, and third place was Mercedes-Benz, way down in the low 500s. For some odd reason, J.D. Power feels that brands need to be broken into premium and mainstream segments. We understand why this might be so in some situations, but why not rank all brands and see where they stand rather than pretend that anyone can really discern what a premium brand is?
In any case, Hyundai leads the other segment with a score of 534 (a virtual tie with Mercedes). Interestingly, Kia has a score of 495 despite having infotainment systems almost identical to Hyundai's. The next closest brands to Kia all have scores in the 480s.
"Innovation is non-negotiable," said Kathleen Rizk, senior director of user experience benchmarking and technology at J.D. Power. The group feels that great infotainment technology is essential because new-vehicle technology is a leading reason to purchase. J.D. Power says that when technology is executed effectively in a vehicle, it positively influences an owner's decision to purchase another vehicle equipped with that same technology. Among the highest execution scores in the study is for the phone-based digital key, which also is ranked in the top three by owners wanting that technology on their next vehicle.
Interestingly, many of Hyundai and Genesis's newest and most expensive models, such as the Ioniq5 battery-electric vehicle, do not even come equipped with wireless Android Auto and Apple Car Play. A feature standard on the much lower-priced Hyundai Elantra.
You can view more on the latest technology study from J.D. Power at this link.
Image of Hyundai Ioniq5's infotainment system by John Goreham. 2022 Technology ranking chart by J.D. Power.
John Goreham is a long-time New England Motor Press Association member and recovering engineer. John's interest in EVs goes back to 1990 when he designed the thermal control system for an EV battery as part of an academic team. After earning his mechanical engineering degree, John completed a marketing program at Northeastern University and worked with automotive component manufacturers, in the semiconductor industry, and in biotech. In addition to Torque News, John's work has appeared in print in dozens of American news outlets and he provides reviews to many vehicle shopping sites. You can follow John on TikTok @ToknCars, on Twitter, and view his credentials at Linkedin
Re-Publication. If you wish to re-use this content, please contact Torque News for terms and conditions.