Battery-electric vehicles will be mandated by government fiat in just a handful of years. Now that our nation's capital, California, has dictated that EVs will be the law of the land by 2035, manufacturers will be forced to rapidly ramp the delivery of EVs to consumers. At the present, however, most affordable battery-electric vehicle models are declining in deliveries, not increasing.
Related Story (2022): Europe's Most Populous City Has Virtually No Electric Vehicles
We have created the below chart to illustrate that many of America's most popular EV models sold at a lower number In September than their 12-month averages. Most of these models are very new, so a comparison to their prior delivery rates isn't a simple thing. If a model is missing from our chart, like the Bolt, Niro EV, or Kia EV6, you can assume that the manufacturer did not release monthly and quarterly delivery numbers for the U.S. market broken out by the individual models. Tesla never does so, and Tesla's vehicles are not in the affordable segment, but rather, are premium-priced. Tesla continues to be a ray of hope in a gloomy EV picture, but for now, only sells pricey models out of reach for many familes.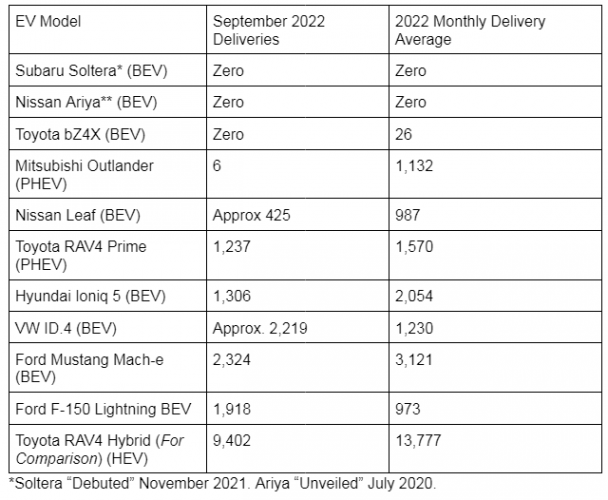 Why Affordable EV Deliveries Are Declining
The shortages of many components is a factor in why all new vehicle deliveries have been slowed. However, let's also remember that many of the affordable BEVs on our list were released after the shortages began. Therefore, shouldn't automakers have already pre-planned the supply chain to build the BEVs they constantly point to as success stories? Most affordable BEVs are all-new models with all-new supply chains. Yet, they are still in decline. And shouldn't automakers be prioritizing their newest and hottest vehicles if things like chips must be rationed? Why haven't automakers poured all of their available resources into EVs, given that they are often the fastest-selling models in the lineup?
The Self-Imposed 2,000-Unit Per Month Affordable BEV Delivery Cap
Since the modern age of battery-electric vehicles began in 2010 with the introduction of the Nissan Leaf, manufacturers seem to have self-imposed a 2,000-per-month average delivery cap on affordable BEVs.
Look back over the past 13 years, and you will see that the Leaf, Bolt, Niro, Ioniq, EV6, bZ4X, and even the Mustang Mach-e generally average less than 25,000 units per year in delivery. They do sometimes rise to higher delivery rates. For example, the Bolt has had many months higher than 2,000 units delivered. But they also have periods of far less delivery volume. Sadly, the Bolt just emerged from a year of what seems to be negative deliveries (more were bought back than sold).
It is almost as if automakers pre-plan the BEVs they produce to maximize news headlines but minimize damage to the financial bottom line by not building "too many." 2,000 units per month seems to be the magic balance. For those readers who don't track monthly delivery numbers, top-selling affordable cars and SUVs are usually measured in the tens of thousands per month of deliveries, with a pre-COVID volume of around 35,000 units per month or more being typical for a top-selling model like the RAV4 or Honda Civic. There has never been an affordably-priced EV that sold in mainstream numbers in America.
It's Always Tomorrow For Affordable BEVs
Where are the high-volume EVs that most Americans can afford? We hear about EVs many years before they arrive, and the automotive media play along as if the vehicles are actually on sale. Use your browser to search for the Chevrolet Equinox EV and see what we mean. The vehicle is being called a game-changer, but nobody has driven it, none have been sold, and the price estimates are ridiculously low. Particularly since by the time this new BEV arrives, the dollar will have lost another 10% or 20% of its buying power. Need another example? Try searching for the Tesla Model 2.
Who Leads In Affordable EVs Today?
The definition of leadership and affordable are up for debate, but we know a few things for certain. A $70K five-passenger crossover is not what most folks call "affordable." So Tesla is hard to call the leader in affordable EVs. "Leading" means that the company is demonstrating a path forward. Both GM and Ford can be called leaders in this regard. GM's Bolt line is fantastic and affordable. And better yet, back on the market after a long span of being pulled from sale. The Ford Mustang Mach-e is the only "affordable EV" we know of today that is being delivered at a rate above 2,000 units per month on average. Only Ford has delivered an EV truck one can call affordable without being cheeky, though it has thus far only been delivered in tiny numbers.
Who Is Not Leading In Affordable EVs?
Who is not a leader in battery-electric vehicles today? Surprisingly, Toyota. The world's leading automaker of green vehicles began delivering battery-electric crossovers to U.S. customers in 1997. Thus far in 2022, it has delivered just 232. Nissan is also not a current leader, despite being credited with creating the first modern-generation affordable BEV, the Leaf almost 12 years ago. Nissan delivered over 2,500 Leafs in December of 2013. In the first three months of this year, Nissan delivered about 1,300 leafs.

Will the "Biden" EV Tax Subsidy Plan Increase EV Deliveries Ahead?
Following President Biden's leadership on the issue, Congress changed the EV tax credit law this past quarter. While some EV fans see a bright future in the new subsidies, the old plan signed into law by both a Republican and a Democratic President included more electric vehicles. At least in the short term, the new tax law is widely seen as hurting the EV consumer by reducing the number of models covered by the subsidies. At the end of the day, who cares? EVs are flying off lots with huge dealer markups. If subsidies can somehow convince automakers to build more EVs that will be great, but we have had green vehicle subsidies for three decades now.
Related Story: 4 Presidents Later, Buyers Don't Know How Federal EV Tax Incentives Work
Don't Kill the Messenger
Stories reporting the truth about EVs are often seen by many EV advocates as anti-EV. Perhaps some are, but shouldn't the truth set us free? Free from unreasonable expectations? Free from disappointment when one shops for a $39,000 Ford F-150 Lightning only to find that the price is actually more like $54K and the vehicle is not even for sale? Free from the expectation that a tax break will help make EVs more affordable, only to find that dealers have marked the vehicle up above the MSRP by more than the tax break? Tell us your thoughts in the comments below.
John Goreham is a long-time New England Motor Press Association member and recovering engineer. John's interest in EVs goes back to 1990 when he designed the thermal control system for an EV battery as part of an academic team. After earning his mechanical engineering degree, John completed a marketing program at Northeastern University and worked with automotive component manufacturers, in the semiconductor industry, and in biotech. In addition to Torque News, John's work has appeared in print in dozens of American news outlets and he provides reviews to many vehicle shopping sites. You can follow John on TikTok @ToknCars, on Twitter, and view his credentials at Linkedin
Re-Publication. If you wish to re-use this content, please contact Torque News for terms and conditions.
Image of 2022 Chevrolet Bolt EV on mountain by John Goreham