The minivan was once headed for extinction, having been sidelined by a combination of enthusiast media publications, opinions from those who didn't own one, and possibly the allure of more profits from ginormous SUVs. Thank goodness the minivan survived. There is no better vehicle for family use when that family includes more than two or three children. 
Toyota has been very good about putting its Sienna into our media fleet over the past two decades. Over that time, we've been able to plot its progress from pretty good to utterly fantastic. Here's our review, and if it reads like a love letter, perhaps it is. 
Please note that we tested a 2023 model year Sienna, but no changes have occurred for model year 2024. Our prices all include destination and delivery, and are all the 2024 model year prices. 
2024 Toyota Sienna Platinum AWD - What Is It?
The Sienna is Toyota's minivan. The Sienna can seat eight passengers or it can seat seven, depending on what trim and options the buyer selects. Ours had two seats in the second row, and three in the third, so it was a 7-passenger vehicle. It is available in six distinct trims. Platinum is the top trim and the one we tested. Electric all-wheel drive is optional, starting with the second trim, or it is included. 
2024 Toyota Sienna Platinum AWD - What Does It Cost?
The Sienna LE is the base trim, starting at just under $40K. The least expensive AWD Sienna is the XLE and has a cost, according to Toyota's 2024 model year price configurator of $46K. The top trim model we tested had a price of $56,715. The purchase price includes two years of maintenance, and you can expect the Sienna to have an operating cost about the same as a battery-electric vehicle. 
2024 Toyota Sienna Platinum AWD - What Powers It?
The Sienna uses a combination of a gasoline engine and electric motors to propel itself. All Siennas have the benefit of being full hybrid-electric vehicles capable of operating in electric-only mode in certain situations. There is an EV mode, Eco Mode, and also a Sport Mode. The power is 245 at peak, but it is the excellent torque you sense when driving. The Sienna uses a geared electronically controlled Continuously Variable Transmission (eCVT) with sequential shift mode. It is the best transmission of its type and has proven very reliable over a long stretch of years in use. The all-wheel drive system is electronic. There is no driveshaft connecting the rear wheels to the engine. Instead, the rear wheels are turned electrically. It works superbly in normal driving and also in serious snow. 
During our time with the Sienna, we monitored the AWD system using the live graphic that showed which wheels are getting power. We were very surprised to see that the Sienna almost always powers its rear wheels. Quite a contrast to rough and rugged vehicles like my own Bronco Sport Badlands, which normally operates in front-wheel drive unless tortured into using its rear wheels briefly. 
2024 Toyota Sienna Platinum AWD - Fuel Economy
In our testing, the Sienna returned 35.3 mpg. Toyota's hybrids walk the walk and earn their EPA ratings. Over two decades of testing, we have never driven one that didn't. The mileage of the Sienna is important. The gas savings compared to a Honda Odyssey will pay for your kids' braces. We gassed up at the Country Mile in Greenville, NH, during our week with the Sienna, paying $3.20 per gallon. That made our cost of energy nine cents per mile. That is less than the cost to power a large electric vehicle in our area of Metro Boston with its $0.36/kWh electricity cost.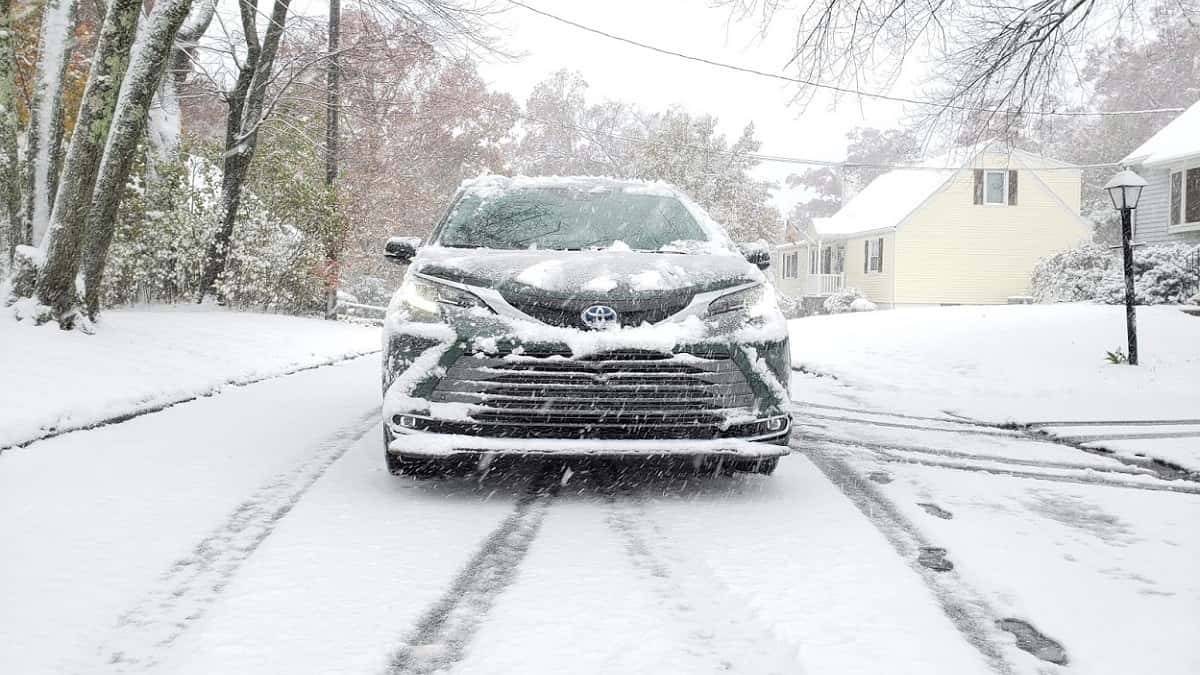 First Winter Snow Test -Toyota Sienna With Electric Motor All-Wheel Drive
2024 Toyota Sienna Platinum AWD - The Drive
The Sienna is so smooth and so serene it helps you to relax, even in the worst traffic. The vehicle is large, but you feel like you are in something more like a compact Forester. The front glass area is huge, and the side windows are also very large. This means you get a commanding view of the road. Better even than many large SUVs. You can see out the rear window just fine unless you have the back row packed with adults. And why would you ever do that? This van has no real blind spots if you know how to use mirrors properly. 
The off-the-line torque is delicious. You will learn to use the electric drive to start off in silence. If you want to drive like a dummy and hammer the accelerator, you can, and the Sienna will respond with good speed. In normal driving, you only notice the gas engine working in certain scenarios, like when merging, passing, or in the mountains. When the gas engine comes on, you do notice it, and many publications may point this out as a negative. From our point of view, it is only a negative compared to affordable fully electric minivans, of which there are exactly zero in the world. The Sienna is a smooth and relatively quiet vehicle in every scenario. Our tester had 13,000 miles on the odometer and was 100% squeak, rattle, and buzz-free.
You steer the Sienna differently than you might a sedan, and it is enjoyable. We had one emergency braking-while-turning event in our week with the van, and it performed better than we would have expected an SUV to. We took the Sienna on multiple long suburban and rural drives of two hours, and it was perfect for such drives.
2024 Toyota Sienna Platinum AWD - Notable Features
The Sienna can come with a spare tire. You need to buy it as an option in some trims, and some have it standard. Get it. Ours had a rear seat entertainment system with screens and headphones. We feel this is outdated and would skip it. Kids want their own tablets or phones today. Why burn money on a built-in system? Like all modern vehicles, you can opt in for Wi-Fi. Our vehicle had Android Auto, but it only worked if we plugged it in. 
2024 Toyota Sienna Platinum AWD - Which Would We Buy?
Recognizing that families are often on tight budgets, we would look at an AWD trim lower than Platinum. Paying for shiny rims, premium seat material, and built-in rear seat entertainment systems would never have been part of my priority list when my kids were younger. 
2024 Toyota Sienna Platinum AWD - Summary
The Sienna is an amazing vehicle. It is enjoyable to drive, particularly on long hauls, and it has a ridiculously low cost of ownership, rivaling or beating three-row BEVs. Toyota's reliability is the best in the business in three-row vehicles and has been for some time. Consumer Reports data shows the Sienna also earns a solid 5/5 score for owner satisfaction. If you are in the market for a seven or eight-passenger vehicle, there is no better choice. The fact that the Sienna is tops in cost of ownership, has very low emissions, and is among the most reliable vehicles one can buy are all just bonuses. 
John Goreham is an experienced New England Motor Press Association member and expert vehicle tester. John completed an engineering program with a focus on electric vehicles, followed by two decades of work in high-tech, biopharma, and the automotive supply chain before becoming a news contributor. In addition to his eleven years of work at Torque News, John has published thousands of articles and reviews at American news outlets. He is known for offering unfiltered opinions on vehicle topics. You can follow John on Twitter, and connect with him at Linkedin.
2023 Toyota Sienna image by John Goreham