Honda's all-new Civic debuts just as Honda begins preparing for the model's 50th birthday in 2022. This eleventh-generation sedan is currently the third-best-selling car in the U.S. and the best-selling in its segment. Like every Civic that came before it, the new one is intended to provide its owner with a high-value and low-cost, and the fun, safety, and reliability Honda fans expect.
How Big Is the 2022 Civic?
The Honda Civic is now an intermediate or midsize sedan, depending upon how you draw the lines between segments. What it most certainly is not is compact. We find the new Civic to be roomy and spacious both in front and in the rear. The Touring trim has 97 cubic feet of passenger volume and a 14.4 cubic foot trunk. This makes the Civic almost exactly the size of a Tesla Model 3.
What Are the Important Changes To the 2022 Civic Sedan?
Honda has added wireless Android Auto and Apple CarPlay and a new infotainment system for 2022. Enter the vehicle, drop your phone into the perfect wireless charging tray and it all works seamlessly. The main interface in the Touring trim is a 9" touch-screen. Yes, there is a volume knob! Yes, there are easy-to-use buttons along the side for your main menus, and the HVAC controls are divorced from the infotainment screen. These are the ingredients for a perfect setup in this tester's opinion.
Equally important, the Touring trim offers you the things you want to see in the LCD driver's information display behind the wheel. Speed limit, traffic sign info, turn-by-turn navigation instructions from Google Maps, and more are all there. We feel this is a decent and affordable way to skip a head-up display on a top trim.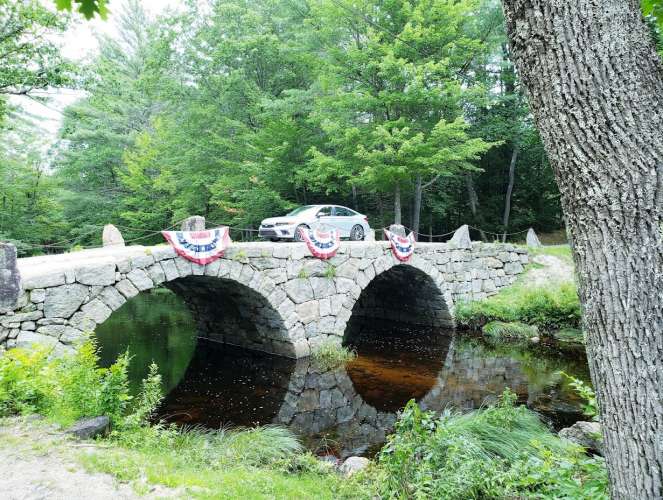 The Touring trim has a new Bose Centerpoint 2 with Bose SurroundStage audio system which rocks. It's among the best we have heard in this mainstream segment. We used it primarily with streaming audio set to the higher quality option on Pandora and it was an ideal companion on our five-hour mountain drive.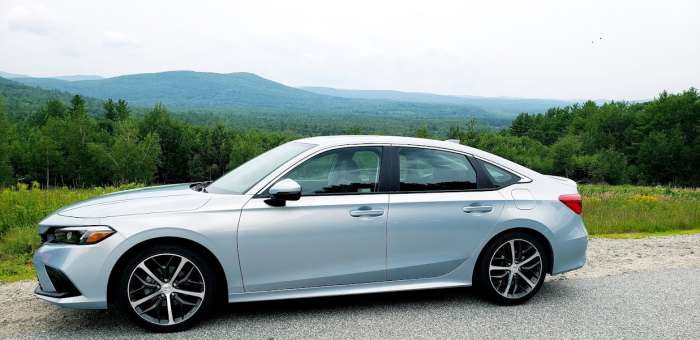 Honda also moved the bar up a bit in this segment regarding safety. The airbags are now smarter and the driver assist systems are a bit more helpful. Honda has made improvements to the engine and CVT, and the vehicle is now quieter and a bit more substantial than the outgoing generation, which was no slouch.
How Much Does A 2022 Honda Civic Cost?
The base model Civic LX is a bit different in content from the Touring we are reviewing here but has a very low price point of $22,695. Our fully-optioned test vehicle had a price including the destination fee of $29,295.
What's Missing From the Civic?
We look for certain things in every vehicle we test. One is a spare tire. Honda includes a compact spare with all the tools you will need. We had a flat tire in another one of our vehicles the very week we tested the Civic and a spare is something we look for and usually demand for vehicles on our top ten lists.
The Touring trim we tested lacked only two items we like to see in any vehicle. There was no heated steering wheel and the seats, though perforated, were not ventilated.
What Powers the 2022 Honda Civic?
The new Civic has a 1.5-liter turbocharged engine that offers 177-lb-ft of torque at just 1,750 RPM. The engine works with a continuously variable transmission (CVT) that has paddle shifters for manual control. The Touring trim has an EPA-estimated 34 MPG Combined rating, and we exceeded that in our spirited driving observing 38 MPG. The Civic provides its best performance on 87 octane regular gasoline. Note that the LX and Sport trims have a less capable engine. Why did Honda label a trim with lower performance "Sport?" We don't know.
How Does the 2022 Honda Civic Drive?
The Civic is a very satisfying vehicle to drive in all situations. Around town, it's zippy and drives smaller than its size. On the highway, it is relaxing and comfortable. Moving it around the driveway is easy and the car feels easy to maneuver. The updated chassis and suspension swallow up road imperfections making the ride comfortable.
On open mountain roads with speed limits between 40 and 55 MPH, the Civic comes alive. The steering is sharp and predictable on sweeping turns. The body lean is minimal, and the brakes are tuned perfectly. We loved the low-end torque of the Civic. The powertrain always feels strong, but Sport Mode wakes it up and comes with no droning if you leave it on after you've gotten your ya-ya's out on a few fun sections of roadway. Some Hyundai cars we have tested require Sport to be fun and then they annoy the driver when left on. During our test, we didn't detect any torque steer, something we have felt in some turbo-equipped Mazda vehicles.
We specifically headed to Rt. 149 in the Weare and Deering sections of New Hampshire to test this Civic. It lived up to its Touring nametag on the twisty mountain road which offers many elevations changes. Best of all, you don't have to risk your license to enjoy this car. It's fun at speeds that won't get you arrested.
We used Sport Mode in combination with the paddle shifters to get the most out of the Civic and the car felt engaging. If you like a manual, wait for the five-door hatchback body style.
One thing to keep in mind about the Civic is that it is about 600 pounds, or roughly 20% lighter than a car like a Tesla Model 3. That lightness comes with no sacrifices due to Honda's refined chassis. The Civic feels both nimble and also substantial.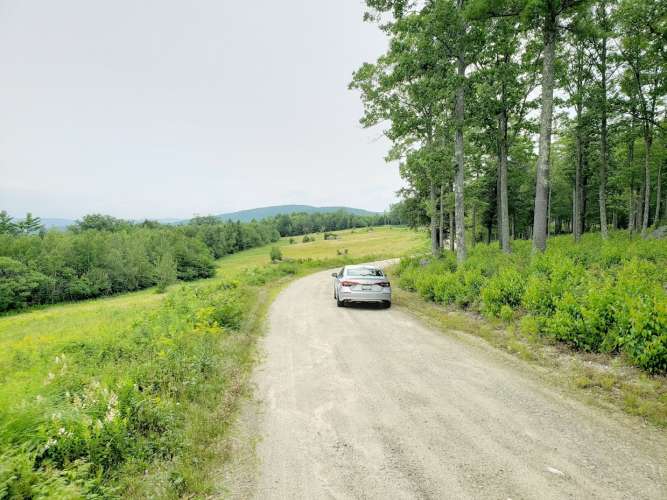 2022 Honda Civic Touring - Conclusion
If you have a sub-$30K sedan budget and don't need all-wheel drive, the Civic Touring must be at the top of your list. The 2022 Civic Touring checks off all the right boxes for practicality and is also a very satisfying car to drive on backcountry roads.
Click this link to see a TikTok video of the new 2022 Civic Touring.
Interior images by Honda, exterior images by John Goreham.
John Goreham is a long-time New England Motor Press Association member and recovering engineer. John's interest in EVs goes back to 1990 when he designed the thermal control system for an EV battery as part of an academic team. After earning his mechanical engineering degree, John completed a marketing program at Northeastern University and worked with automotive component manufacturers, in the semiconductor industry, and in biotech. In addition to Torque News, John's work has appeared in print in dozens of American newspapers and he provides reviews to many vehicle shopping sites. You can follow John on TikTok @ToknCars, on Twitter, and view his credentials at Linkedin