2021 Toyota GR Supra 2.0 Review– What Do You Call a 4-Cylinder Supra?
If there is a bigger fan of the Toyota Supra in the automotive media, I've yet to meet him or her. I was lucky enough to own a rare first-generation Supra, and I started the Facebook Supra GR club years before the vehicle even launched. In between, I remained a loyal fan of the model and the brand, and I even owned the double-secret successor to the Supra, the Lexus IS 350 convertible coupe. As much as I love the Supra, I know that a 4-cylinder Supra is called a Celica. And there is certainly nothing wrong with that!


The Celica was the model that the Supra was evolved from in 1978. First called "Celica Supra", the Supra was different from the four-cylinder Celica in meaningful ways. Of course, the inline six was the big difference, but the Supra took the Celica up a notch. Today, Toyota is offering a de-contented Supra that is more affordable and has a four-cylinder engine. It seems a shame Toyota didn't name it Celica. There has never been a 4-cylinder Supra before. All of them- in every generation- had an inline 6-cylinder engine.
So without more blathering from a long-time Supra owner and fan, let's get to the review part. Here's what we learned while testing the new 4-cylinder GR Supra 2.0.


2021 GR Supra 2.0– What Is It & How Is It Powered?
The Supra is a rear-drive, two-seat sports car. It is larger outside than you'd guess, smaller inside, and is bigger in both length and width than Toyota's four-seat 86 sports car. The Supra can be powered with either an inline six-cylinder engine generating 368- lb-ft of torque, or you can get the four-cylinder we tested with 295 lb-ft of torque. There are other differences in the two cars, notably the brakes and wheels. All of this kit is good for a 0-60 MPH sprint time about a half-second or so faster than a Miata or Toyota 86 can manage.


Every Supra uses the same 8-speed automatic transmission with paddle shifters. Like many manufacturers, Toyota omits the manual because they know from market research (and decades of sales results) that manual-equipped cars of this type don't sell. We are about 20 minutes from every performance car launched in America being electric, and guess what electric cars don't have? Manual transmissions. Or 4-cylinder engines for that matter. Of course, Toyota still offers the 86 with a manual transmission if that is your top priority.


Supra Driving Impressions
The Supra has outstanding steering response. We'd say it is the car's single best attribute. It is crisp and sharp. The brakes were also good, which was a relief. The 6-cylinder trims get more powerful brakes. We didn't miss them. These ones seemed great for on-road use.
Ride comfort is better than we expected. Perhaps that is because Toyota opted for one-inch in diameter smaller wheels than the 6-cylinder trims and added more tire sidewall to this trim? We don't really know, but the car wasn't overly harsh on broken up roads.
Acceleration is brisk. Not explosive. Unlike in every electric vehicle, there is a slight delay between when you put your foot down on the go pedal and when the fun begins. The car needs to shift, the turbo needs to spool. Then you go. If you've driven a 2-liter turbo, you know the drill. However, if you are planning ahead, there are two things you can do to make the acceleration much more impressive. The first is to use the paddle shifters to have the engine already in the peak of the engine's powerband. The second is to simply hit "Sport" mode and let the car prepare itself for top-performance.
Related Story: 2020 Toyota Supra First Drive: The Perfect Daily-Driven Track Toy (Video)

Overall the Supra is enjoyable to drive aggressively if you have the time and place to do so. The "problem" we found with the Supra is that there is very little sensation of speed. You can be doing 80 MPH with zero drama. It feels too capable. The sensation is the polar opposite of a Miata or Fiat Spider in which you feel like you are going faster than you really are.


In some cars, the "Sport" button is important. We feel this GR Supra 2.0 is one perfect example of that. Enabling Sport mode wakes up the GR Supra 2.0 in a way that is very satisfying. It enlivens the car's throttle, the transmission holds gears longer and downshifts more aggressively, and the car simply feels much faster and more exciting than its normal mode. The best part of the Sport mode in the GR Supra 2.0 is there was no downside. Some cars are annoying to drive in Sport mode when you decide to chill. Not so in the Supra. We left it on almost all of the time we drove the car. The exception being long highway rides on cruise.
Supra Interior and Infotainment
Inside, the Supra has a long expanse of black headliner ahead of you and very little glass area to look out of. Although we know that coupes have their fans, we feel that this Supra should be a convertible. The car is begging for the roof to retract, come off, or at least be brightened by a pane of glass. There is another thing you should know. The car has a wind buffeting problem that precludes it. At about 50 MPH it is at its worst.


The microfiber-suede covered seats in the Supra are manually-adjustable in GR 2.0 trim.


The center console is just an armrest and two cup holders with a small open storage cube. Not a storage box with a cover. You can use the glove box for items you need to leave out of sight. The Supra's phone cubby was too snug for our current model phone, and there is no wireless charger in the four-cylinder Supra. So, unlike in a larger couple such as the similarly-priced Lexus RX 300 coupe, you do compromise a bit on interior storage space.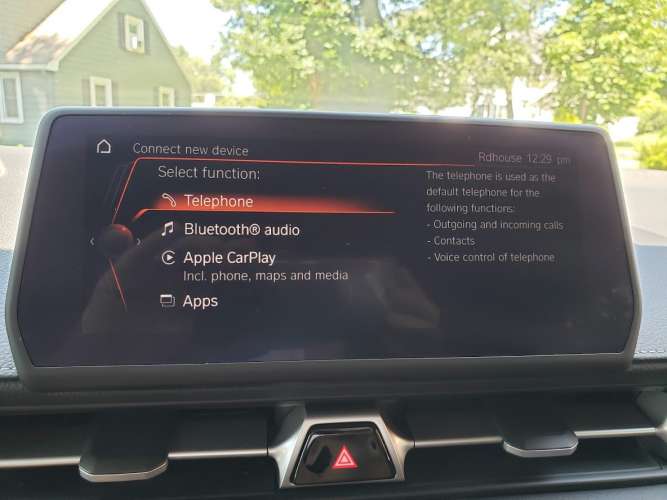 If you are in the majority of phone users on the planet, there is no Android Auto for you in this Supra. How that happens in a model year 2021 car is a mystery. But the news is not bad if you are an Apple user. For you, Toyota offers not just Apple CarPlay, but wireless Apple CarPlay. On the upside, the Supra has easy to operate infotainment, and our tester had factory navigation. Since we could not use Android Auto, we used Bluetooth to stream Pandora. The de-contented four-speaker audio system was decent. However, we found that it did not recognize the BMW hand gestures we like to use to adjust volume and change stations.
Supra GR 2.0 Pricing
The GR Supra 2.0 starts at $43,985 including destination charges. Add in the $3,485 technology package your dealer-stocked Supra is likely to have and the cost is $47,470. If you want yellow, add $425 more. Toyota sold out its entire 2020 Supra inventory by August. With buyers willing to pay sticker, or even a bit more, we would not expect much of a discount. This puts the GR Supra 2.0 in an interesting category price-wise. It's a smidge less than a Lexus RC 350 F Sport, and a bit more than a Toyota 86. That feels right to us.


Supra and the BMW angle
There are two sides to Toyota private-labeling this car from BMW. We will offer both. As a former owner and fan of the Supra, I am not bothered one bit by the fact that BMW and Toyota collaborated on the car. Just like I'm not one bit bothered by the fact that Toyota collaborated with Subaru on the 86. It makes fiscal sense, and it brings us a car we would otherwise not have gotten. Fantastic cars like the Mazda Miata and Fiat 124 Spider may not have survived were it not for cost-sharing and collaboration. Some of the best cars in the world are the result of collaboration. Remember, Toyota collaborated with Lotus on some generations of the Supra. If you are such a purist that you can't tolerate the idea that your brand works with other brands, it's your loss.
The other side of the story is this; Why buy a Supra from Toyota with a fixed roof when one can buy the BMW version with a convertible top? Why buy the Toyota version when BMW offers double the included maintenance? You can answer these questions for yourself, but price is a big factor. The closest equivalent from BMW has a price about 10% higher.


Our Conclusion on the Toyota Supra
We're glad that Toyota is offering a new generation Supra and also glad that there is a less expensive, slightly lower performance version. Those who want a Toyota sports coupe, and who are not satisfied with the less expensive Toyota 86 and slightly more expensive RC coupe should consider the GR Supra 2.0. Toyota and its Lexus division now have a lot of choices for those drivers looking for a fun, rear-drive sports coupe.
John Goreham is a longtime NEMPA member and recovering engineer. John's focus areas are technology, safety, and green vehicles. In the 1990s, he was part of a team that built a solar-electric vehicle from scratch. His was the role of battery thermal control designer. For 20 years he applied his engineering and sales talents in the high tech world and published numerous articles in technical journals such as Chemical Processing Magazine. In 2008 he retired from that career to chase his dream of being an auto writer. In addition to Torque News, John's work has appeared in print in dozens of American newspapers and he provides reviews to many vehicle shopping sites. You can follow John on Twitter, and view his credentials at Linkedin
2021 Toyota Supra GR Images by John Goreham. Re-use with permission only.