2020 BMW 228i xDrive Gran Coupe Offers the Traditional Feel of a BMW Sports Sedan With Modern Infotainment
BMW's catchphrase, "The Ultimate Driving Machine," is our guide and challenge whenever we test a new vehicle from the company. Rarely are we disappointed. Our most recent test of the 2020 BMW 228i xDrive Gran Coupe was a reminder of what makes BMW vehicles special, and why we love them.
While the 228i xDrive Gran Coupe did impress us with its driving dynamics, the biggest surprise was how much we liked the vehicle overall. Some test vehicles win our heart, but this one also won over our mind, and we hated to see it go. Here's what we found during our test that included city traffic, open highway, back country roads, and even some dirt road testing.
2020 BMW 228i xDrive Gran Coupe - What Is It?
The 2 Series is BMW's smaller sedan line. The Gran Coupe is a four-door, five-passenger compact car with a look and style we feel matches the memory of the old 3 Series from a couple of decades ago. The 228i part of the model code mans this sedan has a 2.0-liter turbocharged engine, and the xDrive part means it is all-wheel drive.
2020 BMW 228i xDrive Gran Coupe - What Does It Cost?
The vehicle we tested had an as-tested price including delivery fees of $48,495. That price includes three years or 36K miles of scheduled maintenance and the four-year, 50K mile BMW comprehensive warranty. While the base price of the 228i Gran Coupe is under $40K, the usual BMW "mandatory" options like the $4,000 M Sport package, $1,200 special paint, and $1,450 special leather seating, plus a "Premium Package" priced at $3,050 raise the stakes quite a bit. And in our opinion, these options are critical to the enjoyment of the vehicle.
2020 BMW 228i xDrive Gran Coupe - How Does It Drive?
Brilliantly. The new chassis that BMW has adopted raises the hackles of the dozen or so enthusiast publications that think BMW should have remained in the 1990s and never evolved. We feel differently. This platform has the rock-solid classic BMW feel that is just so satisfying. If you were blindfolded and put on a tarmac in this vehicle, you would know you were in BMW if you were ever a previous owner.
The ride quality is hard to match in this size vehicle. One reason is that very few automakers doing business in America give a hoot about small premium cars anymore. Or ever did, for that matter. BMW always has. The company offers some great larger sedans, some dynamite roadsters, and a slew of award-winning crossovers, but we just love to be in a small BMW car more than almost anything when the open road beckons.
The solid chassis is made even better by the M Sport steering. The car handles sharply on its run-flat low-profile tires. It is also firm. If you don't like firm, we are not sure to tell you where to look. In all seriousness, maybe the Nissan Sentra SV. Pretty much every premium-branded small car is now using the same tall, hard tires with stiff shocks. If you do like firm, BMW does it as well as anyone.


We carved up some mountain roads in New Hampshire on a leaf-peeping trip, and found the 228i xDrive Gran Coupe addictive. We literally went out in the car just to drive it. It is that good. Brakes are perfect and with our load of weekender gear in the trunk, the front-biased 58/42 weight distribution became nearly a perfect 50-50. Maybe all automakers should plan things that way?
On the highway, the BMW needs no corrections unless the road turns. It is a perfect long-slog partner. In the city, Sport Mode made point and shoot driving a blast. In traffic, the Comfort Mode took the sharp edges off of the car's personality and made life tolerable. On a steep uphill dirt path the xDrive made sure that tire slip was minimized. This car is all-around nearly perfect if you like a firm, sporty feel.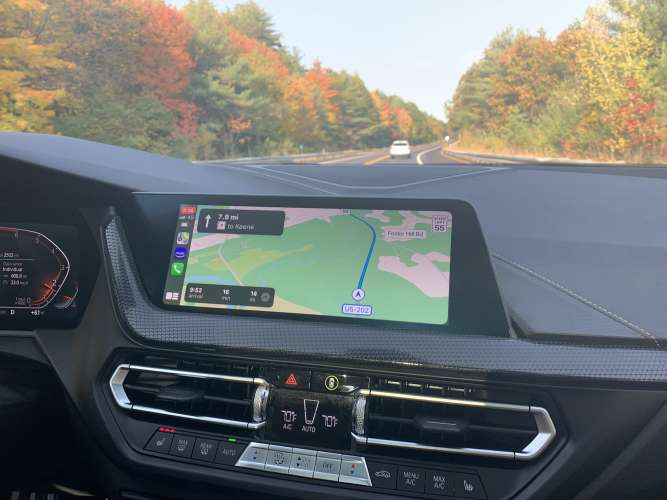 2020 BMW 228i xDrive Gran Coupe - Infotainment System & Technology
Our tester had BMW's latest head-up display system, and it became our best friend on this journey. The display is full color, sharp as a tack, and what you see depends on what you are up to. For example, rotate the steering wheel thumb wheel and you can see the stations and songs available on other channels on SatRad audio. Use the wireless Apple CarPlay and the upcoming nav turns appear in the TFT gauge area display along with a map. Brilliant.
Our navigator plotted a course on Apple Maps while acting as DJ using Amazon Music. Being freed from the cord is so refreshing. BMW had not updated our tester to have Android Auto yet, but says the team Google update is planned for the coming months.
One area for improvement? We wish we could say this $48K BMW had the best audio quality we have ever heard, but it was not the case.
2020 BMW 228i xDrive Gran Coupe - Conclusion
There are few similar vehicles in the U.S. market. The Volvo S60 Inscription T6 AWD and Tesla Model 3 Long-Range Dual Motor AWD deserve a look in the near $50K price range. The new Mazda3 2.5 Turbo Premium Plus AWD is hard to ignore at just 70% of the cost of this BMW. However, all of them are somewhat different in personality from the 228i xDrive Gran Coupe. None have the same unique vibe this BMW does, despite having some overlapping specifications. The secret sauce formula remains in BMW's sole possession. Give the 228i xDrive Gran Coupe a try if you are looking for a great small premium car. We'd be shocked it if you didn't fall in love before the test drive was over.
John Goreham is a life-long car nut and recovering engineer. John's focus areas are technology, safety, and green vehicles. In the 1990s, he was part of a team that built a solar-electric vehicle from scratch. His was the role of battery thermal control designer. For 20 years he applied his engineering and sales talents in the high tech world and automotive supply chain market. In 2008 he retired from that career to chase his dream of being an auto writer. In addition to Torque News, John's work has appeared in print in dozens of American newspapers and he provides reviews to many vehicle shopping sites. You can follow John on Twitter, and view his credentials at Linkedin
Image credits can be seen by hovering one's mouse over the images in the story.