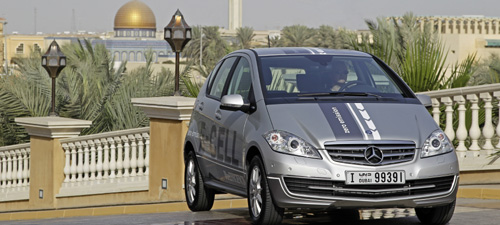 World Future Energy Summit Features Daimler Electric Vehicles
Please
SHARE
with friends and include TorqueNews in
Google Alerts
for tomorrow's interesting stories.
Daimler is the official transport partner to the 4th World Future Energy Summit (WFES). It is one of the world's largest and most important events for the energy and environment industries, according to Daimler.
Among the highlights of the event will be the ability of participants to take part in Ride & Drives in battery-electric powered vehicles. This level of participation allows the company to demonstrate its globally unparalleled expertise in sustainable mobility – be it the smart fortwo electric drive city car, the SLS AMG E-CELL super sports car or the Vito E-CELL urban van.
As well as experiencing the smart fortwo electric drive, visitors can also get a taste of the mobility solutions of the future in the shape of the S 500 Plug-in Hybrid, the BlueZERO F-CELL and the state-of-the-art Mercedes-Benz F 800 Style research vehicle. Daimler says the Ride & Drive also offers the opportunity to discover at first hand the unrestricted everyday practicality of two of Daimler's electric vehicles, the Mercedes-Benz A-Class E-CELL and the smart fortwo electric drive, both of which are already in series production.
It's good to see even in oil-rich destinations like Abu Dhabi that there is a focus on alternative-energy vehicles.
Related News:
Scuderi Air-Hybrid Engine technology setting up to challenge electric hybrids
A retrospective of Mercedes Gullwing cars at the 2011 Detroit Auto Show
2012 Mercedes-Benz SLK Roadster Has a Magic Sky Roof
http://media.daimler.com/dcmedia/0-921-656527-1-1361197-1-0-0-0-0-1-11701-854934-0-1-0-0-0-0-0.html?TS=1295368597478
Please
SHARE
with friends and include TorqueNews in
Google Alerts
for tomorrow's interesting stories.