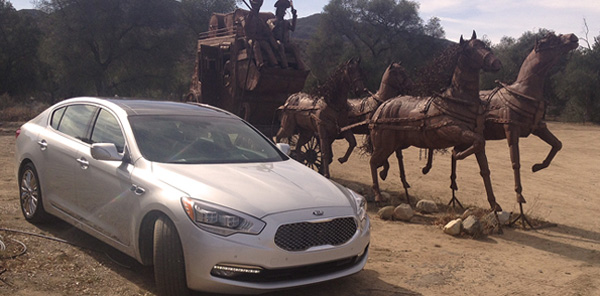 Kia Enters Modern Luxury World with 2015 Kia K900 Sedan
Please
SHARE
with friends and include TorqueNews in
Google Alerts
for tomorrow's interesting stories.
Lets address the important information first. The Kia K900 is a rear-wheel drive luxury sedan offered in two powertrains: a 420-horsepower V8 or a 311-horsepower V6. The V8 model goes on sale first with the V6 to follow later this spring.
It comes packed with standard luxury features on the V8 model, including: adaptive LED headlights, heated leather steering wheel; standard Nappa leather; soft-hue LED interior illumination; genuine walnut (with black Nappa leather) or poplar (with white Nappa leather) wood trim sweeps across the dash and door panels; 12-way adjustable driver's seat, including power lumbar support; front and rear seats with multi-stage heating and ventilation; reclining rear seats; and a full-length panoramic roof with power retractable sunshade.
Other nice features are a 9.2-inch navigation screen, a 900-watt Lexicon sound system with 17 speakers that you can barely get to 50 percent before needing to turn it down, adaptive cruise control with full stop, surround view monitor for 369 degree view of the vehicle, and rear cross-traffic alert.
The K900 also comes with rear-wheel drive. Don't expect all-wheel drive any time soon. As Orth Hendricks, VP of planning, said, "Other brands haven't figured out rear-wheel drive is the right platform for luxury." Take that Audi. The K900 also gets Kia's first eight-speed automatic transmission.
You are probably not going to find a quieter larger sedan on the road in this class. That's thanks to the generous use of laminate glass on the windshield and side windows as well as an underbody airflow management system. The car is almost too quite with no corresponding aural sensations under hard acceleration like you would expect from a powerful V8.
That covers the technical level of why the Kia K900 is going to succeed. But lets take a moment to look at the aesthetic level. Kia has a created a good looking sedan. It's not quite a head turner along the lines of a BMW 7 series or Mercedes S class and that's ultimately a good thing. The people who are going to buy and/or lease a Kia K900 (expect more of the latter) are going to be proud of their vehicles but not wanting to scream, "I'm driving a $60,000 Kia." They will share their penurious ways with their friends but not broadcast it to the world.
That's one of the things that sunk the VW Phaeton – a truly spectacular sedan. It had a VW emblem on it the size of a dinner plate. Nobody wanted to admit to dropping up to $100,000 for a VW 10 years ago.
The target market for the K900 is people 45-54 years old with a household income from $200,000 to $500,000 a year. They are college educated (usually with advanced degrees) and are C-level executives or company owners.
Pages
Please
SHARE
with friends and include TorqueNews in
Google Alerts
for tomorrow's interesting stories.