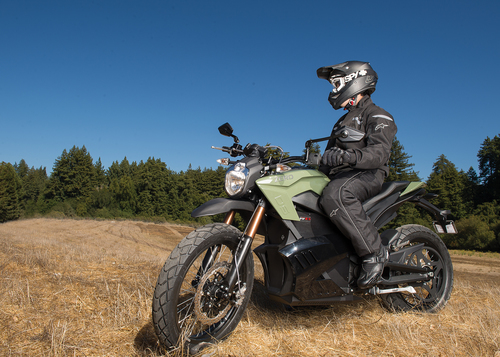 Zero Motorcycles unveils 2013 models, faster, longer range, faster charging, and with apps
Please
SHARE
with friends and include TorqueNews in
Google Alerts
for tomorrow's interesting stories.
Electric motorcycle manufacturer Zero Motorcycles unveiled today their 2013 model line. The new models feature massive improvements over the 2012 line in speed, performance, riding range, as well as smart phone apps. The company is the only such manufacturer to sell a full range of electric motorcycles, and they have been in this position for several years now. Most importantly, in most respects Zero has leapfrogged rival Brammo, while keeping a lower price point.
Zero's lineup includes five electric motorcycles, all inspired by the dirt bike side of motorcycling. The models include the Zero DS, a dual sport bike, the Zero S, FX and XU, all street legal bikes, and the Zero MX, a dirt bike. Between 2012 and 2013, the company dropped the Zero X, and added the brand new Zero FX.
Top speed has increased to 95 miles/hr on the Zero S and DS, up from 88 miles/hr top speed for the 2012 S. The Zero MX has also seen a massive speed increase, up to 85 miles/hr from 54 miles/hr for the 2012 model. The Zero FX, new for 2013, also has a top speed of 85 miles/hr. This is due to an all new electric motor, the Z-Force, designed by Zero Motorcycles. The new motor is the same size and weight as the 2012 motors, but packs 125% more power and 91% more torque. It produces a higher power-to-weight ratio, while remaining an air cooled motor, thanks to a design which puts the heat producing elements on the outer part of the motor, allowing heat to be extracted with aluminum fins.
The higher top speed will mean two things in electric motorcycle racing. First, in the TTXGP's eSuperStock award the speed gap between the Zero's and the top end bikes will shrink a bit. Second, when Brandon Nozaki Miller goes for his 2013 land speed record attempts he'll have a faster base speed to start with. With a 2012 Zero S he set a 101.652 miles/hr land speed record for electric motorcycles under 150 kilograms.
For comparison, the Brammo Empulse is specified with a top speed over 100 miles/hr, 46.5 ft-lbs torque, and 40 kilowatt (54 horsepower) motor. Riding range is 121 miles city, or 56 miles at 70 miles/hr highway speeds. In most regards Zero's S and DS have leapfrogged Brammo's Empulse. The Empulse is a lot heavier at 470 lbs, than is the Zero S and DS which weigh in at 382 lbs and 395 lbs respectively.
The 2013 models also support a bluetooth connection, and companion iPhone or Android apps. The smartphone apps have two modes. While riding it serves as a customized dashboard showing additional information over the built-in dashboard. When stopped the rider can adjust acceleration, top speed, and regenerative braking behaviors to give the bikes a customizable riding experience.
Pages
Please
SHARE
with friends and include TorqueNews in
Google Alerts
for tomorrow's interesting stories.