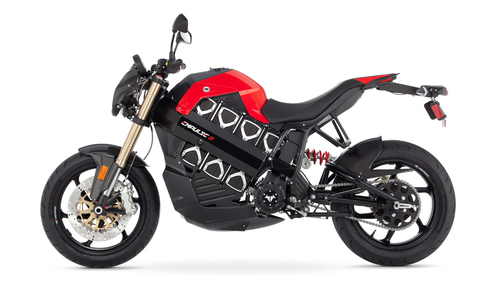 Brammo raises bar for electric motorcycles with Empulse R launch
Please
SHARE
with friends and include TorqueNews in
Google Alerts
for tomorrow's interesting stories.
Last night, to thumping music in a packed trendy club on Hollywood's Sunset Blvd, Brammo officially launched the Empulse and Empulse R electric motorcycles. These motorcycles were first announced in July 2010, and originally slated to be released in 2011, but the choice to use a 6-speed transmission (the Integrated Electric Transmission) delayed delivery by year, in which Brammo CEO Craig Bramscher allowed the company to create a great motorcycle that happens to be electric, rather than a great electric motorcycle.
As a production electric motorcycle, the 2012 Empulse R is ground-breaking, setting a new bar in performance, speed and range (which Brammo's main competitor, Zero Motorcycles, will certainly leapfrog for 2012; see Brammo's Empulse R leapfrogs the Zero S with a 100 mph 121 mile range electric motorcycle). The 100+ miles/hr top speed of the Empulse R is not the ultimate in electric motorcycle speed, that title is held by several competition electric motorcycle teams such as Meunch Racing, MotoCzysz, Lightning Motorcycles, and Brammo itself. What Brammo has done is take race tested research and development from TTXGP racing events in 2009 and 2011, condensing it into a production electric motorcycle. The others have yet to launch a significant production capability, and of them only Lightning claims the ability to manufacture and sell top end electric bikes. Brammo won the 2011 North American TTXGP Championship beating Lightning Motorcycles, the 2010 champions.
"It was important to Brammo to create a great motorcycle and we paid attention to customer feedback to create just that," said Craig Bramsher CEO and president of Brammo. "From concept to production the Empulse product has evolved quite a bit. We are bringing you a different motorcycle that promises to be more than what our riders expected."
The most intriguing and, to some, controversial feature of the Empulse is the 6-speed transmission. Electric vehicle makers have long maintained electric vehicles do not need a transmission first because of full torque is available at 0 RPM, and second because the power band of electric motors is much wider than gasoline engines. Technically, in most cases, a transmission is simply unnecessary for an electric vehicle, whereas it is an absolute requirement for a gasoline vehicle. This line of argument quickly becomes very technical, and misses a very important point. Motorcyclists expect there to be a transmission, and the normal setup of motorcycle controls includes a clutch lever and gear selector which, if missing, can feel weird.
While adding a transmission could make it easier for motorcyclists to transition to an electric bike, is there a technical reason for the transmission? According to Brammo's engineers there is (note: we haven't had a test ride, hint hint, to experience it for ourselves, wink wink, nudge nudge).
Pages
Please
SHARE
with friends and include TorqueNews in
Google Alerts
for tomorrow's interesting stories.