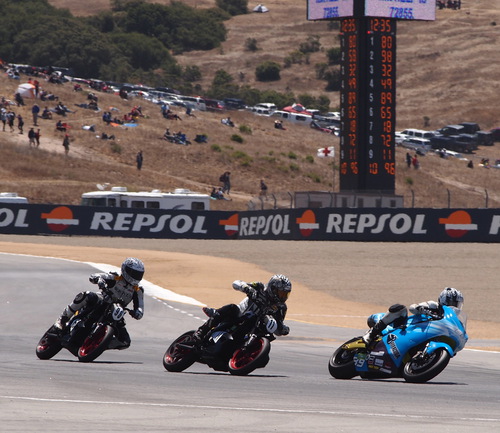 Will the 2012 TTXGP World Championships be the most exciting electric motorcycle race yet?
Please
SHARE
with friends and include TorqueNews in
Google Alerts
for tomorrow's interesting stories.
The TTXGP World Championship race in October is shaping up to be a major electric superbike shootout. Friday's win by Barracuda Lightning Motorcycles in the FIM e-Power/TTXGP race at Le Mans, and the other matchups throughout the 2012 TTXGP and e-Power seasons, demonstrates that the top four teams are not only very close, but are performing at proper superbike levels. Superbikes that happen to be electric.
If we look over the 2012 season we see the top tier bikes and riders had close results to each other. The top tier teams, Barracuda Lightning, Team Icon Brammo, Muench Racing, and Zongshen, are split between the European and North America series meaning that all four have not yet raced each other in a single race. Each have met each other in various races, but not all at the same time. While we are focusing on the top tier TTXGP teams, there are other teams in the series in the TTX75 and eSuperStock award groups. While the racing action in the eSuperStock and TTX75 awards are exciting in their own right, it is the top tier teams who are getting the most attention if only because these top bikes and riders are so close to gas powered superbike performance.
The TTXGP World Championship race at Daytona International Raceway in late October is a by-invitation race that will feature the top teams from the TTXGP Europe, North America and Australian series. As we write this the relevant teams on those continents are surely checking their travel budgets and pondering a trip to Daytona in 42 days. We won't know the race makeup until the time of the race.
Muench, Icon Brammo, and Barracuda Lightning all met at the e-Power/TTXGP race at Laguna Seca in July. Barracuda Lightning (Michael Barnes) won that race, but by only 2.903 seconds over Steve Atlas (Brammo), 12.798 seconds over Eric Bostrom (Brammo) and 16.325 seconds over Matthias Himmelmann (Muench).
Muench and Zongshen have raced each other several times in the TTXGP Europe series, and generally riders for Muench have beaten Zongshen's riders. For example, at Assen on Aug 6, Matthias Himmelmann (Muench) won, beating two of Zongshen's riders by about 20 seconds, and the third by over 60 seconds. At the Snetterton race, in early July, Himmelmann's margin of victory over Zongshen's Ho Chi Fung was only 2.1 seconds.
Pages
Please
SHARE
with friends and include TorqueNews in
Google Alerts
for tomorrow's interesting stories.