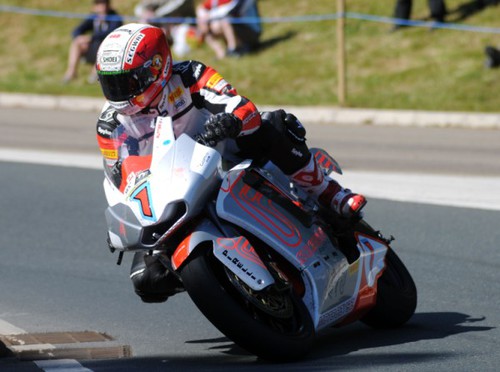 MotoCzysz breaks the ton in historic TT ZERO electric motorcycle win
Please
SHARE
with friends and include TorqueNews in
Google Alerts
for tomorrow's interesting stories.
In a historic win, Mike Rutter, riding for MotoCzysz, won the 2012 TT ZERO, and along the way broke the ton, meaning a lap speed greater than 100 miles/hr. John McGuiness, riding for MUGEN Shinden, came in 2nd and Rutters teammate Mark Miller taking third. All three "broke the ton," but it is Rutter who wins the £10,000 prize fund offered by the Isle of Man government for the first rider to make this achievement.
The Isle of Man has been rainy the past few days, delaying the start of the race, and riders interviewed by Manx Radio just before the race were nervous. Race officials issued a warning to riders to expect damp conditions all around the track, and limited visibility on the mountain portion of the course. However once the race began the riders must have left their nervousness back at the starting line, because Rutter, McGuiness and Miller all turned in excellent results.
The race started off strong with Rutter, McGuiness and Miller all hitting faster and faster speeds at each timing point, that is until reaching the mountain section of the course. The race format is a time trial, meaning the riders are racing to see which one turns in the fastest lap speed (time). Rutter reached a 119 miles/hr indicated lap speed at the Ramsey timing point, but of course the mountain took its toll on the riders speed.
Of the 8 teams which started several retired, with most retirees bowing out before the first timing point. That left five teams in competition for most of the race. These were: Mike Rutter (MotoCzysz), John McGuiness (MUGEN Shinden), Mark Miller (MotoCzysz), Yoshinari Matsushita (KomattiMirai Racing from Japan) and Rob Barber. But Matsushita retired before reaching the mountain.
At the Sulby speed trap Rutter was clocked at 126 miles/hr, with Miller and McGuiness clocked a bit faster. During practice on Sunday, Rutter was clocked at 154 miles/hr at Sulby, but reportedly was going slow at the end of that practice lap indicating his bike had nearly run out of energy. The strategy will have been to take it a bit easier today to ensure having enough energy to run well throughout the race, and maybe have enough for a strong sprint at the end.
A surprise came when McGuiness apparently reached the Bungalow timing point before either Rutter or Miller. This didn't seem right because Rutter had been in the lead the whole way. The confusion sorted itself as being a transponder error when, by the Cronk ny Mona timing point, Rutter and Miller reappeared on the results board.
Pages
Please
SHARE
with friends and include TorqueNews in
Google Alerts
for tomorrow's interesting stories.