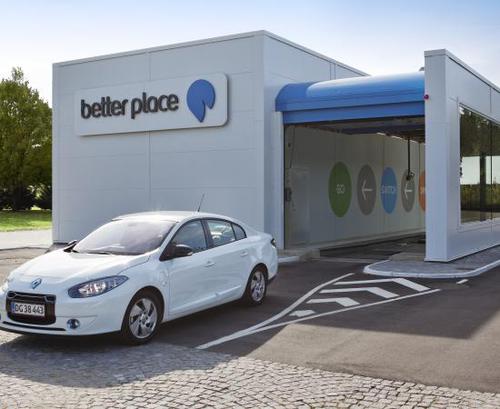 Shai Agassi steps down as CEO of Better Place as company enters new phase
Please
SHARE
with friends and include TorqueNews in
Google Alerts
for tomorrow's interesting stories.
Electric car charging infrastructure provider Better Place has announced that founder and CEO Shai Agassi is stepping down, and will be replaced by Evan Thornley who is currently the CEO of Better Place Australia. Agassi, who launched the company five years ago, is joining the board, and the company is describing the move as a transition from "chapter 1" to "chapter 2" of the company's existence.
Better Place is best known for the quick battery exchange concept, where an electric car driver goes to a battery exchange station and a roboticized system swaps the battery pack for a fully charged one. The company actually offers two services. One is the battery exchange service, in which an electric car can effectively be fully recharged in about 2 minutes. The other is an electric car charging station network, similar to the ChargePoint or Blink networks, where car owners recharge the electric car through the standard J1772 port.
The company was started by Agassi with the idea of "running a country without oil" and making electric cars more affordable and convenient. Stopping the use of oil, and adopting electric transportation, has many potential benefits for climate, environment, and national energy security issues. The company's strategy was to address two chief concerns with electric vehicles: a) the cost of buying an electric car, and b) the recharging time. Better Place's quick battery exchange system also involves leasing, rather than buying, the battery pack, which reduces the purchase price, replacing it with an ongoing battery lease fee.
Better Place does not manufacture electric cars, but instead offers the two services. Instead the company partners with car manufacturers, so far only Renault, who build electric cars compatible with Better Place's battery exchange stations.
Please include TorqueNews in
Google Alerts
to receive tomorrow's stories and
SHARE
this with friends if it was interesting.
"Under Shai's leadership, we've successfully achieved our goals in the first chapter of Better Place, and we owe Shai our gratitude for turning his powerful vision into a reality," said Idan Ofer, Chairman of the Better Place Board of Directors. "It is almost five years to the day since Shai launched Better Place and a natural point in the company's evolution to realign for its second chapter and for the challenges and opportunities ahead. Our board has long prepared to ensure that Better Place has a strong bench of talented executives in place to support the CEO and a clear succession plan to ensure a smooth leadership transition and we are fortunate to have such a strong leadership team within Better Place."
Pages
Please
SHARE
with friends and include TorqueNews in
Google Alerts
for tomorrow's interesting stories.