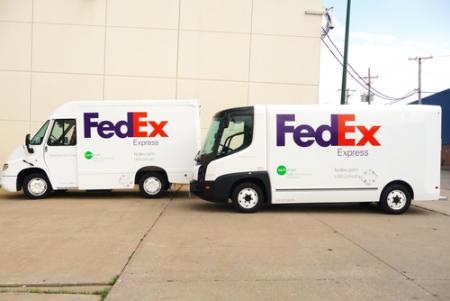 FedEx delivering amazing fuel efficiency gains with electric delivery trucks
Please
SHARE
with friends and include TorqueNews in
Google Alerts
for tomorrow's interesting stories.
FedEx Express is making rapid progress in fuel efficiency goals, announcing today that the FedEx Express fleet is 16.6 percent more efficient than it was in 2005. This means the company has nearly reached its 2020 goal of 20 percent efficiency improvement (20% by 2020, get it?), which wonders what the company will do as a second act.
The efficiency gains came by converting twenty percent of the FedEx Express diesel vehicle to more efficient and cleaner emission models, ones that comply with 2010 U.S. Environmental Protection Agency diesel emission standards.
"Although we are less than halfway to the end date we set for ourselves, we have achieved 80 percent of our vehicle fuel efficiency goal as of the conclusion of fiscal year 2011, compared to our original baseline set in 2005," said Mitch Jackson, staff vice president of environmental affairs and sustainability, FedEx Corp. "As a result, we are reevaluating our 2020 goal to potentially raise the standard we originally set out to achieve."
Dennis Beal, vice president of global vehicles, FedEx Express, said that "By pursuing the most promising avenues of advanced technologies, enlisting multiple experienced manufacturers and optimizing our vehicle operations, FedEx is reducing fuel use and emissions faster than expected."
The efficiency gains are the result of several initiatives: A)) The company has added a number of all electric trucks, and is adding 87 more electric delivery trucks. B)) Adding 114 of the Reach step vans, manufactured by Utilimaster, that combines a lightweight aerodynamic body made of advanced composite materials, with a right-sized engine, to save up to 35 percent in fuel over comparable step vans. C)) FedEx Ground hybrid hydraulic parcel delivery vehicles that can reduce fuel usage by 40 percent. D)) Testing standard delivery vans retrofitted with all electric drive trains from a range of manufacturers, including AMP, Smith Electric and Freightliner Custom Chassis Corporation.
A big effort undertaken by FedEx Express is to accelerate purchase of vehicles with right-sized engines, such as the Sprinter vans. By the end of 2013 the company expects to have 11,000 of these vans, or more than 35 percent of the U.S. pick-up and delivery fleet. Each of these vans are 70-100% more efficient than the trucks they are replacing.
These efforts are not only helping FedEx Express reach environmental goals, but business goals to save money. Large fuel efficiency gains mean saving money on fuel that isn't burned in the process of delivering packages.
Pages
Please
SHARE
with friends and include TorqueNews in
Google Alerts
for tomorrow's interesting stories.