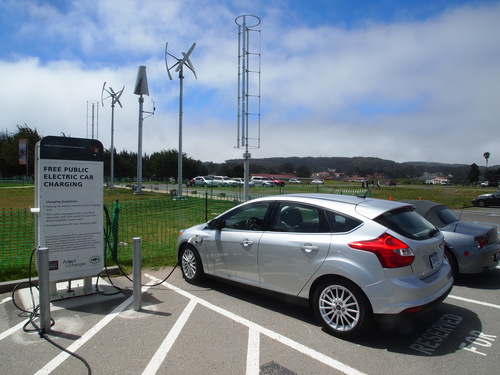 Electric car recharging fee activism suggested by Coulomb CEO and CTO
Please
SHARE
with friends and include TorqueNews in
Google Alerts
for tomorrow's interesting stories.
How much should it cost to charge an electric car? In most cases public electric car charging stations are free to use, allowing electric car owners to drive for free. However the charging station network operators are beginning to impose fees of $3 per hour or more, which many say is too-high of a fee, begging the question of what's the appropriate fee for electric car charging. To complicate the issue, the cost of electricity for electric car charging is minimal, leaving electric car owners facing a large cost disparity to charge their car between home charging and public charging.
Last winter we wrote about how electric cars are cheaper to operate than gasoline cars, and more recently we noted a cost calculator published by Via Motors showing that commercial fleet owners can save a bunch of money through buying electric, or plug-in hybrid, trucks versus gasoline or diesel powered trucks. How? It's because electricity is a far cheaper fuel than either gasoline or diesel. How? It comes down to calculating the benefit (miles driven) per dollar spent on electricity or gasoline or diesel. This is an "operational cost" line of reasoning, and does not consider the full total cost of ownership. In the case of leasing a plug-in hybrid from a company like Via Motors, the lease cost does a nice job of capturing the cost of ownership and, depending on the usage level, the fuel cost savings can be significant enough to pay for the lease cost.
These savings depend on one thing: Being able to recharge the vehicle using electricity purchased via the price we typically pay the utility company. The national average for electricity is around $0.11 per kilowatt-hour, but varies from locale to locale depending on local utility rates.
When charging your electric vehicle in public the cost can be quite a bit higher than the cost of electricity. When browsing around the charging stations around the U.S., using the ChargePoint application, we see rates vary quite a bit with costs reaching as high as $3.50 per hour. The electric cars on the market either charge at a 3.3 kilowatt or 6.6 kilowatt rates, meaning at the national average for electricity a car charging at 6.6 kilowatts is consuming $0.73, per hour, or so worth of electricity. On the other hand, the car charging at a 3.3 kilowatt rate is consuming half that much electricity, or about $0.36 per hour. These are the electricity rates paid by retail consumers, a charging station business may be paying lower (or higher) electricity rates. In most states charging station owners are not allowed, by law, to charge per kilowatt hour for electricity because that is a right reserved solely to utility companies. Obviously there are costs on top of the electricity, such as leasing the spot for the charging station, as well as paying for the charging station, which must be rolled into the fee required to use the charging station.
Pages
Please
SHARE
with friends and include TorqueNews in
Google Alerts
for tomorrow's interesting stories.