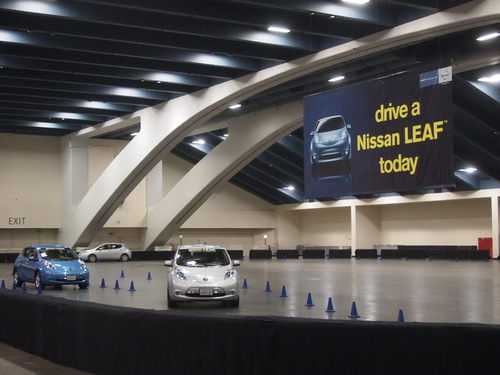 Are boring electric car demos the best way to sell to electric cars?
Please
SHARE
with friends and include TorqueNews in
Google Alerts
for tomorrow's interesting stories.
Vehicles like the Jeep CJ5 are often displayed at auto shows in fun exhibits with fake muddy hills allowing the public to experience off-road driving. Over on the TXCHNOLOGIST blog today it's noted that, in contrast, electric cars are sometimes shown on indoor tracks with a 5 miles/hr maximum speed, which doesn't give any chance of any sort of adrenalin rush. Which begs the question of the best way to offer prospective electric car owners the experience that will sell them on owning an electric car.
Electric cars have been saddled for years with the stereotyped image of slow boring ugly golf carts. An example is the Citicar, built in the mid-70's, in the middle of the oil crises, and one of the earlier waves of electric vehicle development. That was a flimsy electric car, with a fiberglass body, either a 36- or 48- volt drive train, a top speed of under 40 miles/hr, and by modern standards a very primitive electrical system. Almost 3,000 of them were sold, and some people still have a fondness for these early electric cars, but in no stretch could one say they were exciting. Similarly the Neighborhood Electric Vehicles (NEV's) of more recent times, generally upgraded golf carts with a legal restriction of 25 miles/hr maximum speed, do little more than reinforce the "slow boring ugly golf cart" stereotype.
Most electric car experiences are limited to this class of vehicle, leaving many thinking electric cars can only be boring, and puzzling over what the excitement could be about. In that light the Nissan Leaf Drive Electric tour, visiting Auto Shows over the last few months, is an opportunity to experience driving an electric car (Nissan Leaf), that might reinforce the negative stereotype. Especially when placed next to a fake mountainside drive in a Jeep CJ5.
At the 2011 SF Auto Show a large part of the show floor was set aside as an indoor track letting show attendees drive an electric car. Perhaps Nissan had the idea that most simply don't know what it's like to drive an electric car, so the opportunity to do so is a chance for demystification. The setting did not give a chance to do anything other than creep around an oval track, unlikely to give anyone a proper experience of driving an electric car. The Nissan Leaf can be quite fun to drive, but creeping around at 5 miles/hr doesn't give any fun factor.
What's most important is simply that Nissan could do this at all. Almost nobody recognizes that a fleet of gasoline cars simply wouldn't be allowed on an indoor track. Why? Gasoline powered cars burn gasoline, meaning excess carbon-monoxide and carbon-dioxide emissions in the air in the show hall, and unless heroic measures were undertaken the auto show attendees would have been poisoned. Because the Nissan Leaf has no tailpipe and doesn't burn anything, it can be driven around an indoor track with no special arrangements to maintain air quality.
Pages
Please
SHARE
with friends and include TorqueNews in
Google Alerts
for tomorrow's interesting stories.