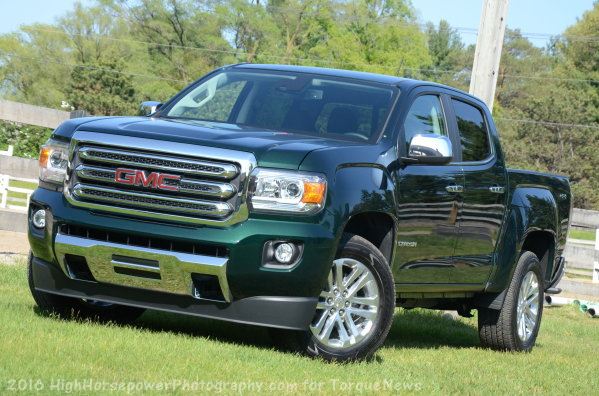 Working Review of the 2016 GMC Canyon Diesel: Tons of Power, Amazing MPGs
Please
SHARE
with friends and include TorqueNews in
Google Alerts
for tomorrow's interesting stories.
When General Motors introduced their new 2.8L Duramax diesel engine for the Chevrolet Colorado and the GMC Canyon, it was touted as a super-efficient engine with solid working abilities. These two trucks – particularly with this new diesel engine – have won all sorts of awards, but I was curious to see how this small truck with a tiny turbo diesel engine would stand up to my real world tests. After all, with "just" 181 horsepower and 369lb-ft of torque, this is one of the least powerful trucks I have tested, but in the end, I was surprised by how well the diesel Canyon works – and how it got crazy high fuel economy numbers when I wasn't towing or hauling.
Before getting into my working review of the 2016 GMC Canyon diesel, a quick look at the test truck. I spent the week driving a 4WD Canyon SLT with the Crew Cab and the 5'2" bed –a truck with a base price of $37,450. When you add in the Duramax diesel engine ($3,730), the premium infotainment system ($495), the Bose sound system ($500), the spray-on bedliner ($475), the Driver Alert Package ($395), the Emerald Green paint ($395) and the destination fees ($925), the price as tested for this diesel Canyon came to $44,365. Some might argue that the price is steep for a "small truck", but when you consider everything that the diesel Canyon can do and everything that is included in that price – this small truck packs big truck qualities for a fraction of the price.
Daily Driving the Small GM Diesel
Like all of my test sessions, my time with the 2016 GMC Canyon Diesel started off with regular daily driving. I cruised around my small town to get a feel for how the 2.8L Duramax diesel moved the small (compared to a half ton) pickup on paved and unpaved roads.
I found that when launching the Canyon from a stop, the diesel engine doesn't produce the same punch that you get from the 3.6L gasoline V6 that I previously tested in the closely related Chevy Colorado. Once you are moving and the Duramax is making peak power, the Canyon pulls very well through the midrange and it will comfortably allow you to get up to speeds greater than any posted speed limit in America. In other words, while the diesel Canyon doesn't feel anywhere near as quick from a stop when compared to the gasoline V6, it pulls just as well through the midrange and at higher speeds. If 0-60 times are a key concern when shopping for a new midsized pickup, the Canyon's gas V6 is going to be the better option, but in every other type of driving – the 4-cylinder Duramax diesel feels great.
Pages
Please
SHARE
with friends and include TorqueNews in
Google Alerts
for tomorrow's interesting stories.