Each year, the Jeep brand sponsors the Easter Jeep Safari in Moab, Utah. This is the biggest Jeep event in the world, bringing off-roaders from around the globe to Utah for some of the most extreme driving that they will ever do. However, Jeep uses this festival of dirt and rocks to both connect with their hardcore enthusiasts and to gauge interest on future projects.
In order to really grab the attention of attendees and the media, Jeep and Mopar have been teaming up for years to create a lineup of modified off-road concept vehicles that were introduced at the Moab event. This will be true for the 2019 event that will begin on April 13th, but Jeep and Mopar have issued a few teaser images to get our attention ahead of time.
Moab Easter Jeep Safari
So far, there has been very little information on exactly what Jeep and Mopar have planned for later this month, but the company has issued the two teaser images shown here. These pictures did not come with any additional information and below, you will find the entire body of the press release in which these images were revealed.
"Moab Easter Jeep® Safari Vehicle Sneak Peek: The Jeep and Mopar brands have created several concept vehicles for the annual Easter Jeep Safari. These images hint at two of the new concept vehicles that will head to Moab, April 13-21. Look for more information and images soon."
We don't know when "soon" is, but with the event only 10 days away, we don't have to wait long for the start of the Easter Jeep Safari and the full introduction of these unique concept vehicles. In the meantime, we can discuss the first two vehicles, loosely introduced in the teaser images shown here.
Jeep J6
First up, we have the blue Jeep shown above. At first glance, you may not be able to tell if it is a Wrangler or a Gladiator, but if you look closely, there is a body seam just above the driver's side door handle, to the right. None of the production Wrangler or Gladiator models have a seam there, so I believe that this is a Gladiator pickup with a two-door, short cab design.
During the Jeep CJ era, a CJ6 was a two-door model with a stretched wheelbase and a small bed behind the front seats. Transforming the current Gladiator into a modern J6 with two seats and a cargo box would make for an interesting discussion piece, especially with the number of people asking about a two-door Gladiator pickup.
In any case, the Jeep J6 shown above has some sort of unusual can design with fog lights mounted on the A-pillar and where a rollover bar would hover in a short-cab pickup, along with some big beadlock wheels.
Moparized Gladiator
The second picture appears to be a new Jeep Gladiator clad in a flashy white, yellow and black livery. It appears to have smaller-than-stock wheel flares and bigger-than-stock wheels/tires, as well as some sort of bed bar extending up along the back of the cab. My guess is that this is a production pickup decked out in Mopar items that are available right away for the new Gladiator, so while the J6 will be more of a "what if concept", this pickup is designed to showcase products that owners can purchased today.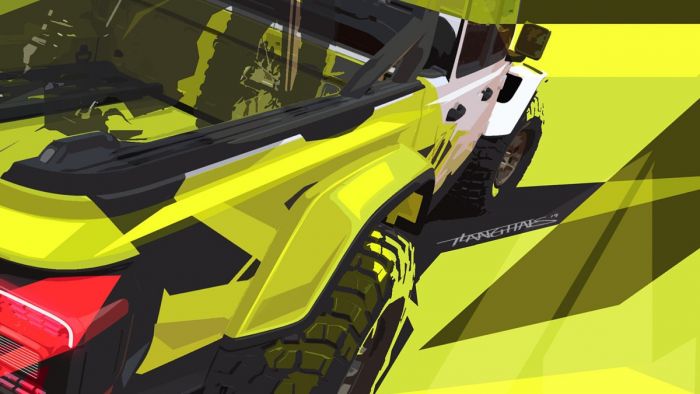 In any case, with the Moab Easter Jeep Safari set to begin on April 13th, we are only 10 days away from the Trail Rated off-roading festival in Utah.