Ford Motor Company announced earlier this year that they would be bringing an all-electric SUV with Mustang design inspiration. Based on the shape of many electric vehicles, the promise of Mustang exterior design cues seemed like little more than a marketing plan, but based on the first teaser image of the unnamed electric SUV, it looks a great deal like the Mustang from behind.
Electric Vehicle Push
Ford has made it very clear that they plan to push electrification into many new vehicles in the coming years, with the promise of 16 electric or hybrid vehicles in their future lineup. They have gone so far as to point out that the Mustang will be one of those vehicles, presumably receiving a hybrid package within the next few years.
The most commonly-discussion future Ford electric vehicle is an SUV that has been called the Mach 1 for the sake of discussion, but the Motor Company seems to be leaning away from that name for production. In any case, Ford has promised that an all-electric SUV will arrive in 2020. This vehicle will be inspired by the Ford Mustang and it will have an all-electric driving range of 300 miles.
So, we have an all-electric sport utility vehicle that will go 300 miles on a charge and it is supposed to be styled after the Mustang. Really, how much could they make an electric SUV look like a Mustang?
Well, based on this first teaser shot, it looks like the designers have done a pretty fantastic job of incorporating the look of the Mustang into the upcoming electric SUV – at least from the rear.
Compared to the Mustang
In digging through the tens of thousands of pictures I have accumulated while testing new vehicles over the years, I found a picture of a 2015 Ford Mustang GT Fastback parked in our indoor horse riding arena. The rear angle shots offer a very similar view to that of the electric SUV teaser, so I have included it below for reference.
As you can see, the taillights and the taillight panel of the SUV are a bit slimmer, but the similarities are unmistakable. The greenhouse is the same basic shape, although the SUV ceiling looks to be a bit higher, and even the way that the greenhouse and rear end flow to the sides of the vehicle is similar to the muscle car.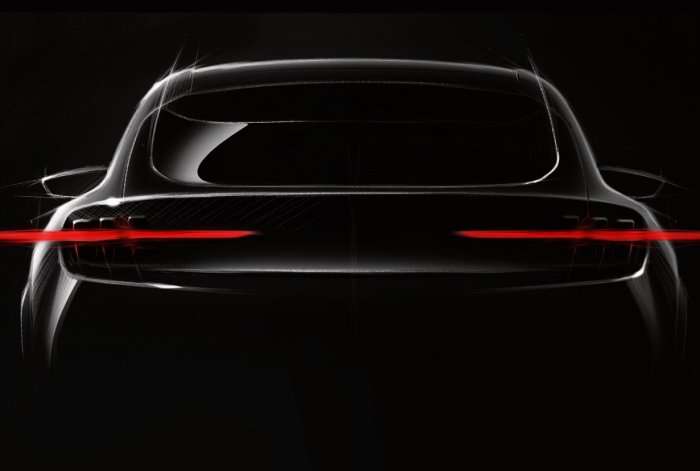 Really, the electric SUV looks so much like the Mustang from behind that this teaser could be mistaken for a Mustang by someone who didn't know that Ford was working on a Mustang-inspired SUV.
Hopefully Ford will roll out more teaser images of the upcoming electric SUV, as it will be interesting to see if the rest of this new model reflects Mustang styling as well as the rear end.