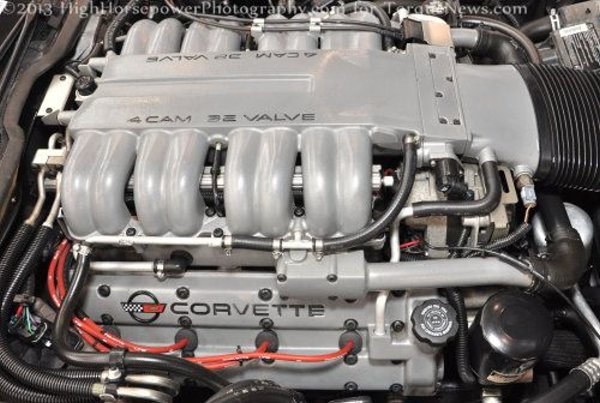 DOHC LT5 V8 for the Chevrolet Corvette Found on GM Service Website
Please
SHARE
with friends and include TorqueNews in
Google Alerts
for tomorrow's interesting stories.
Back in April of 2013, we brought you the news that General Motors had filed for trademark protection of the engine names LT4 and LT5, and at that point, I speculated that these would be new premium performance engines for the Chevrolet Corvette and Camaro. Of course, that speculation was partially confirmed when we learned that the C7 Corvette Z06 and the 6th gen Camaro ZL1 would both pack LT4 power, but we have continued to wonder what GM has planned for the next LT5.
With all of the rumors and spy shots showing what is likely the next Chevrolet Corvette ZR1, we had speculated more recently that the LT5 would power this upcoming super-Vette – since the last application of the LT5 engine designation was used for the unique dual overhead cam engine in the C4 ZR1. The engine of the C4 ZR1 played a big role in the success of that classic Corvette, so with the introduction of the C7 Corvette ZR1, it would make good sense that the LT5 name would be revived to once again play a big role in the success of an American supercar.
That doesn't seem so likely with this new information on the next LT5 and its Corvette application.
The New LT5 Corvette Info
So, it should be noted that this fresh information on the use of an LT5 engine in the future Chevrolet Corvette is, of course, unofficial. GM wont comment on information like this and with no word from the automaker about the existence of a new LT5 V8, this is far from an official statement – but in terms of unofficial information, this is about as good as it gets.
These new bits of info come from the General Motors service website, which is a resource for dealerships around the country. Buried in the many pages of information is a listing for an LT5 engine with the model designation letter Y. It just so happens that in the GM service system, Y is the designation for the Corvette, so in short, the dealership service system references a modern LT5 engine for the modern Corvette.
Unfortunately, there is no model year or trimline information, but we know that GM has at least taken the time to lay out the new LT5 in the dealership computer system.
Please include TorqueNews in
Google Alerts
to receive tomorrow's stories and
SHARE
this with friends if it was interesting.
What we do know from the service website listing is that this new LT5 will be an all-aluminum V8 measuring 6.2 liters and featuring direct injection. More importantly, this new engine has a dual overhead cam setup where the LT1 and LT4 are pushrod engines, and, sadly, there is no mention of forced induction.
Pages
Please
SHARE
with friends and include TorqueNews in
Google Alerts
for tomorrow's interesting stories.