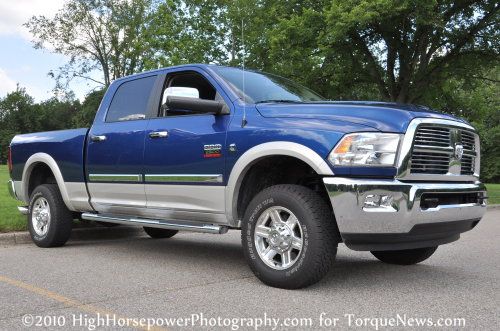 Chrysler recalling 76,000 diesel Ram trucks over braking concern
Please
SHARE
with friends and include TorqueNews in
Google Alerts
for tomorrow's interesting stories.
The 2010 and 2011 Ram Heavy Duty pickups recalled were built between March 2009 and October 2010 and this potential safety concern only pertains to trucks powered by the Cummins Turbo Diesel engine. In these 76,122 trucks, there is a power steering reservoir cap that may exhibit excessive vent pressure levels and this could cause the brake pedal to return more slowly than expected. When the pedal returns slowly, the brakes are still releasing and functioning properly but the NHTSA states that the brake lights can stay on and that can elevate the chance of an accident.
Please include TorqueNews in
Google Alerts
to receive tomorrow's stories and
SHARE
this with friends if it was interesting.
Since this issue doesn't actually involved any braking components, this Ram recall is listed as a power steering issue and you can read more about it on the NHTSA website by clicking here.
Chrysler reports that they have received around 175 complaints of the lazy brake pedal in 2010 and 2011 Ram pickups but there have been no reports of accidents of injuries. Starting early in 2011, Chrysler will begin asking owners of these Ram pickups to return to their dealership where the power steering vent cap will be replaced – all free of charge to the customer.
Other current Dodge news:
Chrysler to use Fiat dual clutch technology by 2013
Dodge announces free maintenance program for 2011 Durango, Journey
Production begins for the 2011 Dodge Durango
Please
SHARE
with friends and include TorqueNews in
Google Alerts
for tomorrow's interesting stories.