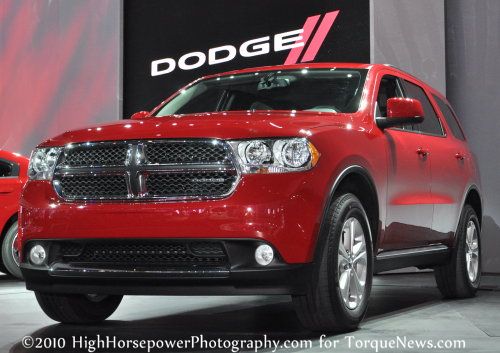 Dodge announces free maintenance program for 2011 Durango, Journey
This program, which carries a listed retail value of $1,100, will come as a standard feature on 2011 Durango Citadel and 2011 Journey Lux – the current "highline" of those models. The No-Cost Maintenance Plus progam offers 3 years of 36,000 miles of basic maintenance at no cost to the customer. This includes service items like oil/filter changes every 3 months or 3,000 miles and the recommended 6,000 mile service (tire rotation, belt and fluid inspection, etc). The No-Cost Maintenance Plus plan also comes with $35/day allowances for rental cars should your 2011 Durango or Journey be in the shop overnight, $100 allowances for 'sign and go' towing or emergency roadside assistance and even $1,000 for trip interruption coverage in case you are on vacation and your new Dodge runs into an issue.
This program has been added to help give added peace of mind to the owners of the 2011 Durango Citadel and Journey Lux, as well as reducing the cost of ownership. These two trimlines are aimed at the luxury end of the segment and maintenance programs like this have become common for the higher end models so now new Dodge owners can enjoy the same luxurious amenities, style and hassle free ownership more commonly expected of far more expensive vehicles.
Ralph Gilles, President and CEO of the Dodge brand had this to say about their new No-Cost Maintenance Plus plan:
"The new Dodge Durango Citadel and Journey Lux models are loaded with features and content typically found on competitor vehicles priced tens of thousands of dollars more. This new no-cost maintenance plus plan gives our loyal customers, as well as customers who are discovering the Dodge brand for the first time, unparalleled peace of mind."
The full details for the new Mopar No-Cost Maintenance Plus plan:
-Benefits of 3 years or 36,000 miles
-$0 deductible
-Oil, oil filter changes and lubrication (3-month/3,000-mile service intervals)
-Scheduled and recommended maintenance (6,000-mile intervals)
-$35/day car rental allowance (car rental allowance for any overnight dealership mechanical repair, 5-day maximum per occurrence)
-$35/first day rental (car rental allowance or taxi service for any dealership mechanical repair or maintenance service [includes bodywork])
-$100 "Sign-and-go" towing and roadside assistance - Benefits include towing, flat tire change (with existing good spare) battery jump, out-of-gas fuel delivery (maximum 2 gallons), and lockout service (i.e. keys locked in vehicle or frozen lock), as much as $100 per occurrence
-$1,000 trip interruption coverage. Provides as much as $1,000 for lodging, meals and car rental expenses if: the vehicle is inoperable due to a component failure covered by the factory warranty AND the failure occurs more than 100 miles from home
Check out the gallery below for a closer look at the 2011 Dodge Durango making its grand debut at the 2010 LA Auto Show and for more current Dodge news, check out these links:
Production begins for the 2011 Dodge Durango
Dodge announces the schedule for the 2011 Viper Cup race series
Please
SHARE
with friends and include TorqueNews in
Google Alerts
for tomorrow's interesting stories.