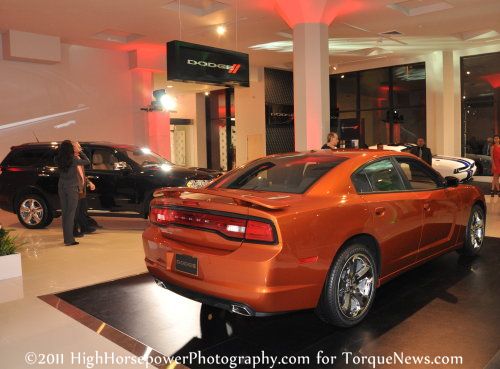 The Chrysler Premier Event gives buyers a chance at a free new vehicle
Please
SHARE
with friends and include TorqueNews in
Google Alerts
for tomorrow's interesting stories.
The Premier Event, which incorporates the Dodge, Chrysler, Jeep, and Ram brands, is an eight day promotion aimed at putting consumers behind the wheel of one of the company's 16 new or revised 2011 models. When a customer stops in they get a chance to "Spin to Win", with the grand prize being a free 2011 Chrysler, Dodge, Ram or Jeep vehicle with a value equal to or less than $30,000.
This event is aimed at existing Dodge, Chrysler, Jeep and Ram owners or dealership customers who received an email or mailer with a promotional code that is required to receive the $25 gift card and to "Spin to Win". However, if you are not on that list and did not receive an email inviting you to your local Chrysler Group dealership, you can visit the websites of your local dealerships to see if they are participating in the program. Chrysler states that 86% of dealerships in the US are participating, accounting for 1,965 total showrooms around the country. Should your local dealership be involved, there will be a link to click where you can sign up for the program. If you are not into the witchcraft of the interweb, stop by your local dealership for more information.
The Chrysler Premier Event runs from now until March 23rd, so if you were invited to stop by your local dealership – or if you have signed up on your nearest dealership's website, you only have 7 days left to check out the new 2011 Chrysler, Dodge, Jeep and Ram lineups while also getting a chance at winning a brand new Chrysler vehicle.
Other Chrysler News:
Chrysler sues Detroit-based company over use of new slogan
Fastlane of Houston to build a custom 500hp Ram 1500 R/T
Petty's Garage and Heide Performance Products build a modern Superbird
Chrysler's Ram Truck brand unveils a new minivan workhorse
Dodge prices the 2011 Grand Caravan, now the least expensive minivan
Volkswagen recalls Routan minivans for ignition problem
Please
SHARE
with friends and include TorqueNews in
Google Alerts
for tomorrow's interesting stories.