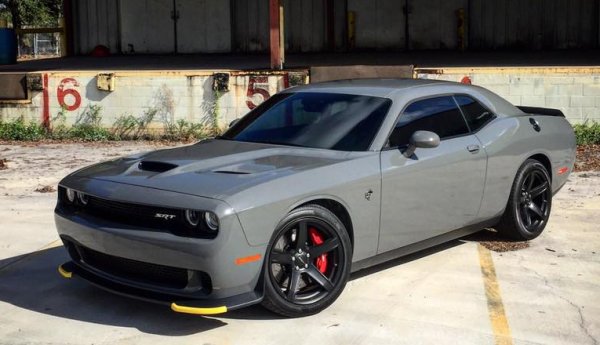 2017 Hellcat Dodge Challenger, Charger at Dealers Now
Please
SHARE
with friends and include TorqueNews in
Google Alerts
for tomorrow's interesting stories.
The Dodge Challenger SRT Hellcat and Dodge Charger SRT Hellcat for the 2017 model year aren't receiving any huge changes, but there are a few small changes that help the 2017 models stand out from the 2015 and 2016 models. Really, the changes are predominantly aesthetic, but with the addition of a few new colors, there are prospective buyers out there who have been waiting for the 2017 Hellcat Challenger and Charger.
I know because over the past few weeks, I have been getting messages from folks holding off for a 2017 Hellcat Dodge and I am happy to report that the newest 707hp Challenger and Charger should be available in most areas around the US – particularly in warmer regions where the world's most powerful muscle cars can be enjoyed this time of year.
I have spoken to dealerships in a few different areas around the US as well as a few new 2017 Hellcat owners. It seems that the areas without a real winter may have gotten a larger batch to begin with, as the majority of the 2017 owners I've spoken with online lives in an area where snow is seldom a concern. However, with some dealerships taking delivery of 2017 Hellcat cars in colder climates as well, these revised muscle cars should be readily available to everyone in the US soon (with these new cars already being available in many areas).
The 2017 Hellcat Dodge Changes
The key changes for the 2017 model year are shared between the Hellcat Challenger and Hellcat Charger, beginning with the new 5-spoke "5Deep" wheel design, which removes 4 pounds from each corner of the cars while also showing off the huge Brembo brakes much more clearly. Next, Dodge added new Hellcat head logos to the SRT badges on the rear spoiler, the seatbacks and the dash board. Finally, the Hellcat Challenger and Charger for 2017 have a red backlit SRT logo in the middle of the steering wheel.
2017 Challenger, Charger Changes
In addition to those Hellcat-specific changes mentioned above, the entire 2017 Dodge Challenger and Charger lineup benefits from the newest version of UConnect infotainment system. This 4th generation UConnect promises smoother functionality and better smartphone integration, allowing the driver to access many features of their phones through the voice control system of the car.
Pages
Please
SHARE
with friends and include TorqueNews in
Google Alerts
for tomorrow's interesting stories.