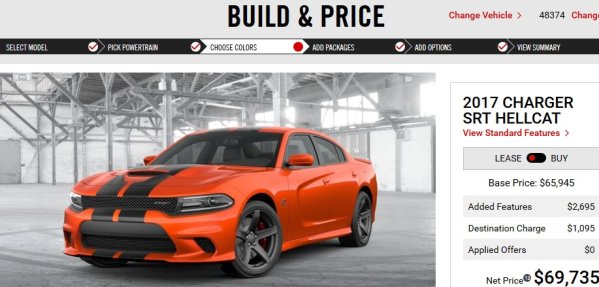 2017 Dodge Hellcat Challenger, Charger Prices Carry Over from 2016
Please
SHARE
with friends and include TorqueNews in
Google Alerts
for tomorrow's interesting stories.
Dodge caused a bit of a stir in the Mopar performance community when they raised prices for the 2016 Hellcat Charger and Challenger compared to the 2015 model year. After the 2015 Hellcat cars had huge waiting lists, FCA made the smart business move and raised prices for 2016, which didn't sit well with those folks who waited for 2016 rather than to fight the rush for a 2015 model.
Fortunately, even with a few simple additions for the 2017 model year, the newest Dodge Challenger and Dodge Charger with the Hellcat Hemi carry the same MSRP as 2016 models – even with the new, lighter wheels, the backlit steering wheel emblem, the improved UConnect system and the added Hellcat branding inside and out.
2017 Hellcat Pricing
When Dodge increased the pricing of the Hellcat Challenger and Hellcat Charger for 2016, they did so while also adding new standard features. The base MSRP of the 2016 Hellcat cars was higher than the base MSRP for 2015, but the company added some of the most popular options from 2015 as standard equipment for 2016.
Because of this additional equipment and corresponding price increase for 2016, some prospective 2017 Hellcat Dodge buyers were concerned about another price increase when the new features were announced for the 2017 model year. However, now that the 2017 Challenger and Charger build pages have gone live on Dodge.com, we know that the Hellcat models carryover the pricing from 2016 – so those new features come with no apparent price increase.
The 2017 Hellcat Challenger
The 2017 Dodge Challenger SRT Hellcat with the 6-speed manual transmission has an MSRP starting at $65,290, including the $1,700 Gas Guzzler Tax and the $1,095 destination fee – just like the 2016 models. Opting up to the heavy duty 8-speed automatic transmission still costs $2,995 and the dual carbon fiber stripes are still $995.
Unfortunately, there are no packages listed for the 2016 or 2017 Dodge Challenger SRT Hellcat, but the painted satin black hood is still $1,995, the power sunroof is still $1,995 and the Brass Monkey wheels in the style of the 2015-2016 Hellcat models (rather than the new 5-spoke wheels) are still available for $995 – with summer performance tires still being offered for $695.
Pages
Please
SHARE
with friends and include TorqueNews in
Google Alerts
for tomorrow's interesting stories.