The all-new Acura Integra hits the market this summer as an attainable aspirational car. That means it's a car that many will want, but can also afford. This was the original rai·son d'ê·tr of the original Integra as well.
The Integra has a lot of nifty Acura/Honda features that many buyers appreciate. Its ergonomics are perfect. It has cool wipers, and its driver's seat retracts when you shut the car off. The Integra has all of the near-premium and actual premium features we have come to expect from the brand. Here is a rundown of the things we feel separate it from its peers like the top Civic trims, the Mazda3, and the Subaru WRX. We can even throw in the Tesla Model 3. There are many features that the Integra A-Spec offers that you can't get in any Tesla Model 3 trim.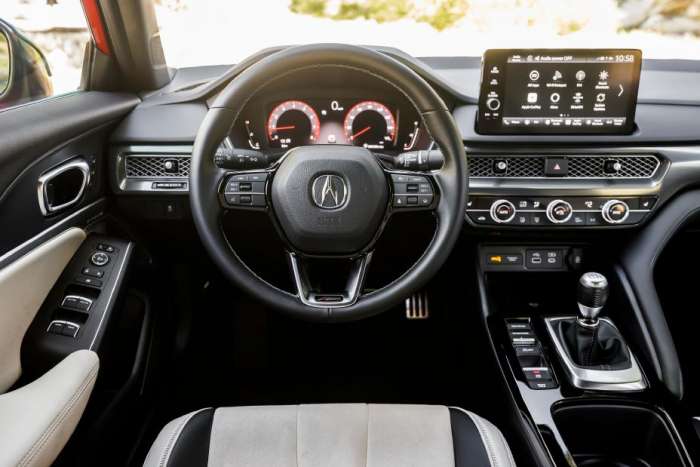 Integra Special Feature - The Infotainment Package
The Acura Integra's infotainment package rated an A+ in our review partly because Acura simply didn't do anything stupid. Acura didn't steal your volume knob. Acura didn't force you to use a mouse or rotary dial to control the info screen. Acura didn't hide every single button in the screen.
However, it wasn't just a lack of mistakes that earned that rare A+ from this picky reviewer. The ELS STUDIO 3D audio system is a stand-out feature that none of the Integra's peers in its price range can match. The 16 speakers are all over the car's interior. The cargo area. The roof. The dash. Plus all the usual places. The system has exceptional sound clarity and also a bass you can feel in your chest. It rocks out in a way you won't find in this price range anywhere else.
Android Auto and Apple CarPlay are wireless and there is a wireless charging pad the shape of your phone. You'd be surprised by how many new-generation phones don't have these simple features (Kia EV6, Hyundai Ioniq5, Tesla Model 3). The head-up display and the driver info screens are also top-notch. You need to get the technology package to have some of these, but it is well worth the money.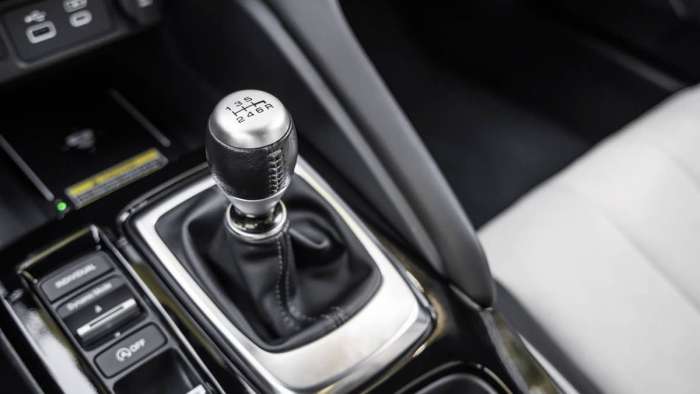 Integra Special Feature - Stick Shift Transmission
Many buyers who want a driver's car like the Integra prefer to shit their own gears. Acura understands this and plans to build about 65% of the Integras it makes on its Ohio production one with a stick. Two thirds. That is a huge number in an industry that usually sees about a 5% take rate on the models that have a stick option.
Integra Special Feature - The Value
The Integra starts at just $32K and a fully-equipped A-Spec with the Tech Package only costs $37K. In today's inflation-crazy economy this is a steal. Consider the two years of included maintenance dance and the Integra offers a great price point. This is the "attainable" attribute we spoke of above. Acura's warranty is also a year longer than any of the peers we mentioned above.
Integra Special Feature - The Cargo Capacity
Acura chose an interesting body style for the 2023 Integra. It looks like a coupe, but it is actually a five-door hatchback. This is a great combination. You can store a bike in the back with the seats folded. The cargo area looks and feels huge when you use it.
The new 2023 Acura Integra has it where it counts. It's quick, fun to drive, and it comes with a stick if you want one. It also offers a great cargo area, an audio system you can't beat, and an infotainment system that makes no mistakes. Meld all of that with a low price point and high value and the Integra is shaping up to be the new segment leader.
Integra images courtesy of Acura
John Goreham is a long-time New England Motor Press Association member and recovering engineer. John's interest in EVs goes back to 1990 when he designed the thermal control system for an EV battery as part of an academic team. After earning his mechanical engineering degree, John completed a marketing program at Northeastern University and worked with automotive component manufacturers, in the semiconductor industry, and in biotech. In addition to Torque News, John's work has appeared in print in dozens of American news outlets and he provides reviews to many vehicle shopping sites. You can follow John on TikTok @ToknCars, on Twitter, and view his credentials at Linkedin
Re-Publication. If you wish to re-use this content, please contact Torque News for terms and conditions.