Looking for a great deal? Try certified-pre-owned cars this year
By Eric C. Evarts
Amid coronavirus shutdowns, the auto industry has a problem—or actually two. Not only are car-buyers staying home from dealerships, so are factory workers responsible for building the cars.
If you're looking for a great deal on a new car, these two trends bear watching.
As the industry scrambles to sort out its response to these challenges, a variety of data trackers have stepped in this week to offer analysis and even advice. We had a chance to glean some insights that may help inform purchase decisions.
The first report was from Equifax, the judgy folks responsible for rating consumers' credit, which determines how much they might have to pay for a car loan or whether they can get one at all.
Last month, we reported on what one industry insider called the best weekend ever to buy a car.
According to a monthly Equifax monthly trends report on the auto industry, that window has decisively closed as some states have begun to reopen from Covid-19-related shutdowns, more car dealerships have instituted touch-free buying processes, and more potential carbuyers go back to work.
While retail prices dropped by 12 percent on 2017 models in April, they have since recovered about half that value.
With shoppers staying home, cars piled up on dealership lots, rising from an average of six weeks' supply to 16 weeks'.
In an effort to find buyers for all the new cars on their lots, automakers began offering 0-percent financing on a wide variety of models and for terms of five years and sometimes more.
Now that buyers have returned though, it's harder to find those deals. The sub-prime financing that keeps auto finance companies alive has fallen away—meaning that buyers with low credit scores will have trouble buying cars, further thinning the buyer pool.
In addition, coronavirus shutdowns at everywhere from auto assembly plants to parts suppliers have put a huge dent in production, so those big lots of inventory have been whittled down to normal or even below normal levels.
In another industry forecasting telecast, Sam Fiorani, Vice President of Global Forecasting at Auto Forecast Solutions expects supply constraints to limit auto sales to 12.9 million cars and light trucks this year, down 23 percent from last year, so for now all those cars sitting on dealer lots that consumers are starting to trickle out to buy aren't being replaced.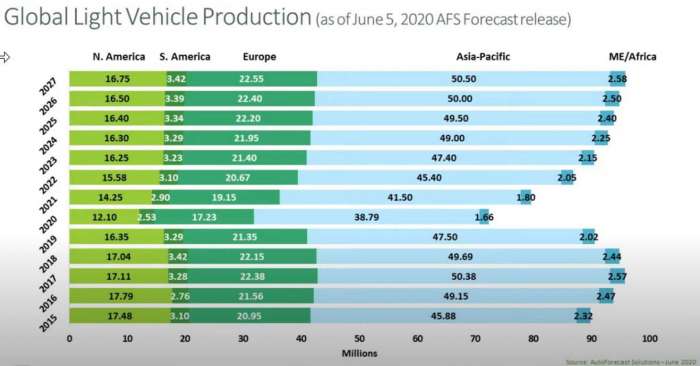 The great deals to be found in March and April are gone. So if you're looking for a great deal on a car, where should you look?
Try the certified pre-owned market later this year, says Jonathan Smoke, Chief Economist for Cox Automotive, a large network of dealerships in the U.S.
The used-car market is subject to a lot more variables than new cars, especially a glut of late-model used cars coming back on the market. And that's what's about to happen later this year, according to Smoke.
Not only did consumers lease a lot of new cars back in 2017 that are now coming back onto the market with significantly fewer buyers, but car-rental giant Hertz declared bankruptcy, leaving its fleet of 700,000 rental cars idled. Those cars are likely to add a tidal wave to the flood of late-model used cars returning from leases, most of which go into certified-pre-owned fleets where automakers can try to get the highest prices for them by selling them with extended warranty guarantees.
As Hertz bankruptcy managers and lessors try to liquidate as many as half a million of those rental cars, Smoke expects they will try to spread their sale over as many months as possible to limit the impact on prices. But they may not be able to eliminate it entirely with what amounts to an extra month of wholesale inventory coming back on the market in 2020.
He says, look for a great deal on certified pre-owned cars toward later in the year.
The other advantage of factory certified pre-owned cars is that the automakers' finance wings will make loans on them. According to Equifax consultant Amy Crews Cutts, President and Chief Economist at AC Cutts and Associates, automaker finance companies have been far more willing to offer forbearance during times of crisis such as the Covid-19 pandemic than other types of banks.
Now you know.
Eric Evarts has been bringing topical insight to readers on energy, the environment, technology, transportation, business, and consumer affairs for 25 years. He has spent most of that time in bustling newsrooms at The Christian Science Monitor and Consumer Reports, but his articles have appeared widely at outlets such as the journal Nature Outlook, Cars.com, US News & World Report, AAA, and TheWirecutter.com and Fortune magazine. He can tell readers how to get the best deal and avoid buying a lemon, whether it's a used car or a bad mortgage. Along the way, he has driven more than 1,500 new cars of all types, but the most interesting ones are those that promise to reduce national dependence on oil, and those that improve the environment. At least compared to some old jalopy they might replace. Please, follow Evarts on Twitter, Facebook and LinkedIn.