Electrify America's first cross-country charging route opens options for EV buyers
By Eric C. Evarts
A record number of travelers are expected to hit the roads in America for July 4th, even in the age of Covid-19.
For most drivers, low gas prices help. For those who drive electric cars, making a long road trip just got easier. A company called Electrify America just opened its second cross-country route of fast EV chargers.
That may not sound like a big deal, but it greatly expands the options for electric-car drivers and significantly narrows the gap in functionality and ease of use between EVs and their gasoline counterparts.
Electrify America is the electric-car infrastructure division of Volkswagen, which is making the biggest push toward building electric cars of any company besides Tesla. (And given VW's size, its plans may actually be larger, depending on how you count.) It was founded as part of the automaker's consent decree with the court to atone for its diesel emissions cheating scandal.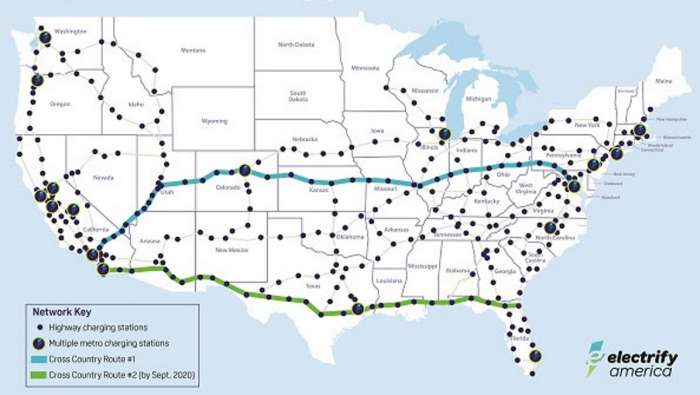 What sets the Electrify America charging network apart from others is that it's the only electric-car fast charging network designed to carry any EV from coast to coast. As with any utility, serving the sparsely populated corridors between cities is unlikely to be cost effective. But the court decree requires Electrify America to set up cross-country routes as well as regional and local charging stations.
Electrify America's first route runs from Los Angeles to Washington, D.C., via Interstates 15 and 70. The company says it will open a second cross-country route in September between San Diego and Jacksonville, Florida on I-8 and I-10.
The chargers are spaced no more than 120 miles apart on both routes, Electrify America says. Each station includes at least two 150-kilowatt chargers that replenish about 150 miles of range in a 200-mile electric car in about an hour, as well as at least two 350-kilowatt chargers which can replenish the same range in a few new EV models in about 20 minutes.
The company already operates fast charging stations along north-south corridors on the East and West Coasts.
So far more than half the electric cars sold in the U.S. have been Teslas, and Electrify America acknowledges in that in its surveys of electric-car owners, more than 70 percent of Tesla buyers said that access to Superchargers was a big factor in their purchase decision. One financial analyst went so far as to refer publicly to Teslas Superchargers as its "moat," against EV competitors.
Tesla uses a different charging standard that other EV manufacturers, so only Tesla cars can use its Superchargers.
The new Electrify America corridors running across the country make electric cars from other automakers a more realistic alternative for people who want to buy an EV.
Other automakers have begun to introduce long-range electric vehicles, including the Audi E-tron and Porsche Taycan (both from Volkswagen), the Jaguar I-Pace, the Hyundai Kona Electric, Kia Niro and Soul EVs, and soon the new Ford Mustang Mach E. All have at least 200 miles of range. (So far only the Porsche can be charged at 350 kW and only the Porsche, Audi, and most versions of the Mustang Mach-E can charge at up to 150 kw. Other models can still use the chargers but will charge more slowly from them.
Last week, Ford and Electrify America announced that Ford will provide new Mach E buyers five free charging sessions at Electrify America chargers.
The final charger under construction to complete the second route—the Golden Spike of electric car chargers—is in Dateland, Arizona, along Interstate 8. Electrify America spokesman Mike Moran says it will open in September, barring unforeseen construction delays.
Then American drivers looking to transition to EVs will truly have choices.
Eric Evarts has been bringing topical insight to readers on energy, the environment, technology, transportation, business, and consumer affairs for 25 years. He has spent most of that time in bustling newsrooms at The Christian Science Monitor and Consumer Reports, but his articles have appeared widely at outlets such as the journal Nature Outlook, Cars.com, US News & World Report, AAA, and TheWirecutter.com and Fortune magazine. He can tell readers how to get the best deal and avoid buying a lemon, whether it's a used car or a bad mortgage. Along the way, he has driven more than 1,500 new cars of all types, but the most interesting ones are those that promise to reduce national dependence on oil, and those that improve the environment. At least compared to some old jalopy they might replace. Please, follow Evarts on Twitter, Facebook and LinkedIn.