2021 Lexus IS takes a trip to the gym--er, test track
With the new 2021 Lexus IS, Toyota's luxury brand is trying to prove it hasn't gone soft.
As Lexus's entry-level rear-wheel drive sports sedan, the new IS is tasked with carrying the torch of bringing new buyers to Lexus—often from better-known sports-car brands such as BMW.
The hope is to bring back the sportiness that the first-generation IS was known for.
To that end, Toyota engineers have dramatically stiffened the front structure to quicken steering responses. They have shaved every fractional pound from the new car's unsprung weight—the weight of the suspension components hanging off the springs—by using springs that are 20 percent lighter and forged aluminum arms in place of steel ones on the old car to save another 18 percent, Lexus has shaved significant weight from the suspension. Engineers even shaved two pounds overall by converting from lug nuts to wheel studs to hold the wheels on. That doesn't sound like much, but when those two pounds come out at the wheels, it makes a notable difference in handling feel.
With a much lighter suspension and stiffer chassis, the company can use softer shock absorbers to create a smoother ride without softening the car's reflexes in corners.
All these changes designed to improve handling represent something of a breakthrough for Toyota engineers working on a car with a luxury badge. Such suspension-tuning measures are expensive and esoteric parts of designing a new car, and are processes that have historically been given short-shrift at cost-conscious Toyota.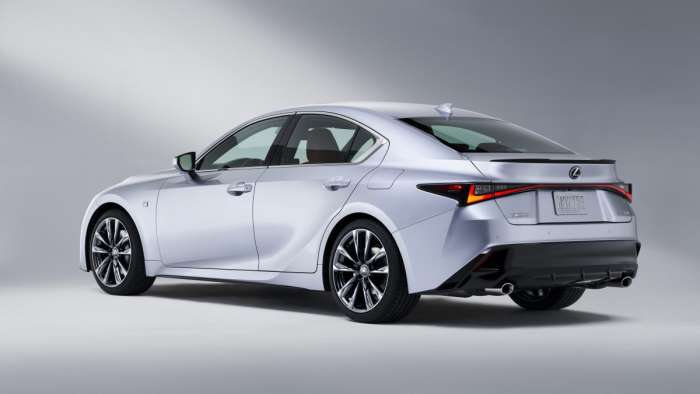 If the company is trying to get ahead of its reputation for building dull cars, with the new IS leading the way, these changes are a good start. Toyota has long been capable of building great-driving cars, as exemplified by the original IS, as well as a handful of other older models: the MR2, certain Celicas.
Most car companies can build comfortable, smooth-riding cars, and when they want to make a sporty model, they just slap bigger wheels and lower profile tires on it, sometimes with stiffer shock absorbers, which make the car more responsive, but less refined. Often those sports costumes make cars thumpy over bumps and make them feel less refined. Lexus has often fallen into this trap with its F-Sport models, making them feel cheap—an unseemly quality for a luxury brand.
Building a sporty car that retains its luxury is expensive because properly tuning suspensions to do two things at once (comfort and responsiveness) takes may months of trial and error, often on expensive rented test tracks. It's why German (and increasingly other automakers) have so often bragged about developing their cars on the German Nurburgring race track, known as one of the most demanding tracks in the world. But time there doesn't come cheap.
(Computer aided engineering tools have definitely helped speed up the process. But without sufficient real-world validation, cars designed too much by computer often fall flat in the market.)
As expensive and esoteric as suspension tuning is, it has become a prime differentiator between ordinary and exciting—the difference between a buyer signing a big check (and more checks for many months to come), or choosing something else that sparks their desire. For too long, that's what happened at Lexus dealers.
To make the cars more compelling, under corporate scion Akio Toyoda, Toyota built its own test track where it can spend as much time as it takes to make their cars compelling.
With the fundamental suspension sorted out, Lexus bumped up the standard and optional wheel sizes by and inch each, to standard 18-inch and optional 19-inch wheel and tire packages to bring even faster steering responses.
With drivers now inspired to engage with the new IS, Lexus has updated the car's safety systems. Its automatic emergency braking system uses a longer-range radar to allow it to warn drivers of impending problems earlier. The car's adaptive cruise control system can now bring the car to a complete stop, start the car moving again in traffic, and even accelerate and change lanes if the driver engages the turn signal. (Similar to what Tesla introduced two years ago.)
The new IS comes equipped with automatic high-beams and traffic-sign recognition.
The engine lineup is also new, geared for an era of tightening fuel-economy standards. The basic rear-wheel-drive IS 300 will get a new 2.0-liter turbocharged four-cylinder engine based on the one that has proved successful in Lexus's NX crossover, developing 241 horsepower and 258-pound-feet of torque.
All-wheel drive IS 300s get a version of Toyota's venerable but very good 3.5-liter V6 tuned to produce 260 horsepower and 236 pound-feet of torque. With less torque and the added weight of all-wheel drive, though, this setup may feel less responsive than the base car.
If you want more power, the V6 is still available in the IS 350 with either rear- or all-wheel drive, developing 311 horsepower and 280 pound feet of torque.
Base models get a new eight-speed automatic transmission, while V6 and all-wheel drive cars get a tried-and-true six-speed.
EPA fuel-economy ratings have not yet been released for the new 2021 IS lineup.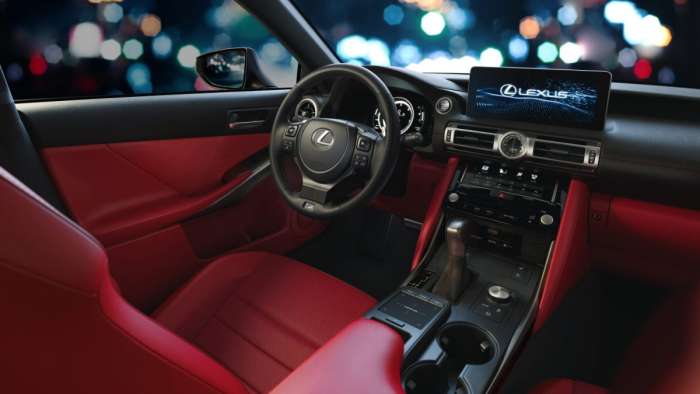 Inside, Lexus has updated the IS with a new 8-inch touch-screen infotainment system with Android Auto and Apple CarPlay with Amazon Alexa assistance. Critically, the new touch screen sits 3-inches closer to the driver than the old track-pad-controlled screen, to make it easier to reach. Models with either built-in navigation or the high-end Mark Levinson audio system also get a larger 10.3-inch touch screen.
For buyers interested in the 2021 Lexus IS, the company has introduced a new virtual-reality app to let customers experience the new IS even reaches dealerships in this Covid-informed era. Check it out.
Eric Evarts has been bringing topical insight to readers on energy, the environment, technology, transportation, business, and consumer affairs for 25 years. He has spent most of that time in bustling newsrooms at The Christian Science Monitor and Consumer Reports, but his articles have appeared widely at outlets such as the journal Nature Outlook, Cars.com, US News & World Report, AAA, and TheWirecutter.com and Fortune magazine. He can tell readers how to get the best deal and avoid buying a lemon, whether it's a used car or a bad mortgage. Along the way, he has driven more than 1,500 new cars of all types, but the most interesting ones are those that promise to reduce national dependence on oil, and those that improve the environment. At least compared to some old jalopy they might replace. Please, follow Evarts on Twitter, Facebook and LinkedIn