Tesla Model Y Looms Large for Volkswagen, Ford, and Other Established Automakers
2020 is shaping up to be a pivotal year for electric vehicles. We already have new models lined up from major players including Volkswagen and Ford, as well as newcomers like Rivian and Bollinger (albeit at premium prices).
Blend in a full mid-cycle update for the Chevy Bolt EV, plus the potential for a new all-electric crossover from Nissan, and you have a recipe for the next phase of EV adoption.
Yet even with so much increased competition, it appears that it's still Elon Musk and team who'll be calling the shots as the next decade begins. Not least because the Tesla Model Y is ahead of schedule and packed with technology that should ensure it still leads the field.
"Elon Time" Sets the Clocks Back for a Change
Although the standard refrain in the EV community of "Elon Time" is typically used to reference late arrivals and deadlines being pushed back, its meaning could be changing. Take this statement from Tesla's Q3 2019 earnings call last week as the first example:
"Regarding Model Y, we're also ahead of schedule on Model Y preparations in Fremont, and we've moved the launch timeline from full 2020 to summer 2020. There may be some room for improvement there, but we're confident about summer 2020."
If that means more than just a handful of production vehicles released to employees and early order holders, it gives Tesla several months headstart on competing models. In fact, given what the company has learned from "production hell" with the Model 3 and increased efficiency in the manufacturing process, it's not unreasonable to believe we could see most versions of the Tesla Model Y available before the end of 2020. In that scenario, Tesla would have a very competitively priced crossover EV with the latest technology, in one of the most popular vehicle categories in North America.
After a relatively muted launch for the Model Y earlier this year, Musk is increasingly bullish on the prospects for Tesla's latest vehicle. On the sales prospects for the vehicle, he says it could put all of the company's previous offerings in the shade:
"It's going to be an amazing product and be very well received. I think it's quite likely to outsell Model S, Model X and Model 3 combined."
After such a significant shake-up by the Tesla Model 3 in the declining sedan segment, those predictions for a Tesla entering the massively popular crossover category should be a major concern for established brands.
Can Volkswagen and Ford Compete?
We single out these two manufacturers because, at this moment, they seem to have the most potential to deliver a competitive all-electric crossover in the next 12 months.
Just a couple of weeks ago, that meant they might have a jump of several months on Tesla. Now, it appears that Tesla will beat them to market with the Model Y.
The importance of this should not be overlooked. Let's go back a few years and take the race to deliver an affordable long-range EV as an example.
At the time, in mid-2016, only the Tesla Model 3, Chevy Bolt EV, and second-gen Nissan Leaf were on the horizon as all-electric models that would deliver more than 200 miles per charge for less than $40,000 before incentives.
The Bolt EV arrived first at the end of that year, with nationwide availability the following summer of 2017. The Model 3 did also manage a summer 2017 release but wasn't produced in significant numbers until 2018. Meanwhile, Nissan took their sweet time with the update of their popular EV and failed to deliver the Nissan Leaf e+ until earlier this year, having lost its EV lead and facing new competition from Hyundai and Kia.
Clearly, the Model 3 eventually won the war, but Tesla did lose a chunk of us to the Chevy Bolt EV due to its earlier arrival. With the Model Y, Tesla not only has a chance to win over Bolt EV drivers. It can also get a jump on potentially compelling crossover EVs from Ford and Volkswagen.
Watch 4 Reasons Why Bolt EV Owners May Convert To Tesla Model Y and Click To Subscribe to Torque News Youtube Channel for Daily EV and Automotive News.
In Ford's case, despite the company's overblown statements on electrification, the forthcoming "Mustang-inspired SUV" has our attention. If the November launch claims it can truly deliver a range in the region of 300 miles and fast charging well above 100kW, it immediately becomes a contender. Even if the price is inflated because Ford has very little experience with electric drivetrains at this early stage, the company still has the full federal tax credit of $7,500 to offer customers for as long as it lasts.
Similarly, Volkswagen's ID. 4 has been mooted for a long time and is likely to arrive in North America in the latter half of 2020. With its European hatchback sibling the ID. 3 already taking pre-orders at affordable prices, it isn't a stretch to say the ID. 4 will also go into direct competition with Ford and Tesla's new electric crossovers.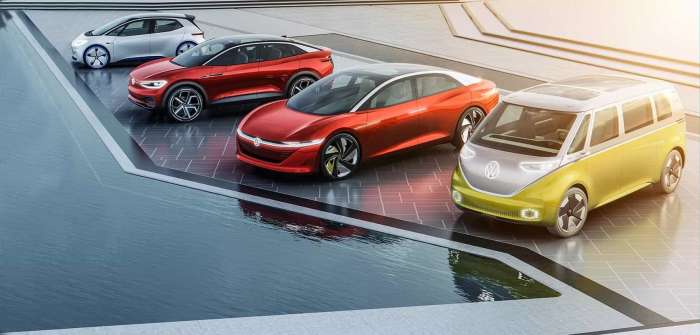 We postulated earlier this year that Volkswagen was the legacy automaker best-positioned to compete with Tesla, setting up an intriguing battle between two companies that have recently forged a mutual-appreciation society.
However, with the release of the Tesla Model Y ahead of schedule and the company primed to produce the car in greater numbers much more quickly than the Model 3, the ball is firmly in Volkswagen's court to return. Short of a major breakthrough in range or efficiency, it looks highly unlikely that the ID. 4 will come out on top of Tesla's latest model, which also offers the Supercharger network, ongoing software improvements, and the latest technology Fremont has to offer.
Do you think any of the big brand automakers can go toe-to-toe with Tesla in the crossover segment next year? Let us know who and why in the comments!
Steve Birkett is an electric vehicle advocate at Plug & Play EV. You can follow him on Twitter at @Plugandplayev, Instagram and Youtube at Plugandplayev Channel to send him EV news tips.