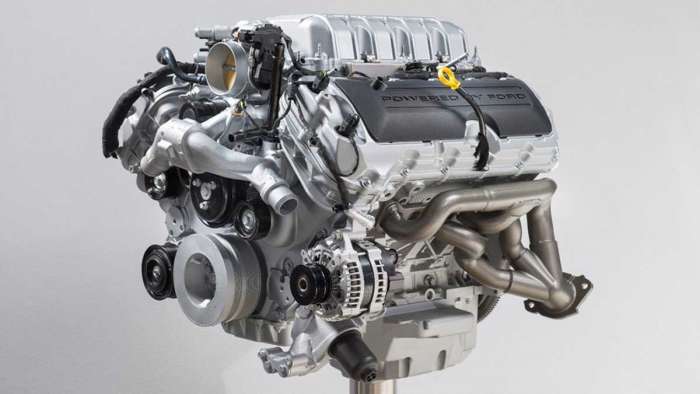 For those hoping that the Ford's Raptor would have a V-8 engine, there's a great answer: wait, it's coming. It also answers whether Ford is planning to continue offering its capable 5.2-liter V-8 powerplant.
2022 Raptor To Receive V-8 Powerplantengine in an exclusive report to TN. You can read about it here.
We found this story when we looked at a question tossed our way not long ago. At the moment, the Raptor carries Ford's "big" turbo engine, a 3.5-liter twin-turbo V-6. The powerplant does churn out lots of horsepower, 450, but it seems to lack the panache of a good V-8. Though the Ecoboost engine is an excellent turbocharged powerplant, it seems a bit too smooth. Yup, it's powerful enough, but when it comes to snapping your head back and making you think your eyeballs are part of the windshield, the turbo engine just doesn't cut it.
Now, take supercharged 5.2-liter V-8, like that used in the Ford GT500 that is tuned to crank out 750-770 horsepower, and you have a powerplant that is ready to snap your head into the seat bolster and keep it there until you let off the gas. (Granted, the world has an EV future – electric vehicles – with Japan promising no ICE – internal combustion engines – after about 2030. However, now, it is still nice to know that neck-snapping performance is available, and you can have it in your Raptor, but I am getting ahead of myself).
Early Raptors Used V-8s
Indeed, the Raptor had a reasonably good V-8 when it first appeared about a decade ago. At that time, Ford put a 5.4-liter V-8 under the hood of the original power off-roader. The powerplant was more than a bit anemic by today's standards, even for a twin-turbo V-6. The original V-8 only turned out 310 horsepower.
Ford did offer a $3,000 upgrade to the powerplant so owners would have more ponies as playmates. The Raptor's optional engine averaged 6.2 liters and turned out 411 horsepower. The naturally aspirated engine still lacked the oomph many people wanted from their performance machines – car and truck.
Interestingly, look at how this contrasts with today's Raptor engine output. Today, the standard Raptor powerplant turns out a solid performer at 450 horsepower. Still, it is turbocharged (no matter how good the turbocharging system, there is always turbo-lag to contend with). Its twin-turbo configuration is quite powerful. The situation will last until 2022 when Torque News has learned, Ford plans to begin equipping the Raptor with the 5.2-liter engine. According to our information, the 5.2-liter V-8 will go on sale in the summer of 2022.
The planned powerplant has been under the hood of the Ford GT500 as its powerplant. The Raptor powerplant is said to be supercharged, offering 750-775 horsepower. There's also an exciting report that there will be another engine offered to Raptor buyers. Instead of the 5.2-liter V-8, the engine is reportedly a version of the current 3.5-liter twin-turbo that cranks about 450 horsepower. This engine – the six – would also be linked to a hybrid system, creating a Raptor Hybrid.
Raptor May Feature Two Engine Choices
Most current information about the 5.2-liter V-8 says that it will be available next year. But, Torque News has learned reliably that the V-8 will be slipped to the 2022 release. The reason Ford is planning to use the powerful 5.2-liter engine is the arrival of Ram's V-8-powered 1500 TRX.
Pricing of the option would begin at $53,458.
Marc Stern has been an auto writer since 1971. It was a position that filled two boyhood dreams: One that I would write, and two that I write about cars. When I took over as my newspaper's auto editor, I began a 32-year career as an automotive columnist. There isn't much on four wheels that I haven't driven or reviewed. My work has appeared in Popular Mechanics, Mechanix Illustrated, AutoWeek, SuperStock, Trailer Life, Old Cars Weekly, Special Interest Autos, etc. Today, I am the Ford F150 reporter for Torque News. I write how-to and help columns for online sites such as Fixya.com and others. You can follow me on Twitter or Facebook.. Most of Marc's stories are part of Torque News Ford coverage. Check back again and search for Torque News Ford F-150 news for more F-150 truck news coverage.