When you look closely at the Bronco brand, you find it has lots of good stuff like 4X4, a mix of steel and aluminum body panels, and a thoroughly retro look. However, it is retro with more because under that appealing skin beats the heart of a genuine 2021 Ford truck. However, early on, there was a significant hole, with no manual transmission.
Sasquatch Package A Natural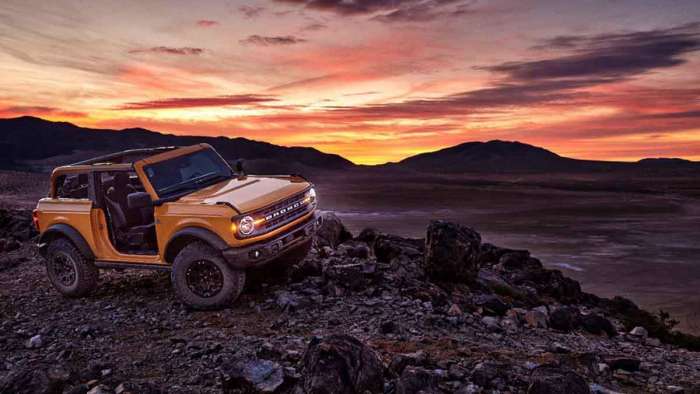 Still and all, it looked for a time that there would be no manual transmission available, especially with the popular Sasquatch package. Ford makes an excellent seven-speed manual, but, at that time, there seemed to be no place for it on the Bronco. In a story about a petition effort, the manual move began.
The manual, though, was one option that many Bronco buyers wanted. Here's a good reason why. Let say you are rock-crawling with your Bronco, and you hit a patch where you must balance the engine and wheel control to make it through. The control and finesse offered by the manual will probably be just what the driver ordered.
Well, the Bronco's Sasquatch package now offers the seven-speed manual, which was announced by Torque News senior reporter Jimmy Dinsmore last week in an exclusive story in Torque News.
2.3-Liter Four Used By Sasquatch
Now, one could assume that if the 2.3-liter EcoBoost four used with the Sasquatch package would be getting the manual that more powerful versions of the Bronco would also get the manual. However, The Ford Authority (TFA) found after a conversation with the Bronco's chief engineer that the most potent version of the Bronco, the version equipped with the 2.7-liter engine, will remain solely automatic.
Indeed, as TFA noted Bronco fans had three major complaints when the brand was introduced during the summer. The complaints were:
There was no V-8 planned
There was no manual tranny planned – at that time
There was no manual paired with the 2.7-liter EcoBoost V-6 on the Sasquatch package
Torque News Provided The News
As you now know, thanks to Torque News, there will be a seven-speed manual on the Sasquatch, but it will be available only on the 2.3-liter EcoBoost inline 4.
"So basically when you look at what's going on," Eric Loeffler, Bronco's chief engineer, told TFA, in the marketplace "with similar competitors products, the take-rates for models with manual transmissions is relatively low."
He continued saying that "what we wanted to do is to provide it to the traditional user that wants the manual transmission and wants to do things that are very technical that are afforded by the manual."
Loeffler emphasized that the "beauty of the product is that it still allows those who want to do it the old-fashioned way to do it and also someone who's a novice to let them try the technologies that we offer, you can do either in any one of our products."
2.3L Four "Is Fantastic"
Specifically, the manual, "paired up with what someone would want to do in the rock-crawling world and that creeper gear is fantastic, so it's well-tailored to that engine and that particular application," Loeffler continued.
The manual mates to the 2.3-liter EcoBoost inline-four, a combination turns out 270 horsepower and 310 pounds-feet of torque – not a bad combo. For those who don't want to shift for themselves, there's always the 10-speed automatic.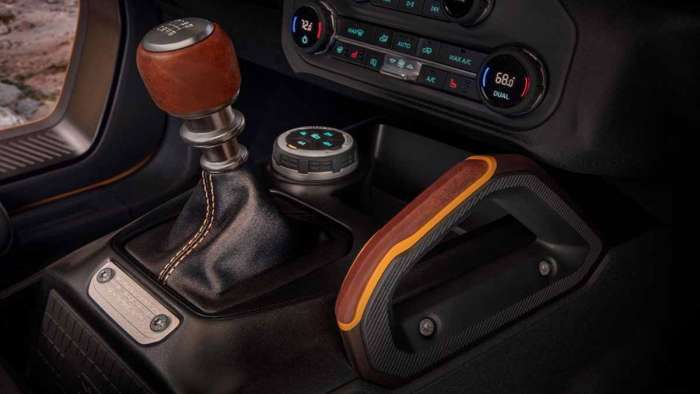 On the top end, the Ford 2.7-liter V-6 EcoBoost powerplant, which is mated only to the 10-speed automatic, turns out 310 horsepower and 400-pounds-feet of torque. As noted, there's no manual just yet.
Manual Could Be Expanded
Loeffler wouldn't close the door entirely to a manual for the 2.7-liter EcoBoost V-6 powerplant. "We'll never say never … it's something we usually don't talk about – what we will do in the future, but we're a company that sells products, so if customers start asking for it, we'll end up having to consider it," he admitted.
Marc Stern has been an auto writer since 1971. It was a position that filled two boyhood dreams: One was that I would write, and two that I write about cars. When I took over as my newspaper's auto editor, I began a 32-year career as an automotive columnist. There isn't much on four wheels that I haven't driven or reviewed. My work has appeared in Popular Mechanics, Mechanix Illustrated, AutoWeek, SuperStock, Trailer Life, Old Cars Weekly, Special Interest Autos, and others. Today, I am the Ford F150 reporter for Torque News. I write how-to and help columns for online sites such as Fixya.com and others. You can follow me on Twitter or FacebookFacebook . Most of Marc's stories can be found at Torque News Ford coverage. Check back again and search for Torque News Ford F-150 news for more F-150 truck news coverage.