Jeep is releasing a sneak peek of two new Wrangler concepts that will premiere at the 2021 Easter Jeep Safari in Moab, Utah. One of the new concepts is named Magneto and appears to be an electric Jeep Wrangler. This comes just as Jeep is building its new 2021 Jeep Wrangler 4xe hybrid electric vehicle.
There is a lot of pent-up interest for this year's 2021 Easter Jeep Safari in Moab, Utah. It is scheduled to take place March 27-April 4. Last year's Jeep Safari had to be canceled because of COVID, but this year the Safari appears to be on track.
All Jeep is saying about the two new concepts is this brief paragraph.
"Legendary Jeep off-road 4x4 capability, unbridled fun, open-air freedom and electric powertrains will take center stage during this year's Easter Jeep Safari as the Jeep brand and Jeep Performance Parts by Mopar again join forces to create custom vehicles built specifically to conquer iconic trails and terrain in Moab, Utah, March 27 – April 4. Design sketches give an early glimpse of the distinct and powerful performance concept vehicles that are set to debut at this year's annual Jeep enthusiast event in Moab."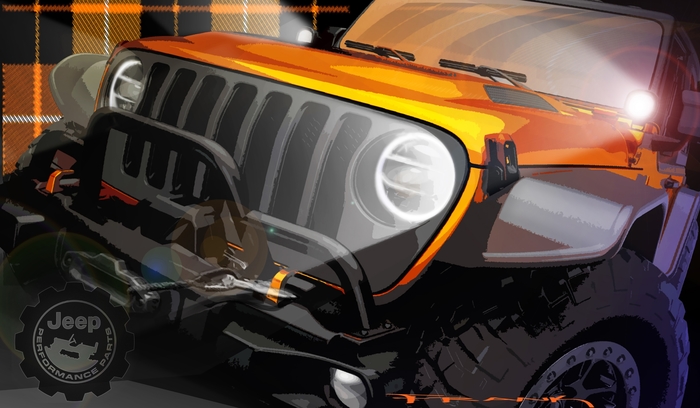 Interesting Place to Debut New Concepts
Typically, the concepts that debut during the Easter Jeep Safari are regular vehicles that have boosted performance and appearances because of specialized Jeep Performance and Mopar accessories. Often, the concepts end up becoming special packages that are offered on new vehicles straight from the factory. That appears to be the case with the second concept vehicle that is shown. Jeep does not reveal the name of the second Wrangler concept but it appears to have a special bar on the front, a big winch and huge tires. It also has the logo for Jeep Performance Parts on the photo.
Stellantis and The Road Ahead
It is fascinating that Jeep is premiering an electric vehicle at the Easter Jeep Safari in Moab. Driving an electric vehicle is difficult in remote areas because of the lack of charging stations. As I first reported last month, as part of its "The Road Ahead" video and information released near the Super Bowl, Jeep is promising to install charging stations near iconic trails.
From my story on February 9th,
"Jeep also announced that it will install solar-powered electric charging stations at Jeep Badge of Honor trails to support Wrangler 4xe owners. Frequently consumers mention the lack of charging stations and infrastructure as a reason for not adopting the new technology. Range anxiety remains a major issue, as the electric charging infrastructure development has lagged.
"The Jeep community embodies the philosophy that today and tomorrow will be better than yesterday, and this digital spot is a true advocate for that positive message," said Olivier Francois, Global Chief Marketing Officer, Stellantis. "A new chapter has been opened for the Jeep brand, and as we celebrate 80 years of its unforgettable history, it is now time to come together and begin our journey into the next 80 years.""
It all makes sense now why Jeep is making sure that the charging stations will be at trail heads to support the new electrified Jeeps.
Jeep will most likely have several other concepts available for the Easter Jeep Safari in Moab. We now know that an electric Magneto Wrangler is on the horizon. I can't wait to see the others.
Follow Mary Conway at @maryconwaymedia and send her car news tips for future stories.