GM is partnering with one of the largest gas station groups and EVgo to build a quick-charging network for electric vehicles, like the 2023 Cadillac LYRIQ. The lack of easy and quick charging stations has been a huge drawback in trying to convince people to buy electric vehicles. The new chargers will be built at Pilot and Flying J gas and travel centers. The 2000 quick chargers will be installed and maintained by EVgo which is already partnering with GM on EV charging stations.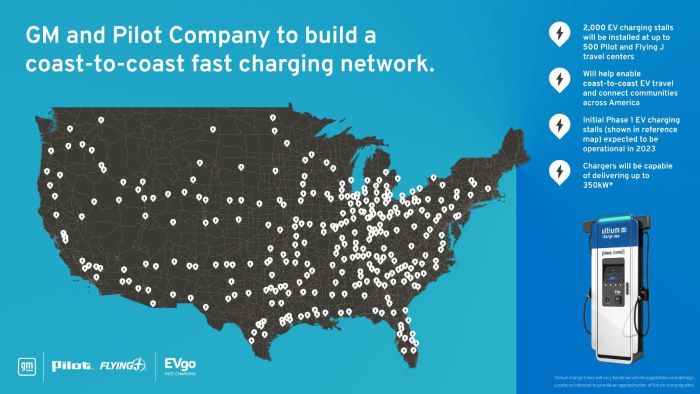 New Quick or Fast Charging Network
The 2000 new quick chargers will be installed primarily along highways, giving electric vehicle drivers access to charging, much like the gas stations are available for traditional vehicle drivers.
"We are committed to an all-electric, zero-emissions future, and ensuring that the right charging infrastructure is in place is a key piece of the puzzle," said Mary Barra, GM Chair and Chief Executive Officer. "With travel centers across North America, Pilot Company is an ideal collaborator to reach a broad audience of EV drivers."
"GM and Pilot Company designed this program to combine private investments alongside intended government grant and utility programs to help reduce range anxiety and significantly close the gap in long-distance EV charger demand," said Shameek Konar, Pilot Company Chief Executive Officer. "Our travel centers are well-equipped to accommodate EV charging with 24/7 amenities and convenient proximity to major roadways across the country. We look forward to collaborating with GM and the U.S. Department of Transportation to make convenient coast-to-coast EV travel a reality through our national network of travel centers."
Providing Access and Amenities for EV Owners
This network of 2,000 charging stalls will be co-branded "Pilot Flying J" and "Ultium Charge 360". The charging stalls will be open to all EV brands at up to 500 Pilot and Flying J travel centers. GM customers will receive special benefits like being able to make reservations and receive discounts on charging. The chargers will be integrated into GM's vehicle brand apps so drivers can get real-time charger availability information. Finding out about charger availability will help drivers plan their routes and decide the optimal times for stopping and recharging.
The Pilot and Flying J travel centers plan to feature numerous fast charging stalls provided by EVgo, including high power fast chargers capable of offering up to 350 kW. EVgo is also working with GM to add more than 3,250 fast chargers in American cities and suburbs by the end of 2025. Many of the new chargers will feature canopies to help protect customers from the elements while charging. Some will also be built to allow larger vehicles like electric pickup trucks and SUVs pulling trailers convenient charging options. Right now, many drivers have to travel "off the beaten path" to find charging stations. Many smaller cities only have chargers at places like libraries and some parking lots. The travel centers will offer 24/7 shelter, restrooms, food and beverage options and best of all the security of having others around.
GM's $750 Million EV Infrastructure Improvement Plan

Put chargers at 50-mile intervals across the U.S.
Enable access to more than 100,000 charge points in the U.S. and Canada through its Ultium Charge 360 ecosystem
Collaborate with EVgo to build a network of 3,250 charging stalls in major metro areas by 2025
Installing up to 40,000 chargers in local dealer communities through GM's Dealer Community Charging Program, focusing on underserved rural and urban areas
Real World Concerns About EV Charging
Anyone who loves to travel in a vehicle can tell you about real world concerns about having access to quick charging. Traveling through some of the more rural areas, you might not see a gas station for more than fifty miles, much less an EV charging station. I personally know a family that bought an EV, but will no longer take it up to the mountains, in Colorado, because they got caught in a traffic tie-up on I-70 and nearly ran out of charge. They had to stop to recharge adding hours and anxiety to their trip. Traffic backups on I-70 can last for hours because of accidents near the Eisenhower tunnel.
Putting the chargers in travel centers makes perfect sense. EVs will make it difficult for gas stations to make a profit going forward. The visibility on major roadways will help ease range anxiety. Plus, the travel centers will be a safe and convenient option for EV drivers. It is a win-win for all.
GM Photos
Mary Conway is a professional automotive journalist and has decades of experience specializing in automotive news analysis. She covered the Detroit Three for more than twenty years for the ABC affiliate, in Detroit. Her affection for the Motor City comes naturally. Her father ran a gas station while Mary was growing up, in Wisconsin.
Follow Mary Conway at @maryconwaymedia and send her car news tips for future stories.