GM's Chair and CEO, Mary Barra, is tweeting out news about the 2024 Chevrolet Silverado EV. The truck is already being tested at GM's famed Milford Proving Grounds and is about to hit the streets in Detroit!
CEO Mary Barra's tweet says "Spotted – a @Chevrolet Silverado #EV being put through its paces at the @GM Milford Proving Ground. Looking forward to seeing your photos of these trucks in the wild when they start testing on Detroit streets next month!"
Time for Real World Testing
I would imagine that the engineers have been testing the EV truck at the Proving Ground for a long time now and they are at the point that they can start real world testing. I'm sure it has already done cold and hot weather laboratory testing and now they are reaching the point where they need to know how it will handle pot holes, parking and everything in between.
Chevrolet has been reaching out to the people who signed up to buy the all-new EV and are getting some interesting answers. Nearly all of the reservation holders plan to use the Silverado EV as their daily driver. Most people who own trucks use them to tow at some point and that appears to be true for the people who want the Silverado EV. Nearly 90 percent of the drivers say they hope to use the EV truck for towing, while a little over 70 percent intend to go off-roading.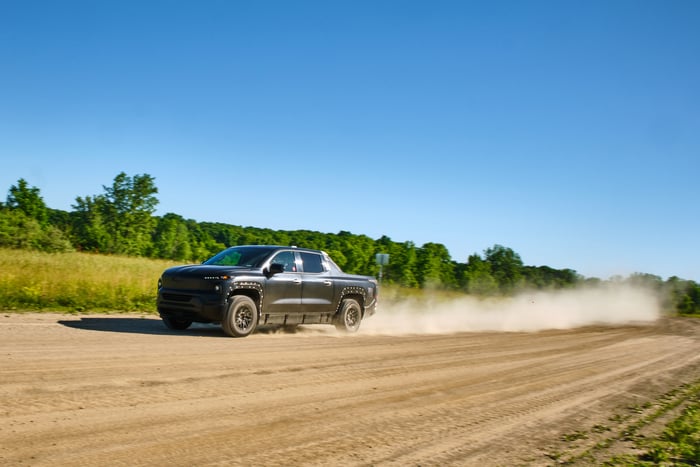 Chevrolet plans to start testing the truck in a number of different environments and are hoping that people will snap and share photos of the test vehicles, wherever they see them. It is expected that the same Ultium battery platform will underpin both the 2024 Chevrolet Silverado EV and its cousin, the 2024 GMC Sierra EV. The performance testing will be extensive, especially when it comes to towing. GM did extensive testing of the GMC HUMMER EV in Moab, Utah and throughout the Rocky Mountains.
Two Versions to Test
There will be two versions of the Silverado EV Pickup early on. The first trucks will be WT trucks sold to fleet buyers. They will go into production early next year and sell for $39,000. The work truck will offer 510 hp and 615 lb-ft of torque. The work truck will offer 8,000 pounds of towing and 1,200 pounds of payload. The second round of trucks will be the higher end RST versions that will sell for approximately $105,000. The RST trucks will be loaded with bells and whistles. Production should start in the second half of 2023. An off-road Trail Boss model will follow eventually. Both the WT and the RST versions are expected to have the 400-mile range.
Chevrolet Photos and Video

Mary Conway is a professional automotive journalist and has decades of experience specializing in automotive news analysis. She covered the Detroit Three for more than twenty years for the ABC affiliate, in Detroit. Her affection for the Motor City comes naturally. Her father ran a gas station while Mary was growing up, in Wisconsin.
Follow Mary Conway at @maryconwaymedia and send her car news tips for future stories.