Apple previewed the next-generation of its CarPlay vehicle interface at the annual Worldwide Developers Conference and it looks set to control more vehicle functions than ever before.
On top of its existing navigation and media duties the upcoming version of CarPlay will be able to operate a range of systems it previously didn't have access to. Designed for multi-screen vehicles, Apple's app-mirroring system will be able to control a vehicle's instrument cluster as well as the infotainment screens it has traditionally been at home on.
CarPlay will be able to operate on all manner of automotive screens with portrait and landscape orientations as well as designs for ultrawide pillar-to-pillar jobs like the Hyperscreen found in the Mercedes EQS. Vehicle speed, tachometer, fuel/charge level and even oil pressure will all be monitored by Big Brother CarPlay and relayed to the driver through the app.
Additionally, drivers will be able to operate their vehicle's climate controls, seat heaters and remotely open or close their garage door at home with the tie-in to Apple's smart home services.
Custom Clusters
The next-gen CarPlay gives drivers the ability to customize their vehicle's displays like never before with a range of styles and layouts shown off in Apple's keynote video. Choose from traditional-looking dials, more abstract ones in Gulf Racing colors, or do away with the circles altogether and go for a clean bar-based design.
This also opens the door to recreations of classic gauges in modern cars. The sub-zero-cool aeronautic cluster from a Lancia Delta Integrale HF in a hotted-up Hyundai Ioniq 5? The brilliant bar-graph tachometer from the Nissan 300ZX in some future electric sports car? All possibilities.
Here are a few of our favorites from Apple's presentation.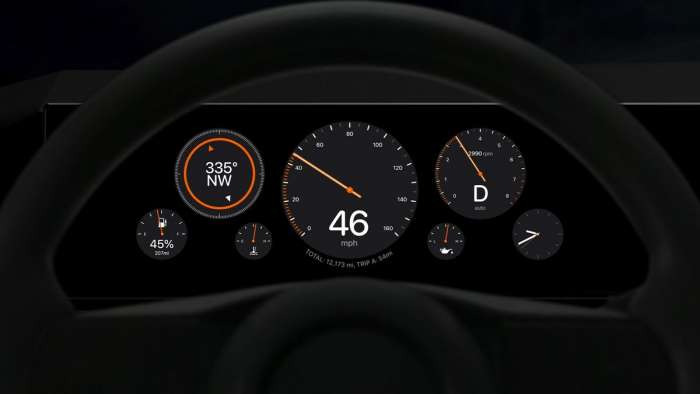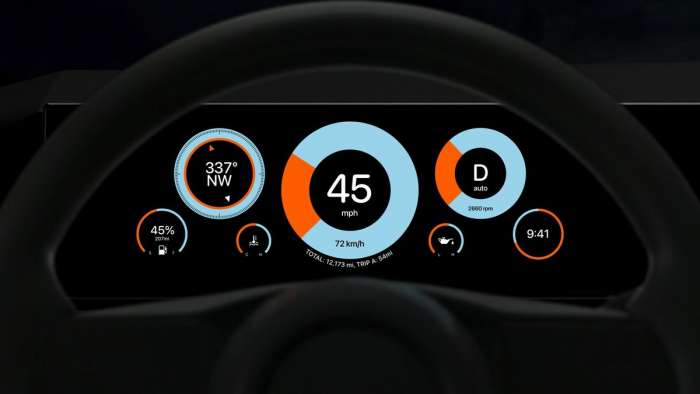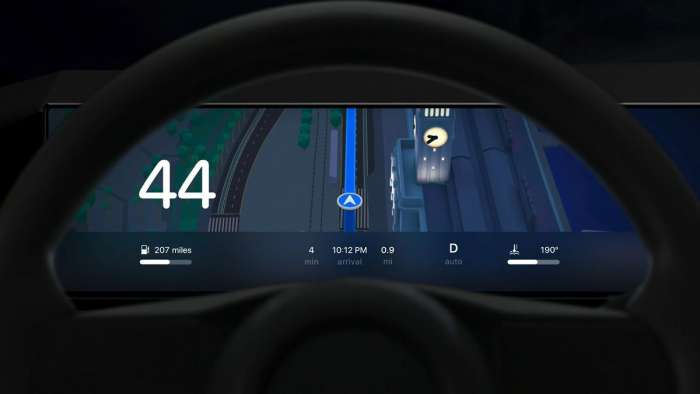 Powered by iPhone
Despite controlling some fairly crucial functions and read-outs the next generation of CarPlay will continue to be powered entirely by the driver's iPhone giving Apple access to an unprecedented amount of user data.
The first vehicles supporting the new OS will be announced in late 2023. It's unknown who'll be first to market but the video shows the logos of Ford, Mercedes-Benz, Honda, Lincoln, Porsche, Jaguar-Land Rover, Polestar, Volvo, Nissan, Audi and Acura as partners in development.
Related Story: Lightyear 0 Is The World's First Solar-Electric Production Car
Images by Apple licensed by CC BY 2.0.
James Walker is an Automotive Journalist at Torque News focusing on Lucid Motors. If it's got wheels he's interested, and he's looking forward to seeing what kind of cars the EV revolution brings us. Whether it's fast, slow, new, or old, James wants to have a look around it and share it in print and on video, ideally with some twisty roads involved. You can connect with James on Twitter, Instagram, and LinkedIn.