Solar-EV company Lightyear unveiled its first production-ready vehicle in an online presentation yesterday. Its unique name refers to the clean-sheet approach to EV design the company took over the past six years of research and development.
The 0 promises to give drivers the ability to travel for months on end without charging with an array of solar panels covering the hood, roof and space usually occupied by a rear window. Lightyear says that its cars are built for "grid independence" with the solar charging though they can take on power from a home outlet or charging station like any other electric vehicle.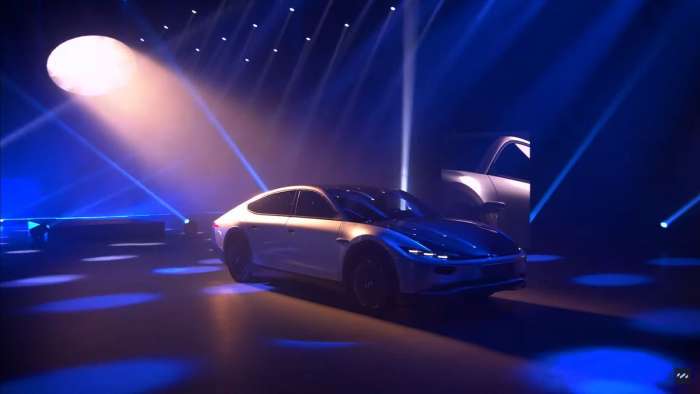 Lightyear's figures say that the 0 will be able to gather a maximum of 43 miles of range from the Sun per day and travel up to 621 miles between charges. Based on a medium-distance summertime commute in Amsterdam drivers should manage up to two months without a charge, and as many as seven months in warmer climates like Spain. Maximum range without solar charging in place stands at 388 miles on the WLTP testing cycle.
"There's no hiding from it, access to charging stations will not keep up with the demand for electric cars. To minimize plug-charging and maximize range, the industry's strategy, so far, has been to add batteries. That increases the carbon footprint of production and, in turn, boosts weight and the need for high-power charging stations." Lex Hoefsloot, Lightyear Co-founder and CEO
Solar Power On The Move
The 0 features five square meters of solar arrays which curve on two axes to conform with the extremely aerodynamic shape of its bodywork. A drag coefficient of 0.19 makes the 0 the most aerodynamic "production" car with only the Mercedes Vision EQXX more slippery. Those quotation marks are there because Lightyear hasn't started building 0s just yet; production is planned to begin this fall.
The 0 features all-wheel drive from independently-controlled motors located inside each wheel. All told the motors produce a very reasonable 174 horsepower and a not-so-reasonable 1269 lb-ft of torque. Top speed's limited to 100 mph.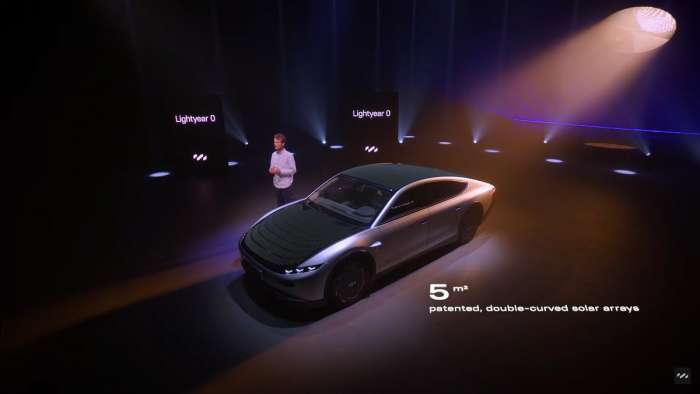 Using fender-mounted cameras in place of wing mirrors to cut down on drag the 0 places screens on the pillars inside the cabin. Its body panels are formed from recycled carbon fiber to keep weight down and the interior follows suit on recycling with vegan and eco-friendly materials like plant-based leather, plastics made from recycled bottles and wood from sustainably-farmed rattan palm.
Test drives are scheduled to begin in June with production kicking off in the fall and deliveries commencing before the end of the year. We've heard that one before, but however you look at it the Lightyear 0 is an interesting and ingenious way to approach the design challenges of electric vehicles. As solar panel technology advances we wouldn't be at all surprised to see more EVs making their own fuel by harnessing the Sun's rays.
Related Story: Kia's EV6 GT Has 585 Horsepower And E-LSD
Check out the full reveal video below.
Images by Lightyear licensed by CC BY 2.0.
James Walker is an Automotive Journalist at Torque News focusing on Lucid Motors. If it's got wheels he's interested, and he's looking forward to seeing what kind of cars the EV revolution brings us. Whether it's fast, slow, new, or old, James wants to have a look around it and share it in print and on video, ideally with some twisty roads involved. You can connect with James on Twitter, Instagram, and LinkedIn.