Honda Pilot Drives into 2018 With Astounding 48.9% Sales Uptick
Torque News was first introduced to the tires-up redesigned Honda Pilot way back in May of 2015. Driving from Cincinnati, Ohio to Kentucky Speedway was a revelation for this midsize SUV scoffer. After all, while popular with Soccer moms, and the large family inclined, there wasn't anything "exciting" about Honda Pilot, so we thought.
And then we experienced a reinvented Honda Pilot SUV that not only presented near autonomous advanced active safety, and driver assist features, but a ride and comfort dynamic more akin to Acura MDX than the former Honda Pilot. There was little to no driver fatigue noted after a 3-state, 8 hour drive behind the wheel of Honda Pilot Elite.
Back in 2015 Honda took an already good Pilot to a higher level
Say what you will about Honda Pilot's new found rounded body design, gone is the Bull Dog nose.. Old-school Pilot owners dismiss the new look as "too car like." Good enough, we all have an opinion. We like the unique Honda Pilot design. For 2018 Honda engineering does a commendable job in presenting a well priced, tech-driven, family friendly mid sized 3-row SUV. Available in either FWD, (front-wheel-drive) or AWD. (all-wheel-drive) both Pilot variants are motivated by Honda's time-proven 3.5L V6 fuel injected, cylinder managed gasoline engine; one of the last V6 engines remaining in a segment dominated by low displacement, high output turbocharged 4-cylinder engines.
2018 Honda Pilot: one engine, 2 transmission, and 2 drivetrain options
Honda keeps 2018 Honda Pilot variants simple with one engine, 2 transmissions, and 2 drive-train options. A 6-speed wide-range automatic transmission transfers torque to a primary front differential drive-train in all but the Touring and Elite trim options. For our personal electronic obsessed friends, Honda Pilot comes to market with an exceptional tablet-like color touchscreen that double duties as a very decent surround view monitor, an integrated Garmin-like navigation platform, Apple Carplay, Android Auto, and enough charging and connectivity ports to please the entire tribe. And, it's near intuitive in its operation.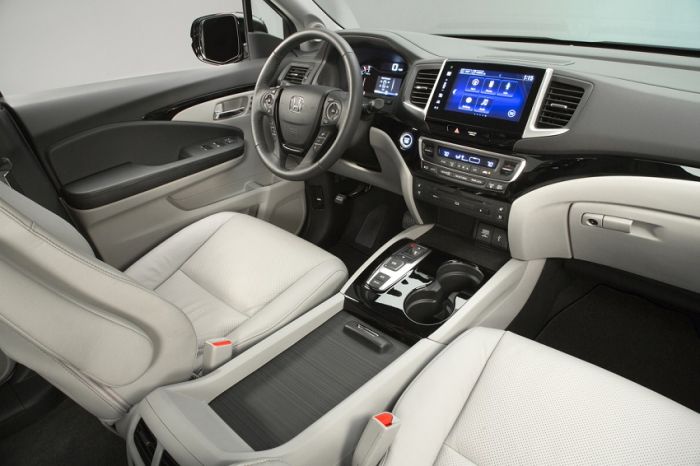 At the top of the lineup, consumers discover a 9-speed automatic transmission with steering wheel mounted paddle shifting. Although rated at 280 horsepower @ 6,000 rpm, and 262 lb-ft [email protected] 4700 rpm, Honda's 7 or 8 passenger 3-row SUV flirts with top of segment fuel efficiency of 18 city/26 highway *AWD.
We also like Pilot's select road condition traction settings, available Honda Sensing ™, active safety and driver assist technology, active electronic noise cancellation, active motor mount vibration cancellation, ABS, EBS, and more. Read our 2018 Honda Pilot MSRP and specifications update here.
The bottom line: Standard feature, and exceptional trim-package value drives Honda Pilot sales

Back in 2015 Torque News deemed the reinvented Honda Pilot an extreme drive and ride value in danger of undermining Acura MDX sales. While that may have been a bit of an overstatement, Honda Pilot charges into 2018 with an unprecedented 48.9% uptick in retail sales for February. Despite an overall auto market sales downtrend in 2017, Pilot finished the year wit 127,279 units sold. An increase of 5.4% over the previous year.
We'll jump out on a virtual cliff here, and predict that Honda Pilot is on track for yet another exceptional sales year. As to Honda Pilot dealership availability? Thanks to an expansion of Honda's Lincoln, Alabama line #1, and a shift of (some) MDX manufacturing to East Liberty, consumers will find greater availability, and a wider trim selection at their local Honda shops. The same can be said for Honda Ridgeline Pickup, also selling well.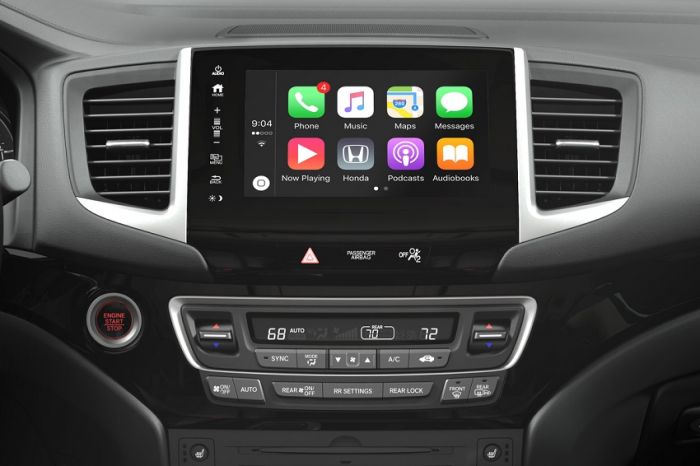 At the end of the day what sells Honda Pilot is availability, value and variety. While there's no shortage of competition in the midsize SUV segment, Honda Pilot has the track record. We've yet to meet a Honda Pilot owner that didn't praise Pilot. We recommend a Honda Pilot test drive to anyone considering the purchase of a near-premium class 3-row SUV, it's that good!
For 2018 Honda Pilot comes to market with a beginning MSRP of $30,900 LX FWD to $47,470 Elite.* does not include destination charges, taxes, etc.
What we like: Fuel economy, price point, cabin quiet, comfort, and drive train options.

What we'd change: Greater ground clearance.
Photo attributions American Honda Motors 2018.
How's your Honda Pilot ownership experience? Leave your comment and share. Honda is reading.