Honda dealers sell 2472 Ridgeline Pickups first week on market
Granted, following a 2 year market hiatus, there's a bit of pent up consumer demand for the reinvented 2017 Honda Ridgeline Pickup. And, with an average of 2 trucks delivered to Honda dealers nationwide the 3rd week in June, it would appear that the initial offering sold out on delivery, or close to it. Read my initial drive impressions review of the all new 2nd generation Ridgeline Pickup here.
No worries, my contacts at Honda believe that manufacturing will keep up with demand as the Lincoln, Alabama assembly line fires up! Although Honda is unwilling at this time to speculate as to market demand and subsequent manufacturing volume for the only unibody constructed light truck in North America, speaking with my dealership contacts, they will sell as many Ridgelines as Honda can deliver.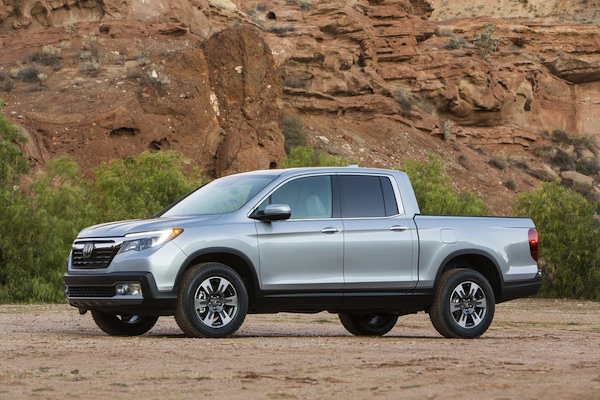 While not for everyone, this midsize pickup combines car-like-ride and truck toughness
Say what you will, and I've had this argument with several of my truck owning friends, rather you consider this unibody constructed Honda Pilot looking midsize utility vehicle to be a conventional pickup truck, or a crossover with a truck bed, 2017 Honda Ridgeline will answer most consumers need for weekend boat and quad hauling, dump runs, material pickup from their local building center, work and family transportation duty.

Personally, I was impressed by how well this very ridged car-truck handled dirt roads, truck bed material dumps, and trailer duty. And then there's the largest and arguably most comfortable crew cab in the midsize truck segment.
Fuel efficiency? Yes it provides that too while coming to market in front wheel and all-wheel-drive configurations and several trim levels from MSRP $29,475. *Base Ridgeline FWD