I, like many EV enthusiasts, have watched the development of viable Fuel Cell technology for decades. Honda is far from the first auto manufacturer to experiment with the potential of a fuel cell generated electric car. That honor goes to Chevrolet, and before that, Massey Ferguson Tractor company had a viable methane derived fuel cell, powering a massive farm tractor back in the late 1930s.
Innovative Honda reduces size of fuel cell

Fuel Cell generation was largely abandoned by the automotive industry due to development cost, the size of the fuel cell generator, and the availability of an inexpensive, plentiful supply of compressed hydrogen gas. 2017 Honda Clarity FCV comes to market with the smallest fuel cell in the segment, a 5-passenger cab, more conventional car looks, and an expanding fueling network.
For those of you that find this to be "old news," the big news today is that Honda has disclosed a price point and marketing plan for Clarity. In other words, 2017 Clarity FCV is a reality. And unlike our friends at Toyota, Honda doesn't appear to be holding the launch once again due to lack of fueling infrastructure. Honda is committed to a "Green" future, that future begins Spring 2016. Clarity strikes a pose in L.A..
Pricing, markets, and delivery
According to Honda's John Mendel: "The new Clarity Fuel Cell and Accord Hybrid arriving this year, along with the new plug-in hybrid coming by 2018, are critical steps toward a new generation of Honda advanced environmental vehicles and a true volume pillar for Honda and our product portfolio in the U.S.," said John Mendel, executive vice president, Automobile Division, American Honda Motor Co., Inc.
"The Clarity Fuel Cell is a potential game changer because it offers an uncompromising, zero emissions customer experience, with performance, utility, range and refueling time on par with today's gasoline-powered cars."
As to MSRP: "Honda today announced the company's plans for U.S. sales of its new 5-passenger, hydrogen-powered Clarity Fuel Cell sedan at the 2016 Washington, D.C. Auto Show. Slated to begin retail leasing to customers in select California markets before the end of 2016, the Clarity Fuel Cell is expected to be priced around $60,000 with a targeted monthly lease under $500." said American Honda Motor Company.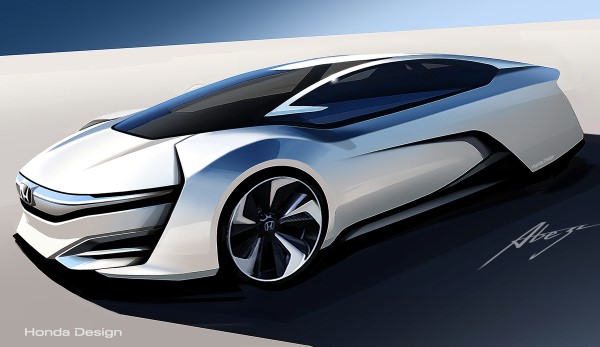 The big news here for FCEV proponents is that 2017 Honda Clarity has actually made it onto the market, despite falling gasoline pricing, market conditions, Toyota's stall of Marai sales, and the very slow process in expanding California's hydrogen refueling network.
2017 Honda Clarity initially for California markets only
You may blame this development on C.A.R.B, but then again, American Honda is headquartered in Torrance, California. The initial production run of 2017 Clarity will be limited to 250 vehicles, leased to individuals in Los Angeles and Orange Counties, Sacramento and San Francisco.
In other news, the 2017 Accord Hybrid scheduled for release in 2016, will share components with the Clarity FCEV , as will the near future plug-in electric 2018 Accord.