General Motors, Honda and Toyota roll the dice on a hydrogen fueled future
Toyota was the first to launch a high volume, mainstream hydrogen fuel cell vehicle with the release of Mirai FCV to streets of Los Angeles, followed by the announcement of a strategic partnership forming between General Motors and Honda Motor Company. On a world-market level, Japan has committed to a zero emission "Hydrogen Society," while embarking on a near future timeline to convert public transportation to hydrogen fuel cell electric within the next decade.
On the homefront, commuters lineup to lease Honda Clarity and Toyota Mirai in the thousands
It's more than simply an emissions compliance move for General motors, Honda and Toyota. With G.M. and Honda partnering up on fuel cell research, development, and eventual vehicle implementation, Toyota is the first to take to the streets with Mirai FCV, as these mega auto manufacturers roll the proverbial dice on a zero emissions hydrogen fueled future. How about that expanded fueling network?
Zero emissions, extended range electric. What's not to like about hydrogen?
On a recent trip to Santa Barbara, California, we spent some seat time behind the wheel of Honda Clarity and Toyota Mirai -- both offerings were torque happy, quiet, relatively fun to drive, technically and visually refined. While each maker brought its brand specific styling uniqueness to the rarefied world of the hydrogen fuel cell electric car, the message conveyed was very clear; the age of the hydrogen FCV had arrived, and the time to jump into the game is now.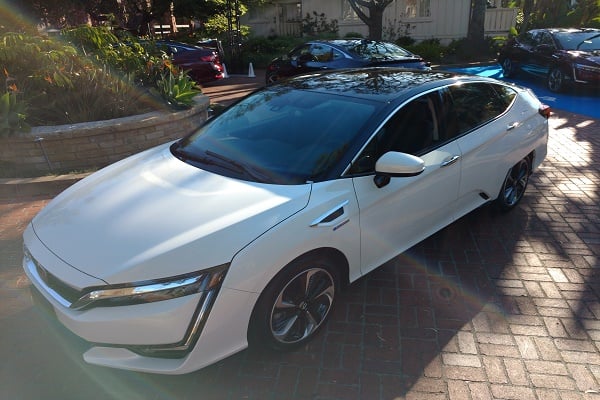 Only time will tell as all major automakers flirt with hydrogen fuel cell development
Is there a carbonless zero emissions driving future for the U.S.? Yes, but it remains in its infancy. While 2016 brought measurable growth to the electric car, hybrid market, electrification represented less than 2% of total car sales. For those of you that live in select West Coast regions, Honda and Toyota make FCV lease terms easy. This may be your time to jump into the future of zero emissions, and space-age-like personal transportation. Check out my latest slant on Clarity FCV here.